Part V of the Inspirational and Influential Women of the World Blog Series
Click here to support Sister Pauline's work in Uganda
Sister Pauline Quinn, a Dominican recognizable in her full habit, is best known for launching one of the first, revolutionary, prison puppy programs in the United States, expanding it to dozens of prisons around the world, and inspiring similar programs across the country.
Pathways to Hope provides puppies to prisoners who have volunteered to mold these rambunctious, unruly (and absolutely adorable) puppies into disciplined service dogs for veterans with PTSD, people with disabilities, and children with autism, among others. The program offers opportunities for licenses and certifications that improve prisoners' ability to find employment upon release, and participation in puppy programs is correlated with a significant reduction in recidivism. Puppies trained by inmates also have a higher success rate than those trained in private homes due to the time participants are able to devote to training as well as their emotional investment in their puppy's success. Indeed, when her own late PTSD service dog – a Doberman named Reni – died of cancer, Sister Pauline chose one of the prison puppies, a Golden Retriever aptly named Pax, as successor.
But the puppies serve a greater purpose than all that. For Sister Pauline, the program is about feeling, healing, and forgiveness. Indeed, Luis Diaz, serving 25 to life at Fishkill Correctional Facility in NY for murder, said, "I'm looking for forgiveness. This puppy, this is gonna be my second chance. That's just how I see it. As a second chance to do something right."
When I asked Sister Pauline if inmates serving life sentences without the possibility of parole could participate, she was adamant, "We like the lifers." Their long-term participation in the program makes them the most skilled trainers; and their long-term incarceration also leaves them in greater need of the emotional and spiritual support that the puppies offer: connecting offenders to the community, providing the "positive touch" that the incarcerated are denied, reviving their sense of their own humanity, and allowing them to feel this mutual bond of love and trust. Yes, the prisoners frequently cry when their puppies graduate, but, as Sister Pauline told me, "You can't start healing until you start feeling."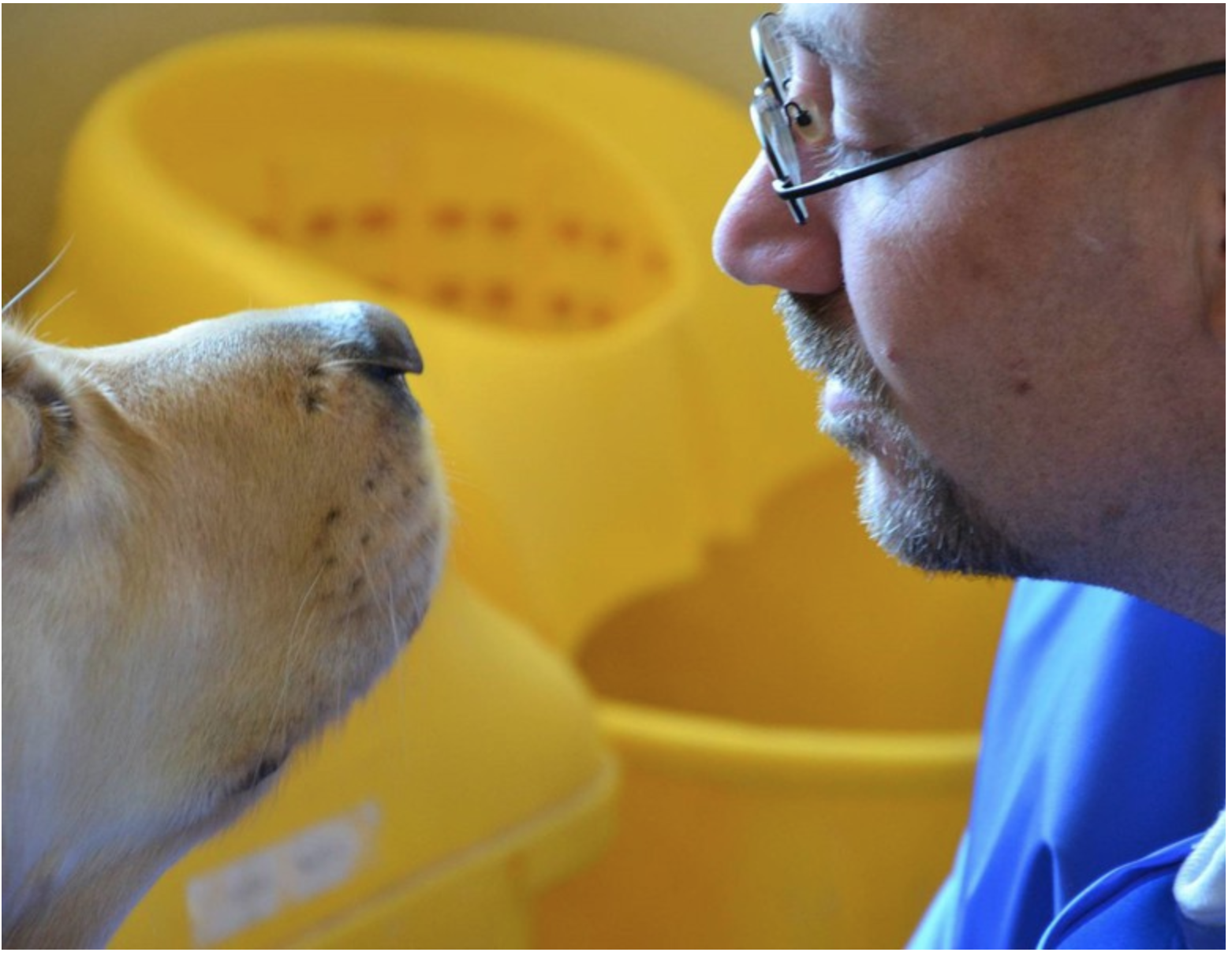 Though guards are now some of the biggest supporters, they were the most skeptical when Sister Pauline first proposed the program, fearing that the dogs could be taught to attack them. (This concern, she explained, was unfounded: Cultivating aggression requires frequent agitation, leading the dog to bark, growl, etc. – sounds that, you know, might stand out in a prison setting.) Instead, guards note an increase in empathy and a decrease in violent incidents among participants. As one guard observed, "Dogs have brought humanity into this prison setting." (As you have seen and will see in future posts, humanity is precisely what's lacking in the prison system.)
Sister Pauline paints a picture in which the puppies transform the entire ecology of the prison. The relationship between prisoners and guards change. During difficult days, guards stop by the cells to hug the puppies and interact with their trainers, no longer mere "inmates."
This process changes relationships among prisoners as well. Participants must learn to trust one another, cellmates take part in the puppy's care, and positive interactions with other inmates increase.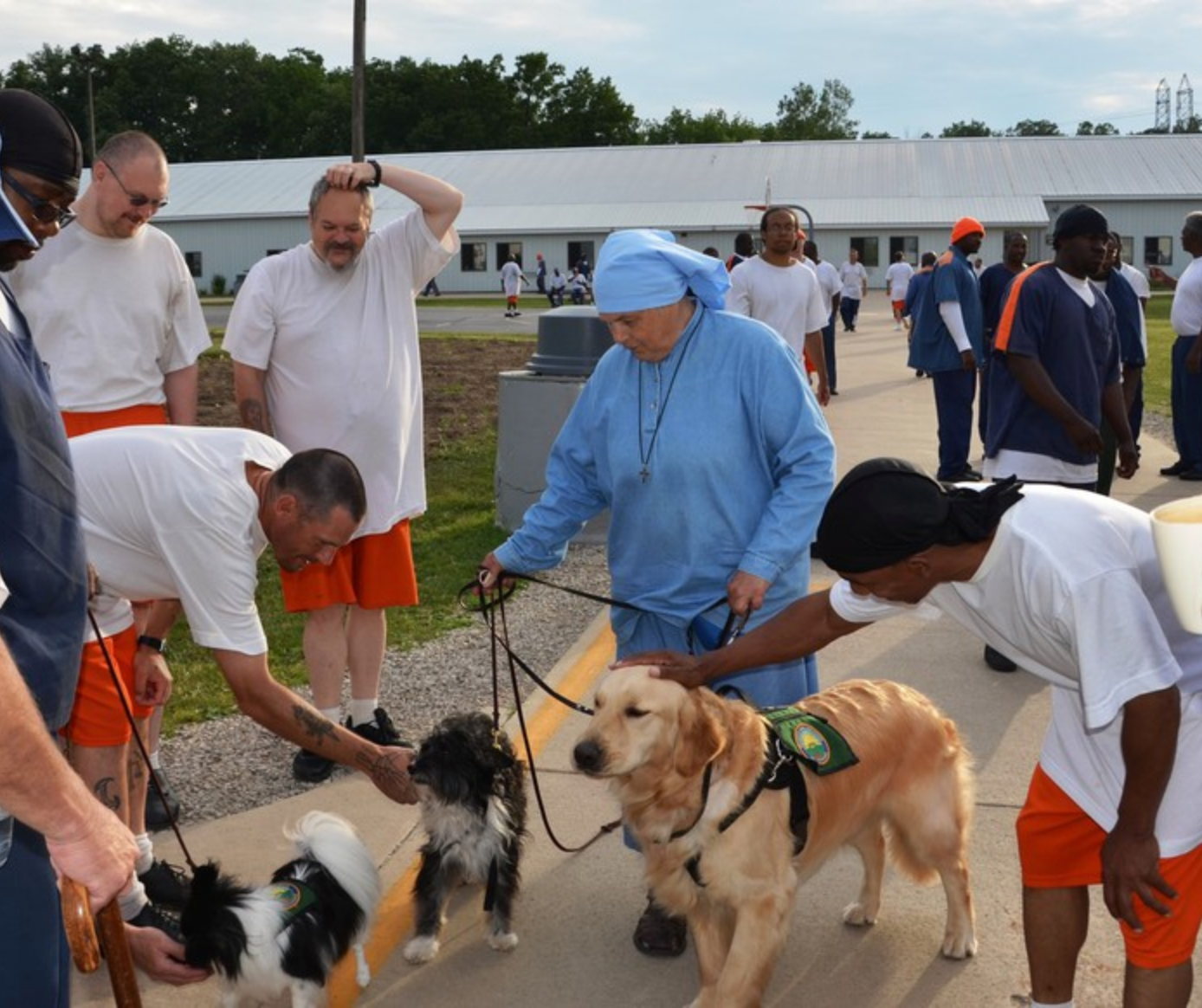 Sister Pauline's goal is to encourage prisoners to become "other-centered," and thereby to help them heal. After the traumas she suffered earlier in her life, which left both physical and mental scars, her own healing began with a dog – a stray German Shepherd named Joni – who made her feel safe, worthy of God's love, Joni's, and her own.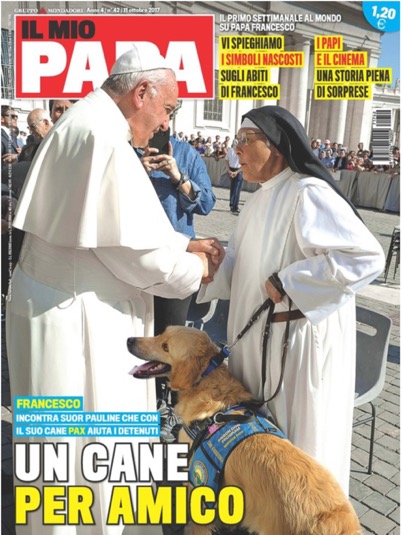 She chose to become a Dominican nun, but was shunned by those made uncomfortable by her visible scars. Some in the Church have been skeptical about her, including one official who called her "an embarrassment." (On the other hand, her encounter with Pope Francis in 2017 made the cover of Il Mio Papa, a weekly dedicated to the current Pope's activities. She and Pax have met Pope Francis three times.)
But the criticism between her and the Church is definitely mutual.
The role of the Church, in her view, is to promote peace and reconciliation, but it fails both frequently and miserably. As she told me in a recent conversation, "Helping heal people is more important than having meetings at luxury resorts," but those who hold positions of power in the Church typically choose to "focus on whatever makes their power more powerful." Leaving the Church, however, is not her solution to the problem. Rather, her purpose is "to challenge them in the hope that they'll change." To do so, she says, she uses the "one tool they can't take away: the Gospels." Though she was once afraid of "being a troublemaker," she doesn't worry about that anymore. "I know who I am."
She is pleased with those sisters who are "taking back their lives" while remaining as witnesses within the Church. And she is embraced as a Sister by the Church and especially the Dominican leadership, including Timothy Radcliffe, the former Master of the Order of Preachers (now at the Vatican), Fr. Michael Stock, her spiritual advisor, and Bishop José Raúl Vera López (then a coadjutor bishop in Chiapas, Mexico) who witnessed the profession of her vows. While she does not live within a religious community (she currently lives in a hermitage in Wisconsin with Pax as well as Joey and Vinny, also trained service dogs), her community is expansive, and includes the thousands of refugees, children, veterans, prisoners, cats, and dogs she has helped through her vocation. Moreover, being rebuffed by the Church certainly puts her in good company and leaves her free to do just what she wants: whether helping children in the middle east don gas masks during the Gulf War, helping African refugees in Italy find homes in Canada and the United States, bringing kids from El Salvador here for medical treatment, living for several weeks each year in an Argentine prison, visiting prison mental health and hospice units with Joey and Vinny, taking Pax to visit death row inmates in Angola, or raising money to sustain a school in a village in Uganda.
If you want to support Sister Pauline's work, please visit her GoFundMe campaign to help school children in Uganda. Even as she faces a very aggressive form of cancer, she continues to be "other-centered" and is eager to help this fledgling school (recently founded by Emmanuel Kisitu) by providing as many resources as possible before she is no longer here to help.
[Sister Pauline provided the photos below. Additional photos and info can be found on her GoFundMe page.]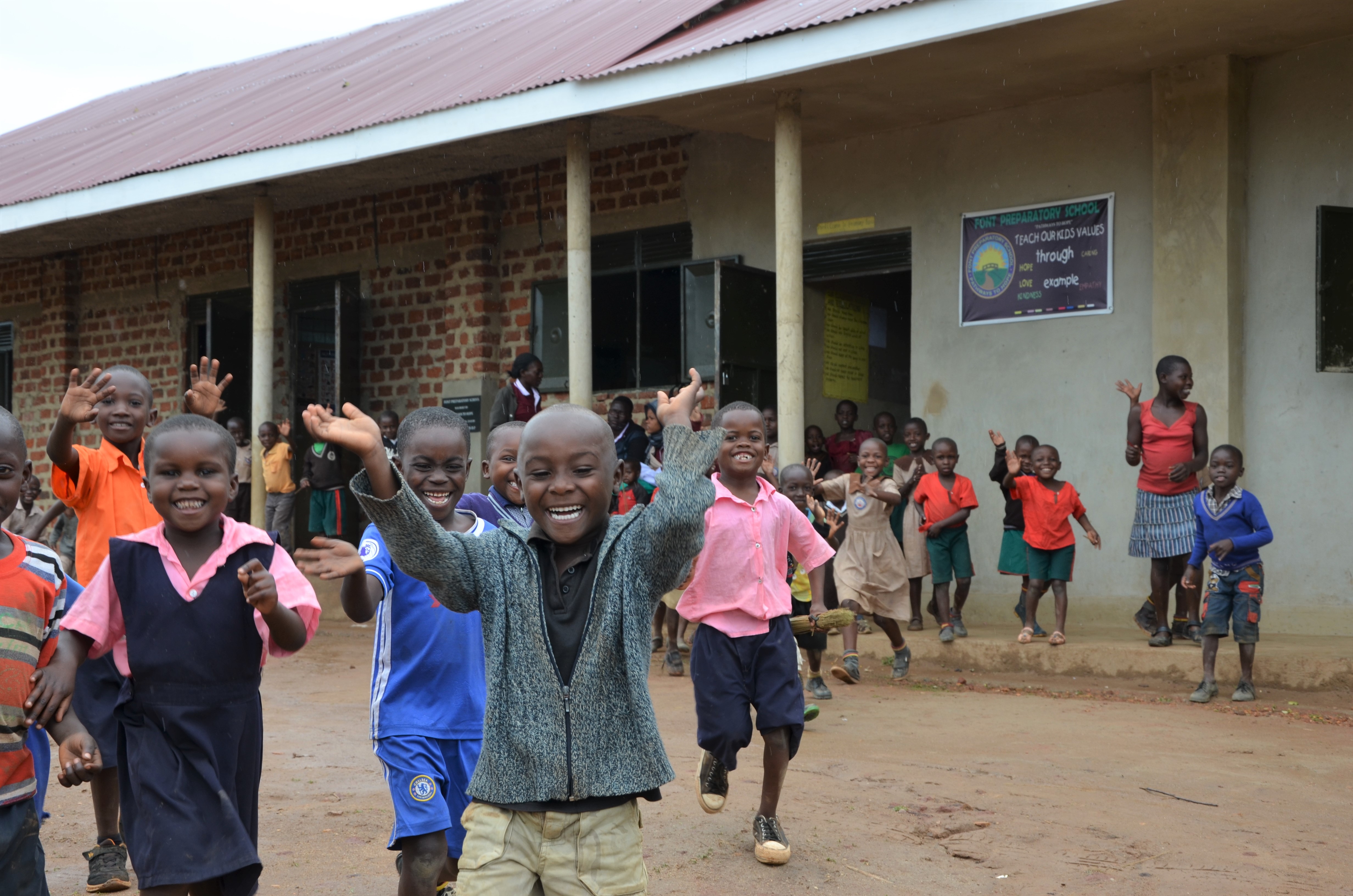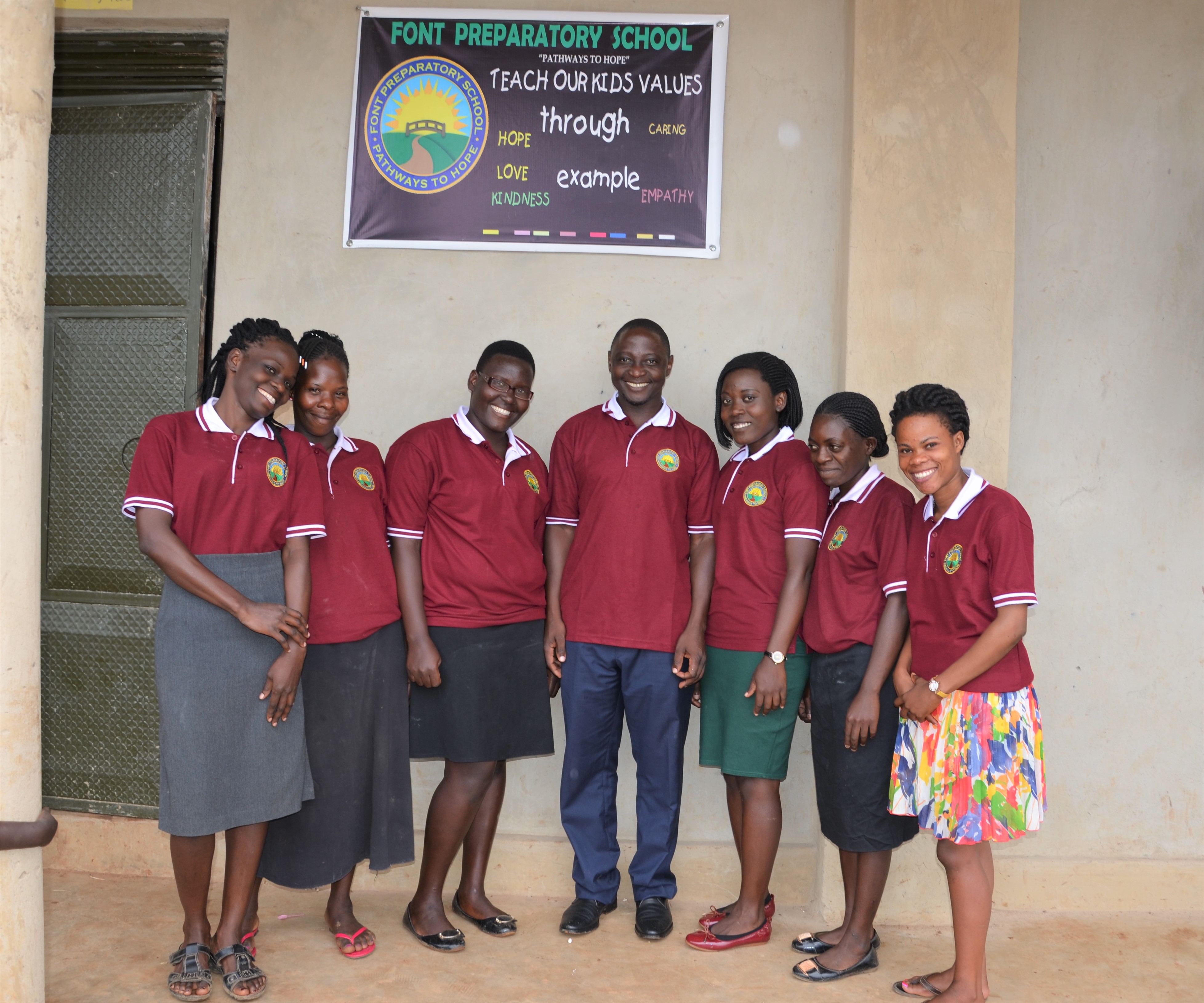 Emmanuel Kisitu (middle) and faculty