[caption id="attachment_10068" align="alignright" width="480"]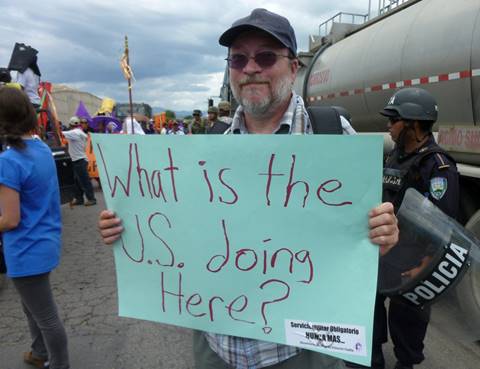 For information and to register for online memorial service for Chuck Kaufman: https://afgj.org/chuck-kaufman-memorial[/caption]
I knew I was going to write something to honor my friend Chuck Kaufman, who died last week in Tucson. At first it was a poem (shared below). As I started to write something more, I realized I was writing about myself. Everything I know about Chuck has come from working with him or in spaces he helped to create. Indeed, a big part of my life has been lived on top of foundations that Chuck was instrumental in laying down.  
In 1994, fresh out of school, I began volunteering with the Committee in Solidarity with the People of Central America (CISCAP) in Eugene, OR.The first organizing activity I was involved in was a counter-mobilization to the official celebration of the 50th Anniversary of the Bretton Woods Agreement - the agreement that created the International Monetary Fund and the International Bank for Reconstruction and Development (which later morphed into the World Bank Group). The counter mobilization led to my first conversation with Chuck Kaufman. The Nicaragua Network (Chuck, Kathy Hoyt, and especially Soren Ambrose) was part of organizing much of the preparation for the activities.  It was the first of many such conversations. 
The following year I met Chuck in person during a coordinating meeting for a nascent Zapatista solidarity network. Later in the year, I met Chuck and Kathy Hoyt on my way to Nicaragua for the first time with Witness for Peace - the Nicaragua Network being one of the organizations assisting with orientation for our delegation. I moved to D.C. in 1996, working first with the Witness for Peace national office and then in grad school in College Park. Throughout it all, Chuck was ever present. In 1998, what was by now the Alliance for Global Justice, co-coordinated the founding conference for what would become the Mexico Solidarity Network. I attended, having just returned from Chiapas with Witness for Peace. A couple of years later, (April 2000) the Alliance was one of the organizers of the Mobilization for Global Justice, a call for mass civil disobedience aimed at shutting down the IMF and World Bank spring meetings. I bumped into Chuck in Philly later in the year protesting the Republican National Convention. I even interviewed Chuck and Kathy several times for my dissertation on international solidarity and labor rights in Nicaragua.
A year after that I was marching with tens of thousands of other people against the looming war in Afghanistan, and later, Iraq. Again, Chuck was in the middle of all of this as a founding member of the board for the international ANSWER coalition. 
Once I started working at the Quixote Center in late 2001, I was often working alongside Chuck and Kathy, be it the Stop CAFTA Coalition (in which CISPES played a huge role), co-organizing several Latin American Solidarity Conferences, and any number of smaller protests in D.C. 
By the late 2000s I had moved to Houston (and left the Quixote Center for a while). The Alliance (and Chuck) moved to Tucson. Although I did not see Chuck much in person after that, our work still connected us. He was part of the Occupy Wall Street "occupation" of Freedom Plaza in D.C. in 2011-2012. He showed up again with water defenders in 2014, and through the fiscal sponsorship program of the Alliance for Global Justice, was part of the support network for the Black Lives Matter movement and a host of other organizations. Chuck remained committed to the cause of Venezuelan solidarity long after it was fashionable on the left to do so. He also led or sponsored many delegations to Honduras and Colombia through the years. 
If this tribute to Chuck seems overly autobiographical on my part, it is the result of Chuck's commitment to, and capacity for organizing. To be sure, everything noted above was the result of the labor of many people, and in some individual cases, Chuck's role may have been relatively small. However, he was always there, and not just in attendance as I often was, but more often having played some role in making the event happen. This story can be told by hundreds, if not thousands, of other activists whose lives at some point intersected with Chuck or a project he or the Alliance played a role in creating or supporting. Indeed, so many people that it is not really "my" story any more.  
The best organizers build. In Chuck's case, alongside many others at the Nicaragua Network and Alliance for Global Justice, he built a dense ecosystem of organizations that invite many, many people in, and make a place for them. 
So, it seems to me the best tribute I can make to you, Chuck, is to simply say thank you for inviting me in, and making a place for me and so many others in the movement. Even if we had never met, I would have done this work. But I would not have done many of the things I ended up doing without your labor, friendship and camaraderie. Thank you!!!
P.S. When I read that you died, I wrote this poem. I share it again.
Chuck, 
this morning 
I heard the news
of your passing.
For a moment 
I thought, somewhat selfishly,
that we should have had
that virtual lunch we spoke of,
a few months ago,
but then never planned. 
It had been too long
since we spoke,
and now…
The light has been passed on,
or more precisely,
the flame, not extinguished
but shared once more;
diluted in the air above Tucson,
and nourishing the ground.
But this is how you lived,
passing the torch,
one person, one formation.
one movement at a time.
Your life,
at least that portion of it you shared with me,
was the waves that ripple out
from the stones throw,
- that sinking, all encompassing
call to justice;
waves touching and lifting
those around you. 
So, when we say "presente"
it is a presence called into being,
from the many lives you've enriched.
Like the water and the flame,
you have been elemental.
And all that said, Chuck,
mostly, and somewhat selfishly,
I'm just really going to miss you.