Throughout February, as Haiti was facing an ongoing political crisis that has kept much of the country on edge, work continued. For the agronomy team from the Jean Marie Vincent Formation Center this meant visiting community organizations, presenting workshops, checking in with people and their livestock with the mobile clinic, and talking to farmers about the quality of the recent sweet potato harvest. I capture some of these activities below, with updates from the team. 
[gallery size="full" columns="2" ids="9199,9200,9201,9202"]
In the top-left photo above, participants in the goat program bring their goats to a mobile vet clinic led by Songé; in the top-right photo, Songé speaks with a young man who has brought a chicken in for a check-up. The goat program is built around the concept of "paying it forward." Community groups receive training on the program and care for the goats, and then "cohorts" are formed including 10 female goats and one billy goat. When the goats have kids, they are shared with other members of the community. The chicken program works in a similar fashion, with community organizations involved in the distribution of chickens, which provide another source of food as well as eggs that can be sold in local markets.
On the bottom left, Aneus, a member of the agronomy team, holds a community meeting with people who are using a cistern to water their yard gardens in Bigue. The cistern project has been a major undertaking (funded by Focus on Haiti, a project of the Sisters of Mercy). More on this below. In the bottom right photo, Teligene, another member of the agronomy team, shows workshop participants how to prepare a smoked fish.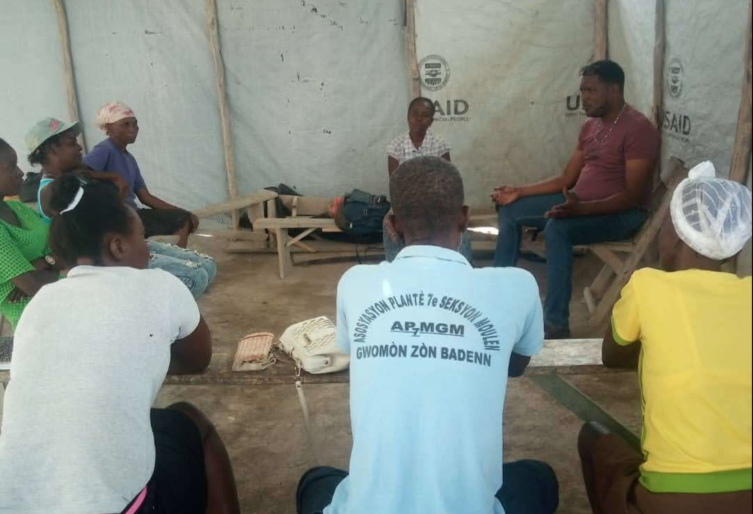 In this photo, Teligene & Songé hold a formation about land preparation before the spring planting in Baden. The spring planting is the primary one for the year (there is another in the fall). These kinds of trainings are one of the benefits for participants in the seed bank, through which farmers can purchase seeds at subsidized rates and hold them "in deposit" at the bank until preparations for planting are complete. The timing and success of plantings is highly contingent on rainfall, which has become increasingly unpredictable. 

Above is a map of program sites where the agronomy team is involved in training and other support for farming communities. You can see the various places where the goat and chicken programs have been launched, where work is being done with planting gardens, and in training on the planting of weevil free sweet potatoes.