If one had any doubts about the fundamentally unjust nature of our systems of incarceration, the COVID-19 experience should erase them. For in its responses to this crisis the carceral state(s) has made clear that incarceration has nothing to do with security, or concern for public welfare more generally. From country jails, to federal and state prisons, to the vast network of immigration detention facilities scattered across the country, people are sick, some are dying, trapped in overcrowded facilities, without access to basic sanitation or adequate health services. The number of confirmed cases of COVID-19 for those incarcerated is rising exponentially - at dramatically higher rates than in the general population.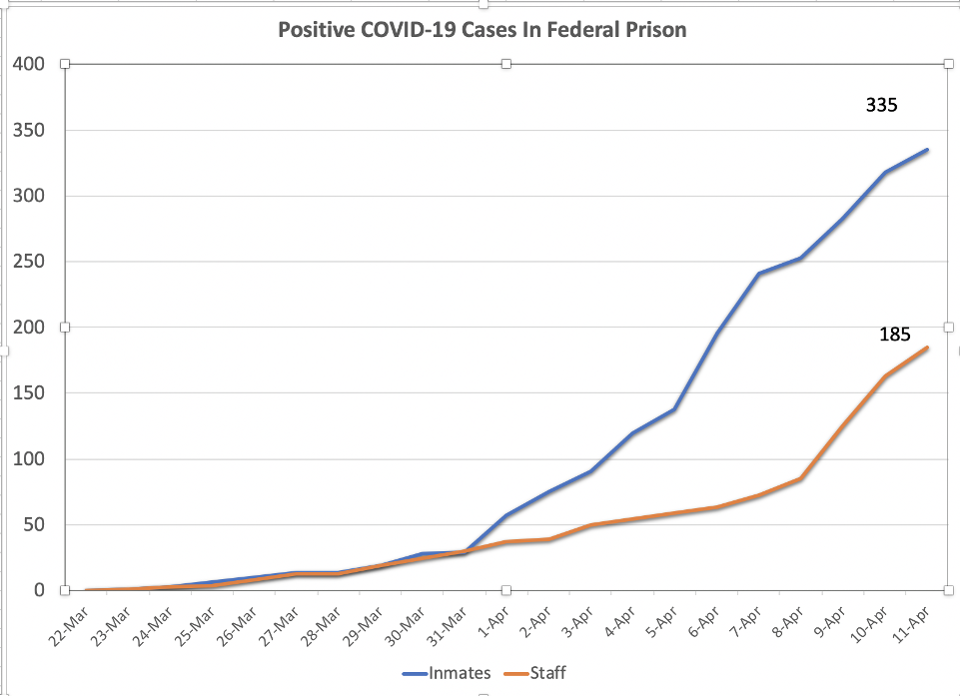 In the Federal prison system, cases are far from a plateau. As reported in the Washington Post, "On March 20, the bureau's website reported just two covid-19-positive inmates and staff; two weeks later, it reported 174 confirmed cases. That's an increase of 8,600 percent, a much steeper rate of increase than has been recorded among the general population. And because testing has been grossly insufficient, these numbers are almost certainly an undercount." The chart above gives a sense of the growth since. As of 04/16/2020, there are 473 people in federal bureau of prison custody and 279 BOP staff who have confirmed positive test results for COVID-19 nationwide. Eighteen people in custody have died; seven have occurred in just one prison - Oakdale Federal prison in Louisiana.
The Federal Bureau of Prisons is considering releasing up to #770fd8594ca6">1,000 people to home confinement. That leaves 143,000 people still behind bars.
In county and local jails around the country, efforts to release people in pre-trial detention and others at higher risk have been the most noteworthy, and yet clearly insufficient. In terms of sheer numbers, Los Angeles and New York released 2,500 people combined, and other localities have been looking at ways to get people out. Nevertheless, Rikers Island remains in serious crisis. With 334 confirmed cases among the 4,000 people still being held, as of April 15, the infection rate on Rikers Island is 5 times that of New York City - 13 times the rate of infection in Lombardy, Italy. And everyone knows undercounting is severe within prisons.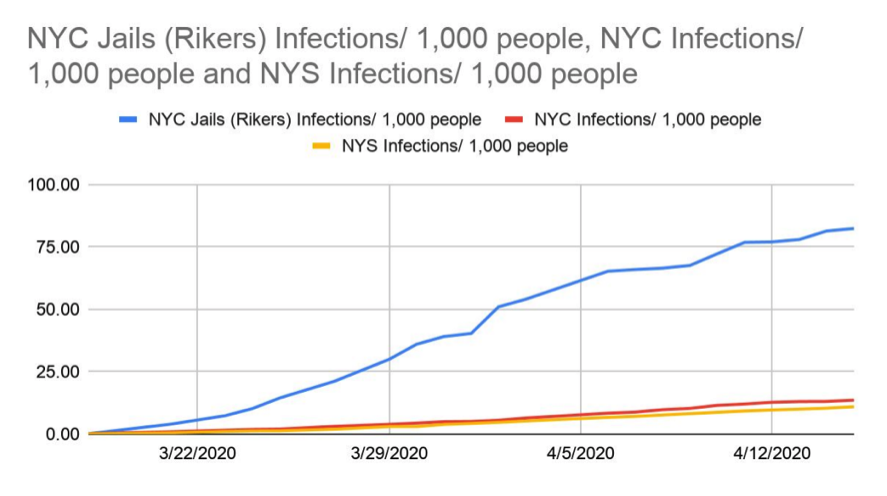 In Chicago, Cook County Jail, one of the country's largest jails, has over 500 people with confirmed cases, and at least three deaths. Nearly 20% of the people being held in the jail have been released since mid-March. Further releases are being discussed, but slowed by negotiations over securing bail. There are 4,400 people still in the jail in pre-trial detention. In other words, they have not been convicted of crime; they are, legally speaking, still innocent. People being held in the jail sued the sheriff's office over poor conditions. Much of the suit was tossed by a judge, though the judge did order that the county make available adequate amounts of soap and hand sanitizer.
Yes, in the middle of a global pandemic, in the richest country in the world, people behind bars, who have not been convicted of a crime, have to sue the government to get soap. 
In Harris County, TX a federal judge yesterday denied an injunction that would have allowed for the release of nearly 1,000 people held in pretrial detention. At issue was a multitude of competing orders - including one from the governor denying anyone's release if they had a prior conviction for, or were accused of violence. Chief U.S. District Judge Lee H. Rosenthal, who ruled on the case, refused to untangle the "jurisdictional mess created by competing stakeholders" in what she called "a dizzying array of government actors with different interests, policies, and legal positions."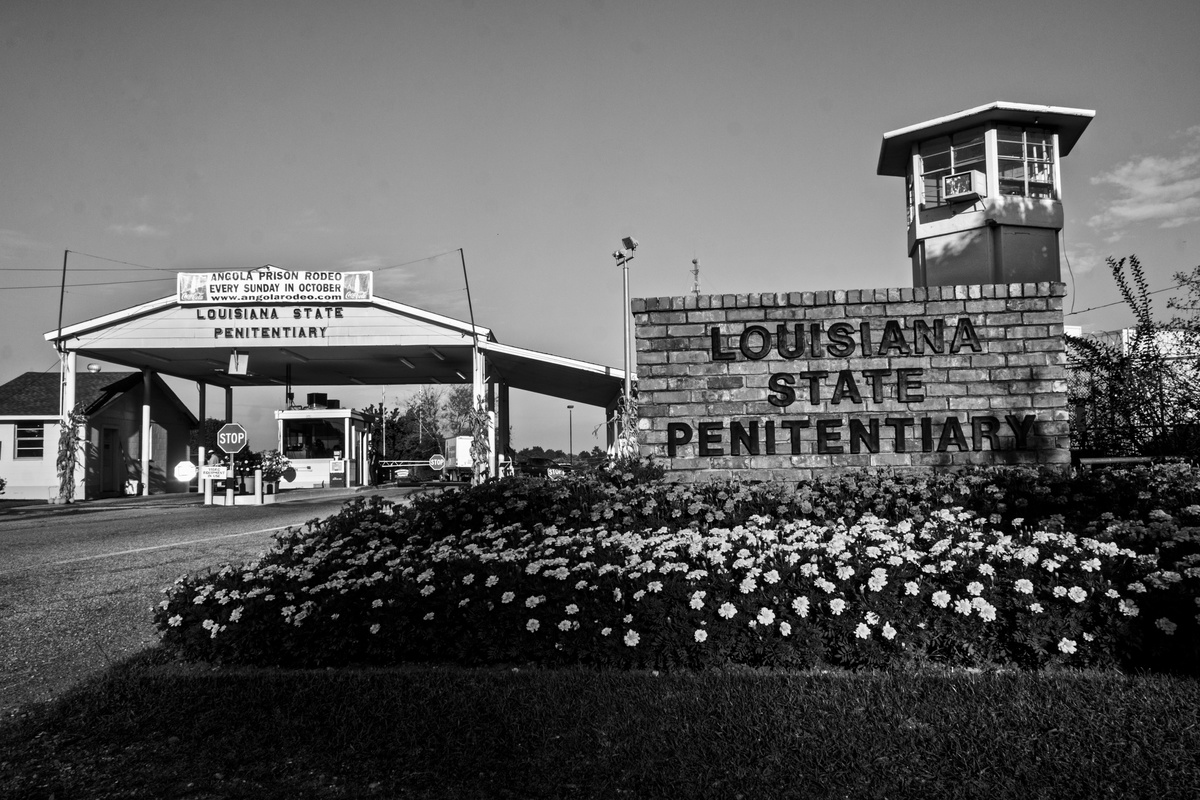 Within state prison systems the situation is worse. In Pennsylvania, Rudolph Sutton, was the first person to die with COVID-19 inside the prison system. He had been working with the state innocence project trying to secure his release.  He likely should have never been in prison to begin with. He was 67 and should have been released regardless (having already served a 30 years sentence). Now he is dead. He won't be the last. 
In Oregon, twelve people in prison have tested positive for COVID-19, leading the state to consider releasing close to 3,000 people of the 14,000 in custody. It would certainly be one of the bolder moves - at least in terms of numbers. However, predictably, despite the looming health crisis, state prosecutors are pushing back. In a statement, officials with the Oregon District Attorneys Association said, "We strongly oppose mass release of prison inmates and call upon the Governor and the Department of Corrections to meet their duty to keep our communities safe." Nevermind that the point of the mass release is community safety, appearances must be maintained.   
Some states are bucking the trend. Rather than release people, they are sending them to a separate location for quarantine. For example, Connecticut is sending prisoners testing positive to the Northern Correctional Institute. Someone previously incarcerated there writes, "First of all, let me say that the conditions in Northern Correctional Institution, where Connecticut's COVID-19-positive inmates are being sent, are horrific and absolutely in no way conducive to the healing of sickly inmates. In actuality it is a place that is 'a recipe for disaster' as medical workers from the CTDOC have stated." There is poor ventilation, and severe understaffing.
Like Connecticut, Louisiana is preparing to quarantine folks at a separate facility, "Camp J" at Angola Prison. Camp J has not been operational for a while- shut down because it was run down and unsafe. Perfect. It is also fairly isolated and far from hospitals. Attorneys trying to keep this from happening note: 
"By crowding large numbers of COVID-19 patients into a facility far removed from hospitals and adequate medical staff and where social distancing is impossible, the DOC is implementing a deadly course of action that controverts not only public health recommendations but also basic common sense," the complaint reads. "If the DOC is permitted to carry out this LSP transfer plan, it will likely result in the death of dozens — if not hundreds or thousands — of people."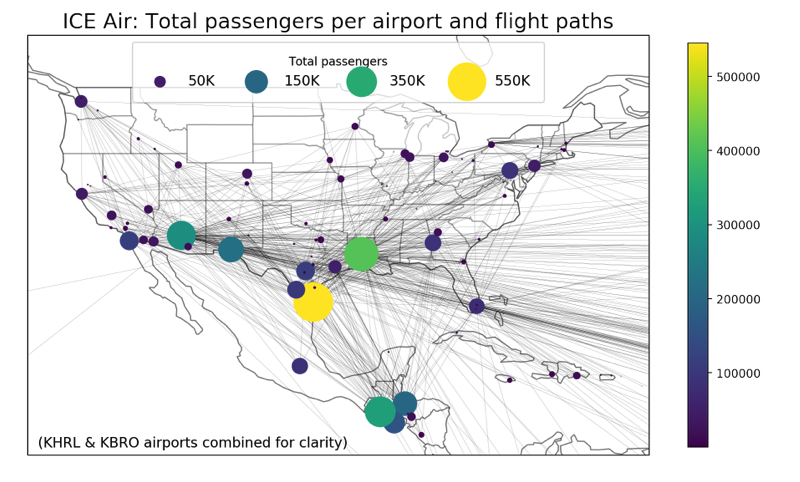 Among Louisiana's immigrant detention facilities, there are confirmed cases at Pine Prairie ICE Processing Center, LaSalle Correctional Center, Winn Correctional Center, LaSalle ICE Processing Center, Richwood Correctional Center, and the Alexandria Staging Facility. These represent just a handful of ICE facilities nationally. There are confirmed cases,  now present throughout ICE's network of detention facilities. And as with the rest of the country - worse in prisons and jails - testing is way behind.
Importantly, the cases at the Alexandria Staging Facility make this a global problem. The Alexandria facility serves as one of five hubs used by Immigration and Customs Enforcement to stage deportation flights to Central America and the Caribbean. It is one of the busiest facilities, surpassed only by San Antonio. It is also the place with the highest number of confirmed cases among ICE detention staff  in the country. People deported through Alexandria have been confirmed positive in Guatemala just this week. 
ICE has made a very limited effort to release people - just under 800 over the last two weeks.  There are still 33,000 people being held in detention - and many of them are also in the same county jails that are suffering outbreaks. 
It is important to understand that what we are witnessing in horror, people trapped behind bars throughout the country increasingly testing positive for COVID-19 and dying, is not the symptom of a broken system. It is evidence of a system operating as it was designed to operate. It is simply doing so in an environment that makes the utter inhumanity of its design plainly visible for all to see. At least those willing to look at it.  We must take action now to help save lives. Longer term, this incarceration hellscape must be torn down and replaced by a system that heals communities and restores balance.
If anything good can come from this disease, let it be a recognition of the need to change institutions and create a more caring world.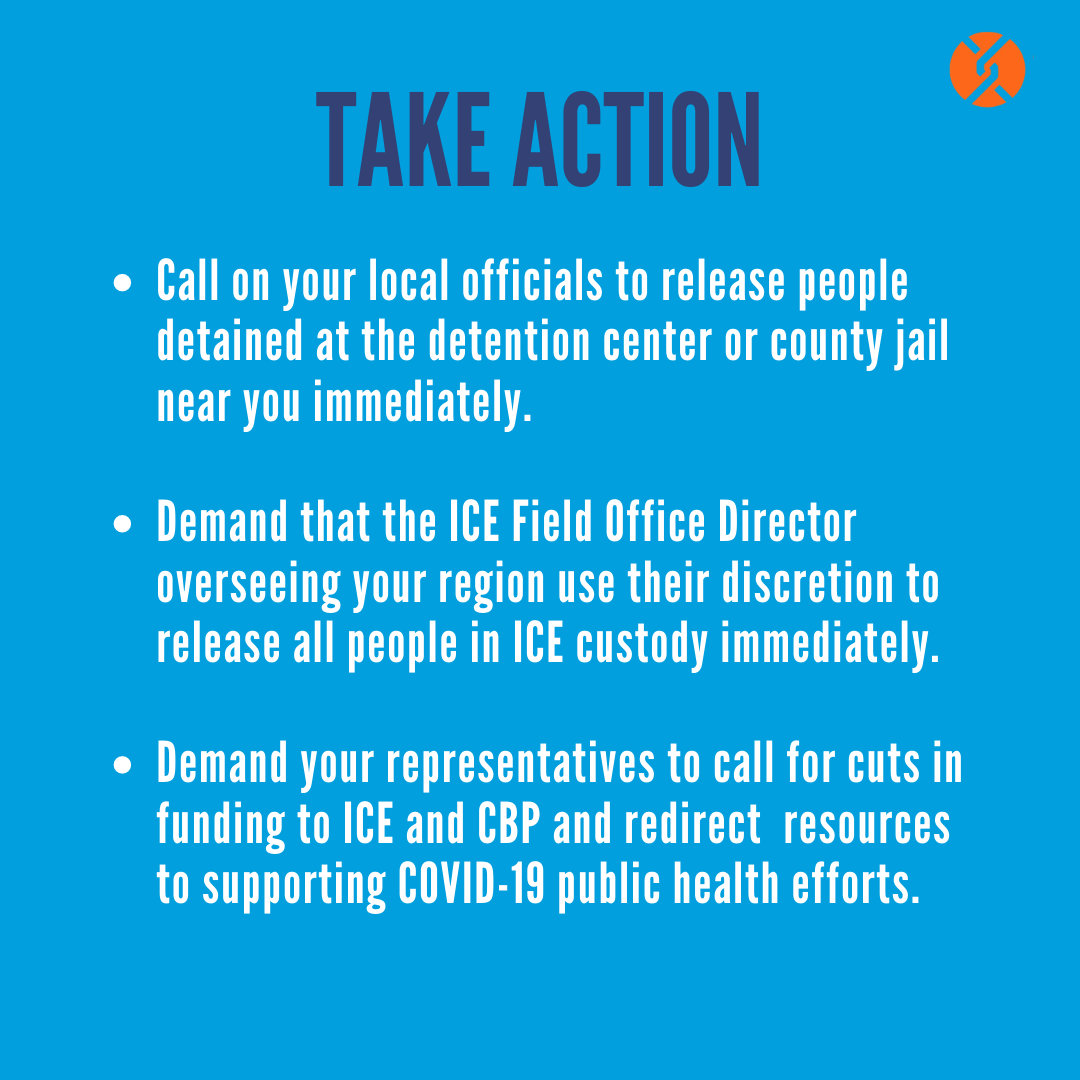 Action ideas
To keep up the pressure, please sign the Detention Watch Network #FreeThemAll petition on MoveOn.org, and remember to share it with at least ten friends. 
Petition to gain release of people from Pennsylvania Jails and Prisons.
Petition to release people from detention in New York and New Jersey.
Color of Change 's Humanity not Cages campaign including petitions for local and state action to decarcerate, in Los Angeles, Arizona, North Carolina, Nebraska, Michigan and more
In California, Call Local ICE Field Directors (FD) and demand they #FlattenTheCurve and #FreeThemAll
FD Jennings NorCal (Yuba and Mesa Verde) - (415) 844-5651
FD Marin Socal (Adelanto) - (213) 830- 7911 
FD Archambeault San Diego (Otay) - (619) 557-6117