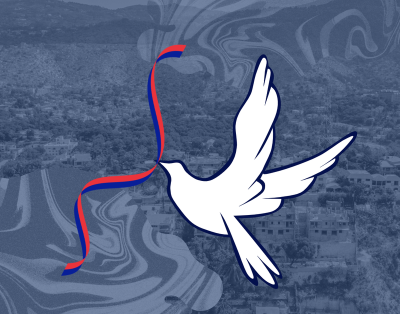 Thanks to you, Quixote Center has generated over a thousand messages to Senators in support of the Haiti Criminal Collusion Transparency Act of 2023. As a result of our organizing, the bill has been voted out of the Foreign Affairs Committee and is awaiting a vote on the Senate floor.
Help us make a final push to pass this crucial legislation by writing to Senators Chuck Schumer and Mitch McConnell.
Click to email Senator Schumer's (D-NY) office HERE, and Senator McConnell's office HERE. You can use the letter script below in your message. 
Dear Senator,
I urge you to take action to bring the bipartisan Haiti Criminal Collusion Transparency Act of 2023 (S. 396) to the Senate floor for a vote. 
Since the assassination of Haitian President Jovenel Moïse in 2021, security within Haiti has steadily deteriorated. In April of this year alone, violence between warring gangs in the capital of Port-au-Prince has claimed the lives of at least 600 people, and injured or displaced many more. 
This bill is a first and necessary step in addressing the violence. It would impose Global Magnitsky sanctions and visa restrictions on Haitian gang leaders and the political and economic elite who collude with them. It also requires that the Secretary of State submit an annual report for the next five years identifying criminal gangs in Haiti, the economic and political elites that support them, and identify actions that the U.S. and Haitian governments can take to address the report findings.  
The people of Haiti deserve to live in peace, without fear of indiscriminate violence. I urge you to support this bipartisan effort for justice.