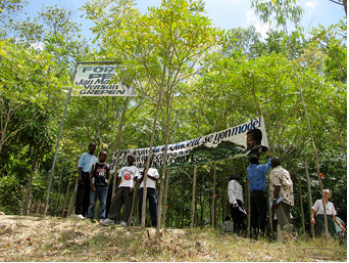 Over the last year there has been a recurring cycle of protest sparked by ongoing anger at the current government. The underlying causes are complex, touching on a number of themes, but central to the frustration is the increasing cost of living that is driving people into more and more desperate conditions. Alongside of the daily struggle, corruption has emerged as a specific target of frustration as it manifests the insular world of Haiti's wealthy class which continues to dominate political institutions. The PetroCaribe scandal, where dozens of politicians and well connected friends were found to have syphoned off billions in subsidized oil revenue for projects never completed, or, in some cases, never started has become a focal point for demonstrations demanding the resignation of president Jovenal Moise.  
Below, Geri Lanham, who works with our partners at the Jean Marie Vincent Formation Center in Gros Morne, discusses what the crisis has meant in Gros Morne and some of the hopeful ways the community has responded.
Gros Morne is known for being a calm place where people go about their daily business of trying to support their families without much fuss. This daily endeavor is not without hardship, and is made more difficult by the lack of transportation and electric infrastructure, but it is generally carried out in a manner of purposeful action where each person strives to manage his or her affairs to the extent that he or she is able. This all happens within the local network of the eight communal sections of Gros Morne, which are connected via local markets and businesses which try to keep up a trade to more or less enable those people who are engaged within the network to strive to make ends meet. Hunger still very much exists in the zone, but thanks to local efforts to support and expand agrarian activities and family connections abroad, there are genuine attempts to lessen this daily struggle to provide basic needs. Life is difficult here, without a doubt, but the people of Gros Morne are incredibly resilient in the face of hardship. 
The recent recurring episodes of insecurity in the country have negatively impacted Gros Morne and the capacity and network that people here have worked hard to create in order to support their families. When the roads to the south toward Port-au-Prince are barricaded with roadblocks due to political frustrations, this means that the merchants of Gros Morne cannot resupply. Prices rise when everyday goods like eggs and flour become scarce, and when the roads open again, these prices do not fall back to the level where they were originally. The real difficulty is when local salaries for professionals who work in education and healthcare do not rise in response to these increased prices, and so the purchasing power of this professional class decreases. The merchants then lose some of their regular clients who can no longer afford to buy at the same level at which they had before the scarcity, and their network shrinks. 
When gas is not resupplied regularly to the four gas stations in town, transportation costs rise. This impacts virtually everyone in town who use the moto taxis to get where they need to go on a daily basis. Profit margins fall for small merchants who need to transport items farther out into the countryside, as well as for moto drivers, who realize that they cannot raise their taxi prices more than what people are willing to reasonably pay even when gas purchased on the black market is more expensive. People who were able to "make it" previously now find themselves in a difficult situation of needing some other activity or connection to fill the gap caused by the price increases which are the result of these roadblocks. 
With the transportation disrupted, people in Gros Morne felt the impact of these national strikes. This led to the desire from some in town to join in the protest activities to show their own frustrations and commiserate with their country people who are all very frustrated by the current situation of the unsustainable high cost of living. This disgruntled feeling manifested itself in a day of general protests in Gros Morne, which involved a group of people marching down the main roads, erecting rock barricades along the national highway that passes through town, and generally voicing their discontent with the status quo. Then the next day, all was back to business as usual, as people went about the daily struggle to provide for their families, which is only becoming more difficult. 
One positive ongoing change to emerge from these national protests and the disruptions that they have caused is a local desire for people to become more self sufficient in their food sources. The local agronomy team in Gros Morne, along with various community organizations, is striving to teach people techniques for increasing their garden yields and introducing them to new crops in order to fortify the local capacity to supply the nutritional needs of the population. Local women's groups are supporting one another in efforts to create small front yard gardens of vegetables like tomatoes, peppers and okra, while community organizations are creating communal gardens to plant crops like corn, okra and sweet potatoes. Local farmers are receiving formation to plant a new variety of yams and are using land preparation techniques like double dug gardens to respond to the lack of rainfall in the zone. As families begin to identify the assets such as land, which they already have, they are then able to use what they learn from agronomy formations to put the land into use in an attempt to respond to the hardships facing their families. Coordination between leaders out in the communal sections means that different zones are planting different crops, so that they do not drive prices down when they bring their harvest to the central market in the town of Gros Morne. These small efforts are beginning to show results as everyone strives to go about living by finding creative ways to deal with the new normal.