The Biden administration continues to expel Haitian refugees at an alarming rate. 15,920 Haitians have been expelled on 148 flights since the current wave of mass deportations began on September 19. Over 18,000 Haitians have been expelled since Biden took office.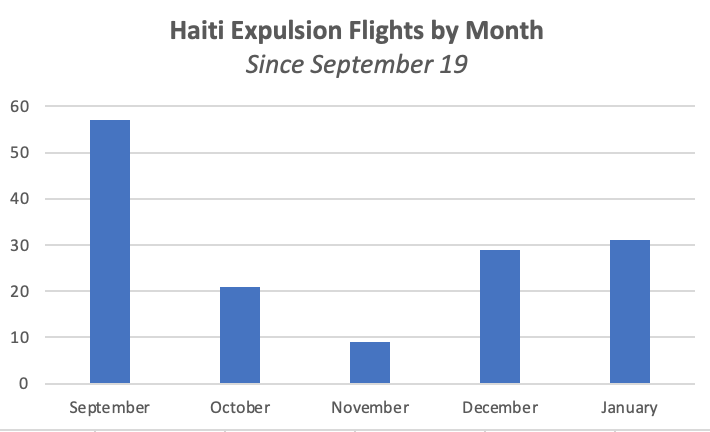 There have been 32 flights thus far in January (through the 21st), with two or three flights every day. Most flights are departing from Laredo, a border town in Texas, and are mostly Title 42 expulsions. Consistent demographic data is hard to get - Immigration and Customs Enforcement provides nothing, and confirms nothing publicly. However, based on reporting from the International Organization on Migration in Haiti, which receives those expelled, 18% of those expelled through December 31 were children, indicating that a large percent of removals are families.
This week*
Tuesday: Two flights from Laredo, TX to Port au Prince, total numbers were not available. However, it was reported that 79 of the people who arrived on these flights tested positive for COVID-19.
Wednesday: One flight with 127 people, including 58 children, of whom 38 were reportedly infants (0-2 years old).
Thursday: Two flights with 238 people, including 48 children 
Friday: One flight with 72 people, 28 children, 22 of whom were less than 2 years old.
Media: Rafael Bernal and Rebecca Beitsch,"Rift grows between Biden and immigration advocates," The Hill, January 20, 2022, and Charlotte Weiner, "@charlottewiener/why-the-haitian-struggle-matters-for-anti-racism-activism-e97f55726adf">Why the Haitian Struggle Matters for Anti-Racism Activism,"  January 18, 2022
* Many thanks to Steve Forester of the Institute for Justice and Democracy in Haiti, who provides a daily report about these expulsions.
Take Action to Halt the Flights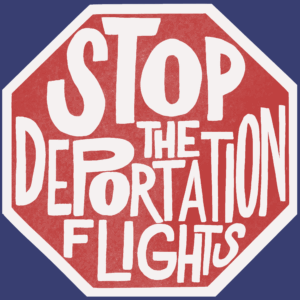 Contact your members of Congress and push them to speak out against this policy. We have prepared a message you can send here. Time permitting, take the extra step of calling your members of Congress, House and Senate, and ask them to publicly oppose these removals.
There is organizational sign on letter demanding an end to these expulsions being coordinated by Haitian Bridge Alliance and others. You can read that here, and sign here (organizations only!).  Deadline for signing is January 25, 2022