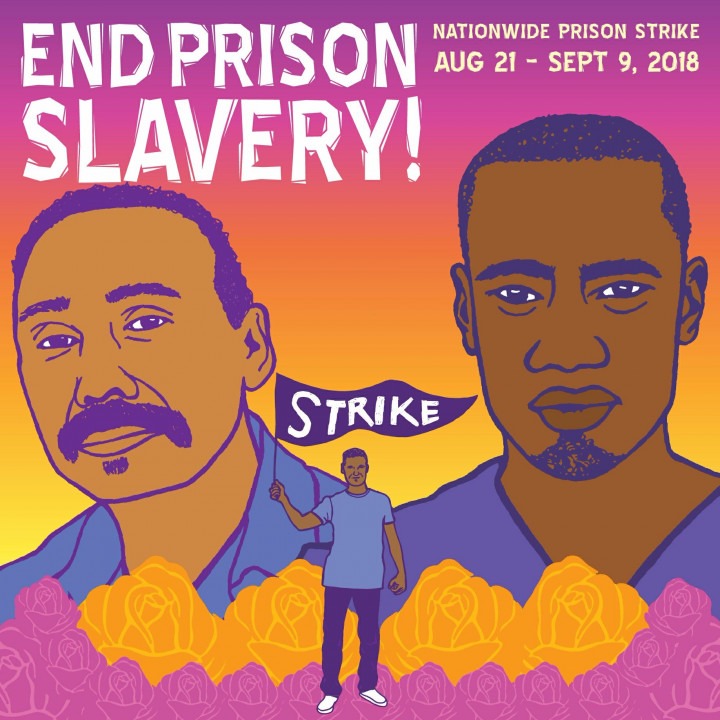 Beginning on August 21, people incarcerated in prisons and jails and immigration detention facilities began a series of actions to raise awareness about the conditions of their imprisonment. Accompanying the call to action is a list of 10 demands for reform. The Prison Strike is now two weeks old - and will run until at least September 9, the anniversary of the Attica uprising.
Jailhouse Lawyers Speak is launching a new coalition to carry the demands from the strike forward beyond September 9. You can read about that here - and get involved if you feel called to do so.
The latest update from Jailhouse Lawyers Speak includes the following confirmed activities over the past two weeks. It is important to get information out. Prison authorities have responded to media inquiries largely denying that anything is going on inside. As you might imagine, it is very difficult to organize sustained protest inside a prison. So, for those who have picked up this charge, we should lift up their efforts wherever we can.
Washington – Representatives of over 200 immigrant detainees at Northwest Detention Center in Tacoma, Washington declared a hunger strike on day one of the national prison strike. Amid fears of retaliation, 70 across three blocks participated. As of this time, seven continue to refuse food into a second week.
Georgia – Prisoners in Georgia State Prison "Reidsville" have reported a strike, according to Jailhouse Lawyers Speak.
South Carolina – Jailhouse Lawyers Speak is reporting that prisoners in the following facilities are on strike: Broad River Correctional Institution, Lee Correctional Institution, McCormick Correctional Institution, Turbeville Correctional Institute, Kershaw Correctional Institution, and Lieber Correctional Institution. The actions in these facilities include widespread workstrikes, with only a few prisoners reporting to their jobs, and commissary boycotts. McCormick prisoners have been subjected to strip searches everyday since August 21.
North Carolina – Prisoners at Hyde Correctional Institution in Swanquarter, NC demonstrated in solidarity with the strike. There have been unconfirmed reports of strikes at other institutions across the state.
California – At New Folsom Prison a hunger strike started by Heriberto Garcia on August 21 has spread to Lancaster State Prison outside Los Angeles: William E. Brown, Jr. and his group are also striking.
Ohio – At least two prisoners at Toledo Correctional Institution began a hunger strike on August 21. David Easley and James Ward were moved into isolation for participating and authorities have cut off their means of communication to outside contacts.
Colorado – Starting around August 7, ten prisoners at Sterling Correctional Facility announced a hunger strike against a two week long 24 hour a day lockdown of 38 administrative segregation prisoners.
Indiana – Prisoners in the segregation unit at Wabash Valley Correctional Institution initiated a hunger strike on August 27 demanding adequate food and an end to cold temperatures in the unit.
New Mexico – On August 9, prisoners at Lea County Correctional Facility in Hobbs, NM organized a work stoppage against conditions at the prison, which is operated by private corporation GEO Group. Tensions at the prison reached a tipping point prior to the date of the strike and prisoners could not wait before initiating their protest. All facilities in New Mexico were placed on lockdown status on the morning of August 20. This statewide lockdown has since been lifted except for Lea County CF.
Florida – Jailhouse Lawyers Speak asserts that five Florida facilities are seeing strike activity: Charlotte CI reports 40 refusing work and 100 boycotting commissary. Prisoners at Dade Correctional say 30-40 on strike, Franklin Correctional reports 30-60, Holmes Correctional reports 70, Appalachee Correctional reports an unknown number.
Nova Scotia, Canada – at Burnside County Jail in Halifax prisoners went on strike and issued a protest statement in solidarity with the strike and naming local demands. They went through a lockdown and extensive negotiations with authorities. Those who refused to cooperate with humiliating body scans were punished by being locked in a dry cell (no water or working toilets) for three days.
Texas - IWOC was forwarded a message dated August 23 from inside administrative segregation (solitary) of Stiles Unit, Beaumont, TX, confirming that 2 prisoners are on hunger strike in solidarity with the national action: "I feel great. But very hungry! And not because I don't have food but because of our 48 hours solidarity with our brothers and sisters. It's the only way we can show support from inside of Seg. Let everyone know we got their backs." IWOC has confirmed that Robert Uvalle is on hunger strike in solitary at Michael Unit, Anderson County, TX in solidarity with the nationwide strike. Robert has been in solitary for most of his 25 years inside.
This list of activity comes from a zine called Solid Black Fist, created for people incarcerated and allies during the strike. You can read the latest issue here.
Finally, last week, America magazine called the Quixote Center looking for a "Catholic angle" on the prison strike. Apparently we are one of the few faith based organizations to have endorsed the strike and the strikers' demands. The article from Kevin Clarke came out Friday. You can read that here.
Keep up to date on the strike and solidarity activities:
Amani Sawari and Jailhouse Lawyers Speak
Incarcerated Workers Organizing Committee
__________________________________________
Read more about InAlienable.
Support the InAlienable program!
__________________________________________