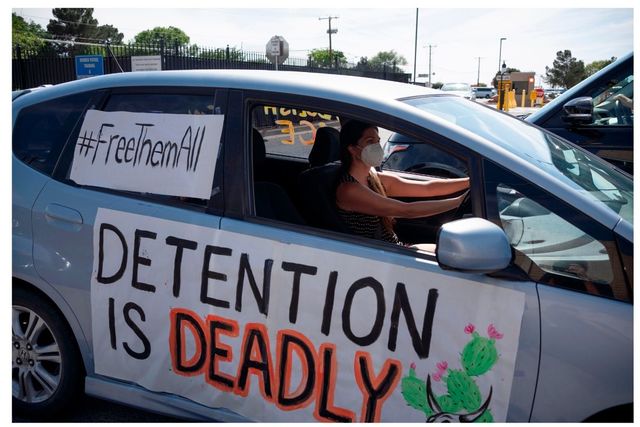 The Quixote Center is a member of Detention Watch Network and has been taking part in the #FreeThemAll campaign. Below I share the latest monthly update from the Campaign. In addition to this detailed and resource rich update, I would encourage everyone to read this powerful Colorlines Op-ed written by Priyanka Bhatt and Azadeh Shahshahani of Project South about conditions in Georgia's prison, jails and detention facilities. 
"We are scared. Here, we cannot keep the distance of two meters that is called for. All of us are placed together, we are 76 people in every section… there does not exist a way to be able to avoid an outbreak. Please, we ask for help from everyone…We are human beings, we also need to be with our families to be able to help them."These are the words of an immigrant detained at the Stewart Detention Center in Lumpkin, Georgia.
Though focused on Georgia, these conditions are replicated throughout the U.S. system of mass incarceration, as we have updated in recent weeks here, here and here
Update From Detention Watch Network
This is the first of a series of monthly email updates about the state of immigration detention. Now nearing two months since the administration declared a national state of emergency, it's becoming even clearer that detention facilities cannot manage the spread of the virus.
On April 17th, ICE Acting Director Matthew Albence briefed the House Committee on Oversight regarding the agency's response to the risks of COVID-19 in immigration detention. After weeks of pressure from public health experts, advocates, and elected officials alike for releasing people in ICE custody to best observe health and safety precautions, ICE admitted to having only released 693 individuals for virus-related concerns of the almost 30,000 people still in detention at the time.
Just days later, DWN members Southern Poverty Law Center and Civil Rights Education and Enforcement Center succeeded in getting a preliminary injunction deeming this response seriously deficient and ordering ICE to re-evaluate custody determinations. And just days after that, another federal judge in Southern California ruled in favor of large-scale depopulation of the Adelanto ICE Processing Center until the facility can adequately follow social distancing recommendations. Instead, ICE is countersuing while the private prison company that runs this same facility is engaged in a separate legal battle to expand its capacity. To recall, the legality of the expansion request was in question after ICE truncated federal procurement processes to approve the expansion before state legislation that would have barred it went into effect in January. Both the agency and the private prison company, GEO Group, refuse to cancel the expansion despite the public health crisis and federal ruling, clearly demonstrating that they are unwilling to make necessary changes to keep immigrants safe in this moment.
State of Detention by the Numbers
As of April 25th, there are still 29,675 people in ICE detention. These numbers have been slowly decreasing – insufficiently so, and even then, we know that it is not as a result of ICE granting immigrants much needed relief. The administration's menu of asylum restrictions has effectively closed our Southern border so that CBP is booking about 75% less people in to ICE custody. Meanwhile at a time when the agency is being advised to engage in mass releases, the average length of stay for people in ICE custody has increased 40% this month to 72.3 days. This means that since the start of this pandemic, ICE has actually been holding people for increasingly longer periods of time.
To be clear, when accounting for how the few releases ICE admitted to making contribute to the decreases in the detention population, it's clear that the agency is not prioritizing the clearly outlined recommendation of release. The numbers do not mean immigrants are seeing relief but come in large part from denying people their right to seek asylum and continued deportations by the thousands – the true priorities of these agencies.      
State of Organizing on the Inside
Since March, there have been at least 20 confirmed hunger strikes with nearly 2,000 people participating in detention facilities across the country, protesting their incarceration and demanding to be released. For reference, we recorded 13 hunger strikes in all of 2019. This is a nationwide trend of immigrants caged in ICE jails refusing meals, knowingly weakening their immune systems during the pandemic, because they understand that regardless of ICE's response, release is their only option for true safety.
Folks are also protesting by refusing to work in the kitchen, laundry room, or commissary, as ICE is increasingly relying on the labor of people in its custody to operate its facilities. Immigrants in Georgia's Irwin County Detention Center held up signs asking for help through video communications, while member group La Resistencia captured protesters at Washington's Northwest Detention Center spelling out distress signals with their bodies. People in detention are putting their bodies on the line to fight for their lives and their demands are clear: only immediate release will keep them safe from exposure to the virus.
ICYMI: Resources from the Network