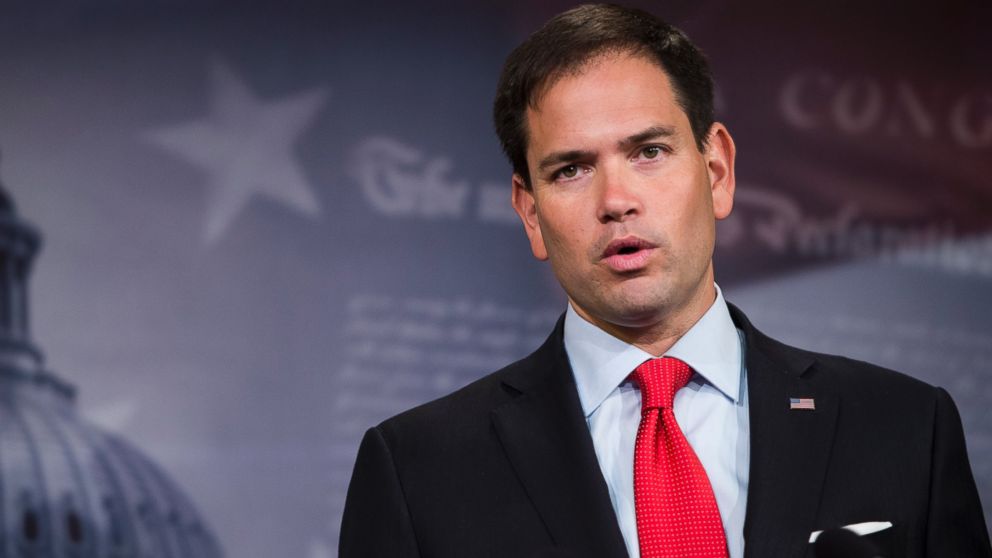 People are in the street calling for the resignation of their president. The police are using excessive force; in the last three weeks at least 17 people have died in protests. Over the last 15 months of recurring demonstrations, close to 100 people have died. In November 2017, a government-affiliated gang massacred dozens of people in the home town of a leading opposition figure. This is not Nicaragua or Venezuela, but Haiti. The United States government steps up to the mic and says, what? 
Cue Marco Rubio:
"That's an internal matter for Haitians to decide. I don't think it's the proper job of the United States to call on a democratically elected leader to step down. That would be interference. Just like it would be wrong for the U.S. to step up and say he should stay."
Before I write another word, I'd like to just note that this may be one of the few things Rubio has ever said that I agree with. It is just...how to say this…really hard to take seriously, especially coming from this guy. Earlier this year, Rubio threatened a coup d'etat against Maduro in Venezuela, saying of Maduro's efforts to resist the U.S. installation of Juan Guaidó as interim leader:
"He's picked a battle he can't win," Mr. Rubio, 47, said of Mr. Maduro in an interview on Friday. "It's just a matter of time. The only thing we don't know is how long it will take — and whether it will be peaceful or bloody."
Rubio also joined the chorus of neocons in the U.S. congress and their erstwhile "left" allies, in demanding Ortega's ouster from Nicaragua's presidency last year. Rubio was practically Trumpesque in use of Twitter, being very active but repeatedly getting reports wrong. E.g. His July 13 Tweet last year when he reported that "Ortega Thugs" were burning the National Autonomous University of Nicaragua (UNAN). Buildings at the UNAN were set on fire that day - by opposition groups retreating into the UNAN after firing on an FSLN caravan (see pages 34-37 of linked article) taking part in the repligue (celebration of the Sandinista's strategic retreat to Masaya in 1979 during the insurrection). Members of this opposition group shot and wounded 10 people. The resulting stand-off over night led to gunfire exchanged between police and opposition groups that had blockaded the university, some of whom had taken refuge in a church. The police response seemed excessive, at least as reported. But as was the case for most of last year's international coverage of the crisis, what the police were actually responding to was never discussed. In the morning, most were allowed to leave the church. Once the area was cleared, stores of weapons were found on the campus, another detail rarely reported outside of Nicaragua. Certainly Rubio never got it right. Nevertheless he put Ortega "on notice," and offered his support to opposition leaders (at least those wealthy and or connected enough to get to D.C.).
In Haiti, where Rubio has also applied pressure - pressure to cut ties with Venezuela and not to cut ties with Taiwan - all he can muster is some version of "not our fight." The contrast is frustratingly familiar, but frustrating nonetheless. In reality, Moïse would not even be president were it not for U.S. interference in the election process in Haiti. 
The distinction Rubio would likely make is that Ortega and Maduro were not "democratically" elected. In fact, the only distinction between elections in Haiti, Nicaragua and Venezuela, all of which were subjected to heavy U.S. interference, is that in Haiti the "right guy" (i.e., the U.S.-backed candidate) won  - the same guy half the country is in the streets today trying to remove from power. The "right guy winning" is what "democratically-elected" means in the U.S. foreign policy lexicon. As far as electoral processes go, arguably Nicaragua and Venezuela's elections were cleaner. Certainly the OAS statement on Nicaragua's 2017 elections offered critique, but noted that the problem areas they identified would not have changed the outcome. Meanwhile, Haiti's election had numerous procedural issues, and by the time the final election occurred, was largely boycotted.
In an ideal world, the protection of human rights would never be simply "an internal matter," but a multilateral commitment with the force of international law. However, as it stands, human rights advocacy is practiced almost exclusively as an expression of institutional interests and partisan framing. Which means it is not about human rights at all, but the use of human rights in service to other agendas.
The never ending doublespeak from Rubio and other policymakers, agencies like the UN, and even some human rights organizations, ensures universal protection of human rights never happens. Ortega will never have to face a meaningful, objective panel to answer questions concerning possible crimes committed under his watch, because the U.S. has made sure no such place exists. And so, of course, neither will Moïse, much less Hernández in Honduras, or Donald Trump, whose human rights record is arguably the worst, given its global reach. 
The U.S. should NOT intervene, but in Haiti's case the U.S. has never stopped - not since 1804. So Rubio's words are simply more of the typical, vacuous phrases intended to deflect responsibility we have come to expect from U.S. policymakers. Rather than just yawn, however, we need to understand that the consequences of such posturing are significant.