The kid with the neck tattoo of bright red lips, I won't soon forget him. It wasn't the neck tattoo of a tough guy or a gang member, but the playful tattoo of a baby-faced teenager. I bet I will run into him someday in the U.S., but I first met him near the Guatemala/Mexico border in June.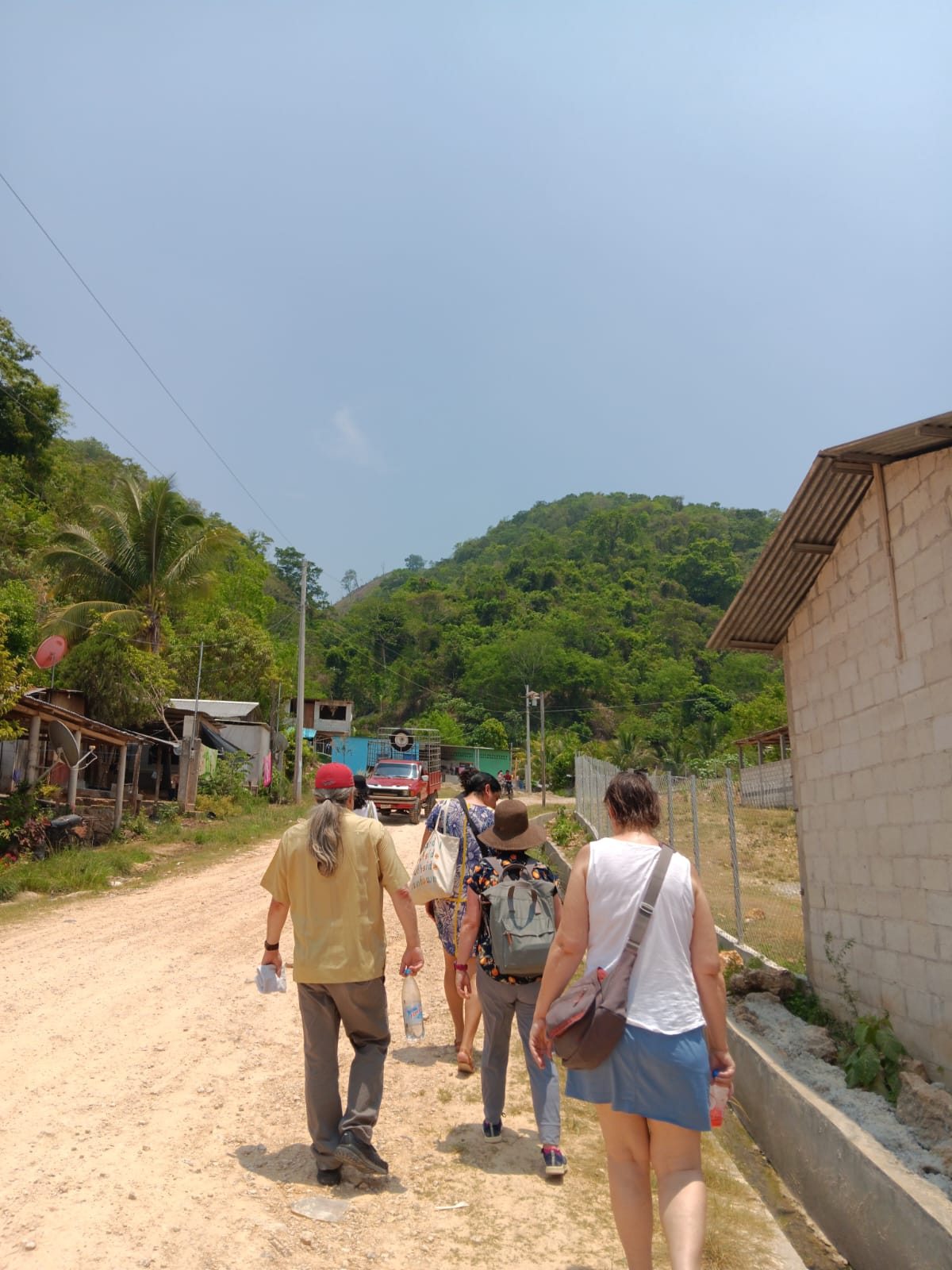 Our group met him and a few of his traveling companions at an overnight migrant shelter, just a few hundred yards from the Mexican border in the town of El Ceibo, Guatemala. As a U.S. pro-immigrant advocate, I was on a trip organized by the Quixote Center, a non-profit based in the DC area, to see the network of shelters that give short-term refuge to some of the thousands of people who are walking to the United States to seek safety and opportunity. I wanted to see for myself what U.S. immigration looks like from thousands of miles away in the dusty afternoon sun at the Guatemala-Mexico border. 
After two decades of working within the never-ending debate over whether and how to modernize the U.S. immigration system, it is easy to forget that the story of immigration is one of people. People are impacted by our policies and the promise of work and safety in the U.S. The people along the way who treat migrants with great care, hostility or disdain are part of the story. And the everyday, real things all people cope with like water, food, recharging cell phones and shelter (and the heat) are plain to see.  
The kid with the lips tattoo, who said he was 20 but looked younger, was Honduran and had previously made it to near the U.S.-Mexico border in Chihuahua, but had been sent back by Mexican authorities. He and his friend were now trying again. He had planned to set out the morning we met him, but he was delayed.  
The shelter, which is run on a shoestring, usually only allows people to stay for 12 to 14 hours. But today people had been allowed to stay longer because that morning there had been a shootout in the town near the border crossing. The battle was between Guatemalan federal police and a drug cartel trying to spring one of its leaders before he was extradited to Mexico at the request of the U.S. So it is not just the U.S. immigration policy and demand for labor that plays out on these dusty streets thousands of miles away from the U.S., but also our national demand for illicit drugs and our massive supply of illicit guns are also at play.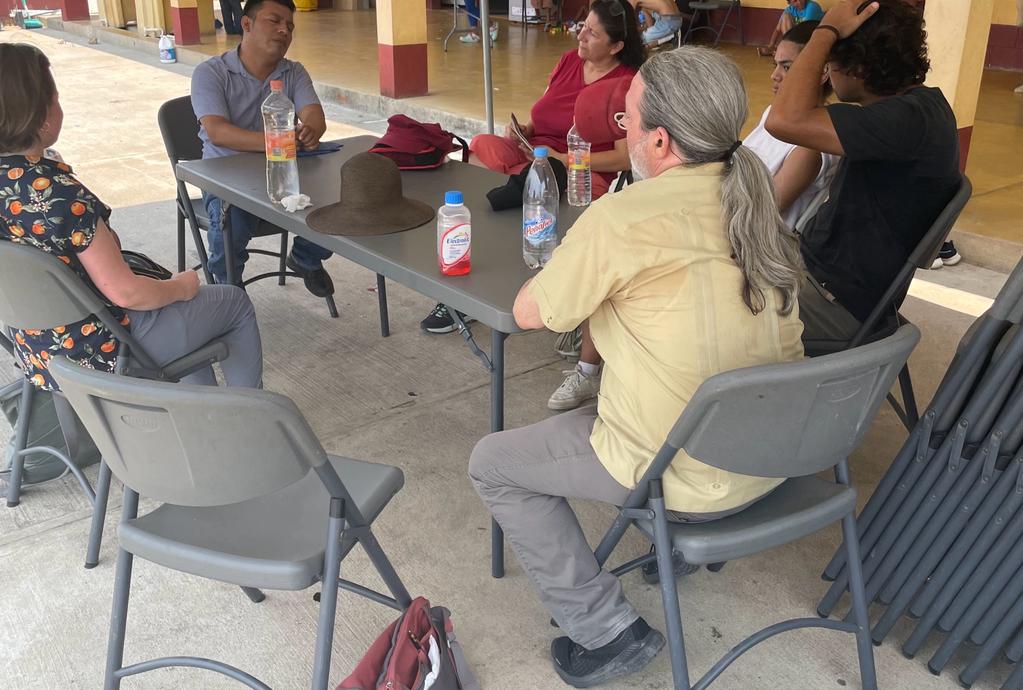 Typically the shelter welcomes people in the evening, allows them to eat, shower, recharge phones, wash clothes by hand and sleep on cots before they leave after breakfast the next morning. The kid with the red lips tattoo played with a soccer ball after we talked, appearing to be not quite sure what to do with a day of rest and relaxation on his difficult journey from Honduras to the U.S., delayed as it was by the shootout. 
The trip I was on was organized by the Quixote Center in conjunction with the Franciscan Network, a faith network of immigrant-serving shelters in Latin America and the Caribbean. Along with the Quixote Center leader, five pro-immigrant advocates from the U.S. were on the trip to visit three migrant shelters near the Mexico-Guatemala border. 
After we talked to the Honduran kid at the El Ceibo shelter, we also talked with a Venezuelan couple who had their daughter (roughly 10-years-old) with them and had crossed the Darien Gap into Panama some days or weeks earlier, before making their way to Northern Guatemala. The Darién is a dense and deadly forest, notorious for rugged terrain, criminals, murder and kidnappings. 
The father told of their crossing through the forest and seeing the bodies of those who had died or been killed along their route. While they tried to shield their daughter from seeing the dead bodies of children her age, they could not. The dad's way of coping with this horrendous experience was to tell his tales in the cadence of a standup comedian with lots of exaggerated humor thrown in. Everyone copes with trauma in different ways, I guess. His wife looked weary, sad and a little shell-shocked. The daughter just played with toys the shelter provided, making the best of it and keeping herself occupied.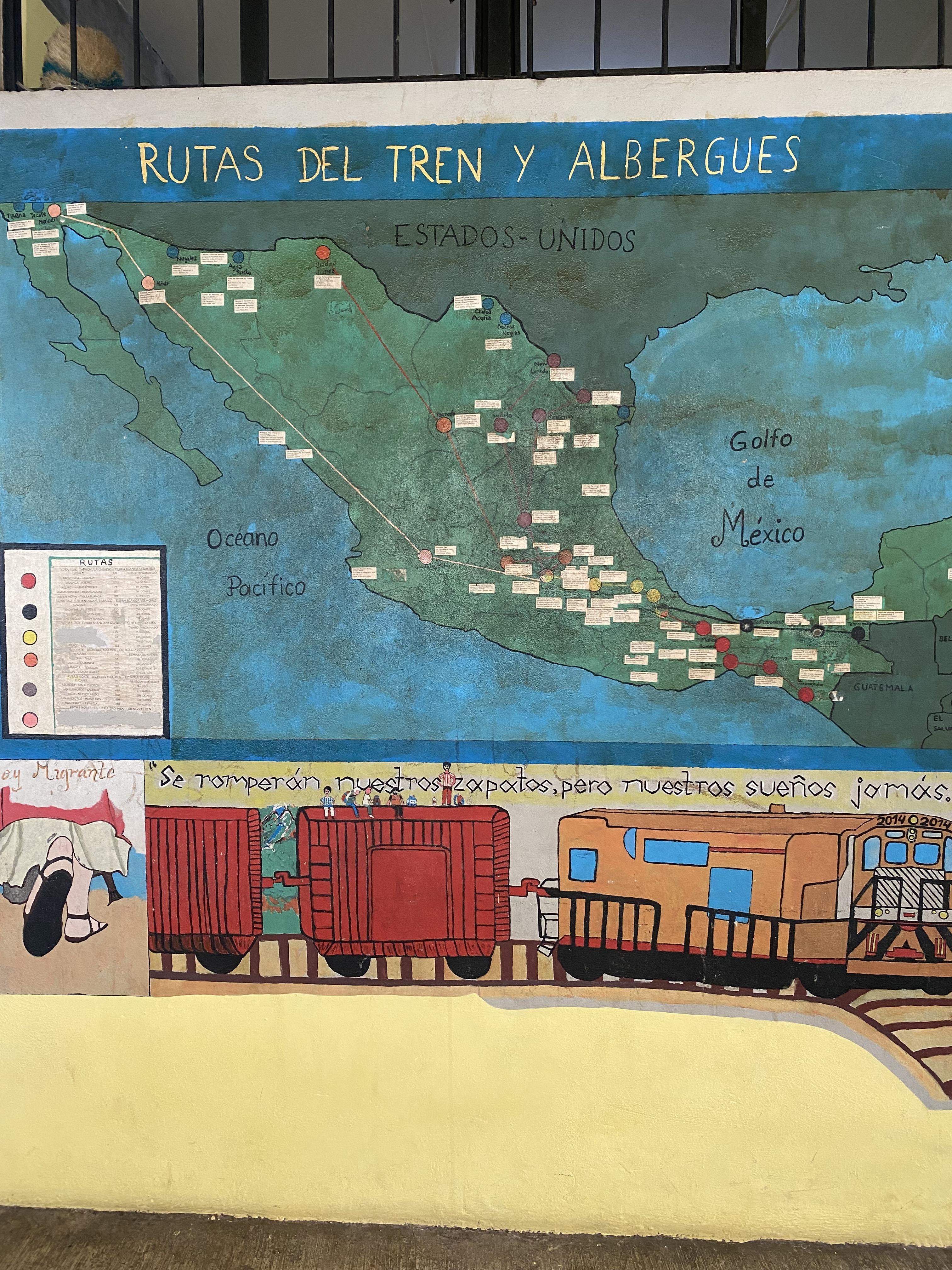 The next day, we visited another shelter, La 72 in Tenosique, Tabasco, Mexico. The shelter is a day's walk (or more) from the Guatemala border shelter in El Ceibo. This is a bigger and more established shelter run by a Franciscan friar and staffed with about a dozen staff and volunteers. It lies at what used to be the start of the main migration route through Mexico, a freight train from the Caribbean coast to the port of Veracruz, that won the nickname La Bestia (the Beast). Before the train stopped running in 2019, people used to jump on board near Tenosique, usually after paying smugglers or being robbed by them and continuing their journey north if they survived. If you were not killed by criminals, you may have been injured jumping onto or holding on to the moving freight train. Countless were maimed or killed. La Bestia indeed. 
Even now, with no train (they are building new tracks for a tourist train that may open later this year), the old migration routes are still in use, following the course of La Bestia. So La 72  (named for 72 migrants who died in a smuggling incident nearby some years ago), remains on a well-traveled migrant route as people walk across Mexico to the U.S. There is a tribute to the 72 migrants and the countries from which they came in Central America, South America and Asia, in the big room that doubles as a chapel and overflow sleeping area at La 72.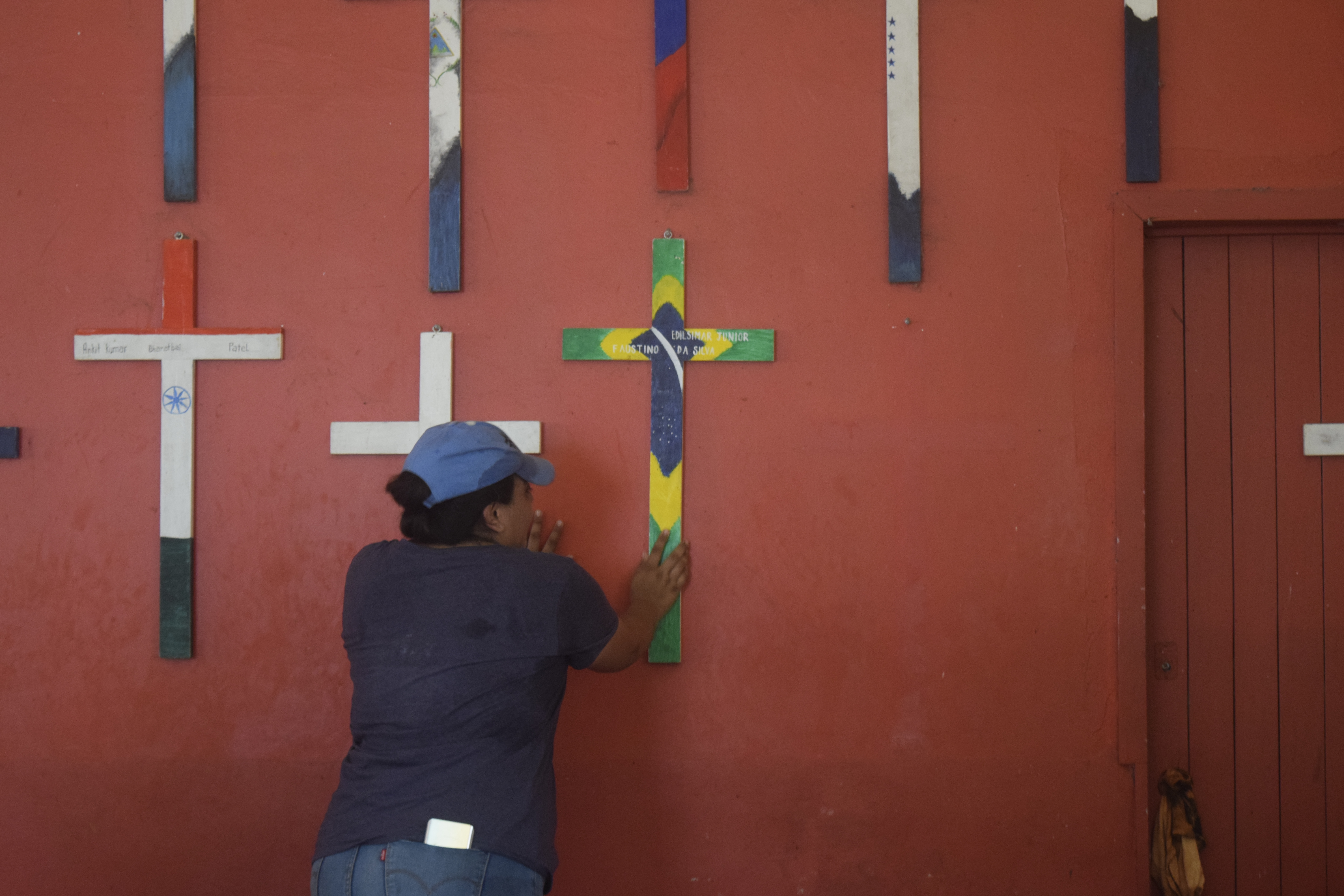 There is food, rest, showers, laundry, electricity and safety in dorms for women (and children), men, and LGBTQ migrants at La 72, but also a health clinic (which includes mental health), social workers, lawyers, and counselors to help migrants heal before moving on.  
Many of those at the shelter were seeking refugee/asylum status in Mexico and La 72 staff helped, a process that can take months. Others were just laying over for a few days before the next part of their journey north. Twice a week, Doctors Without Borders also set up a clinic outside the shelter for whoever came by (whether they were staying at the shelter or not) and Save The Children also ran an education program for some of the kids staying at the shelter a couple of days a week. 
The staff and volunteers at La 72 were remarkable. They exuded a great sense of service, camaraderie, humor and caring. We were able to make three visits to La 72 during our trip and met dozens of the migrants at the shelter and their kids, mostly Venezuelans and Hondurans and just a few Haitians. Like those we met in El Ceibo, they were in remarkably good spirits and optimistic and had very little information on what lay ahead. We were there in early June, in the weeks after Title 42 was lifted at the U.S. border and before it was clear how the new Biden travel ban and other exclusions would impact asylum seekers.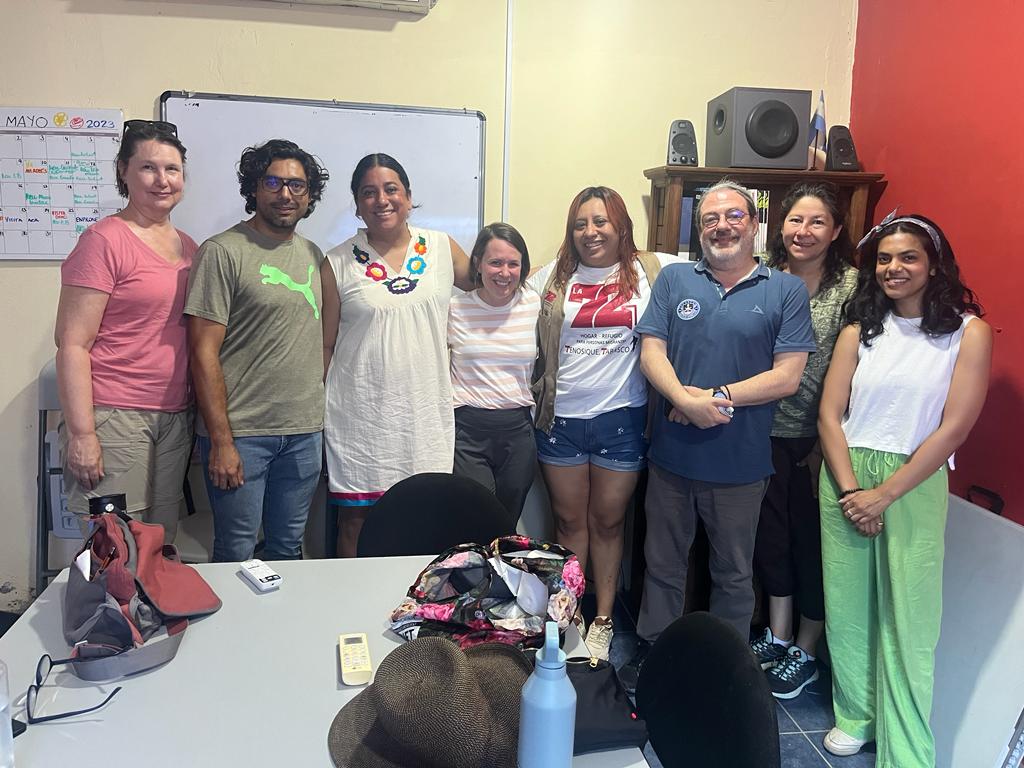 The people at all the shelters wanted information on how they could ask for asylum or get into the U.S., the strength of their asylum cases or any other tips they thought we might have. It was not our place to advise them, nor did we have good information to share. We neither encouraged nor discouraged them nor dashed their optimism and hopes. Rather we tried to point them towards sources of reliable information to combat the misinformation from smugglers or the propaganda they had heard about the U.S. border being "open." At this point in their journey, they all had heard about the CBP One phone app, but this far from the U.S. border, they had not tried to use it.  
On our last day, we left La 72 and visited with the nuns (from Mexico, Indonesia and East Timor) who run a shelter in Salto de Agua, Chiapas, Mexico, just yards from the old La Bestia tracks. The nuns were cheerful and recounted all the same problems as the staff at the other shelters, like not enough money (in this case donations through their religious order, mostly) and not knowing where the next food donation was coming from, nor what it would be. A smaller respite center, the shelter was mostly filled with men from Honduras headed north.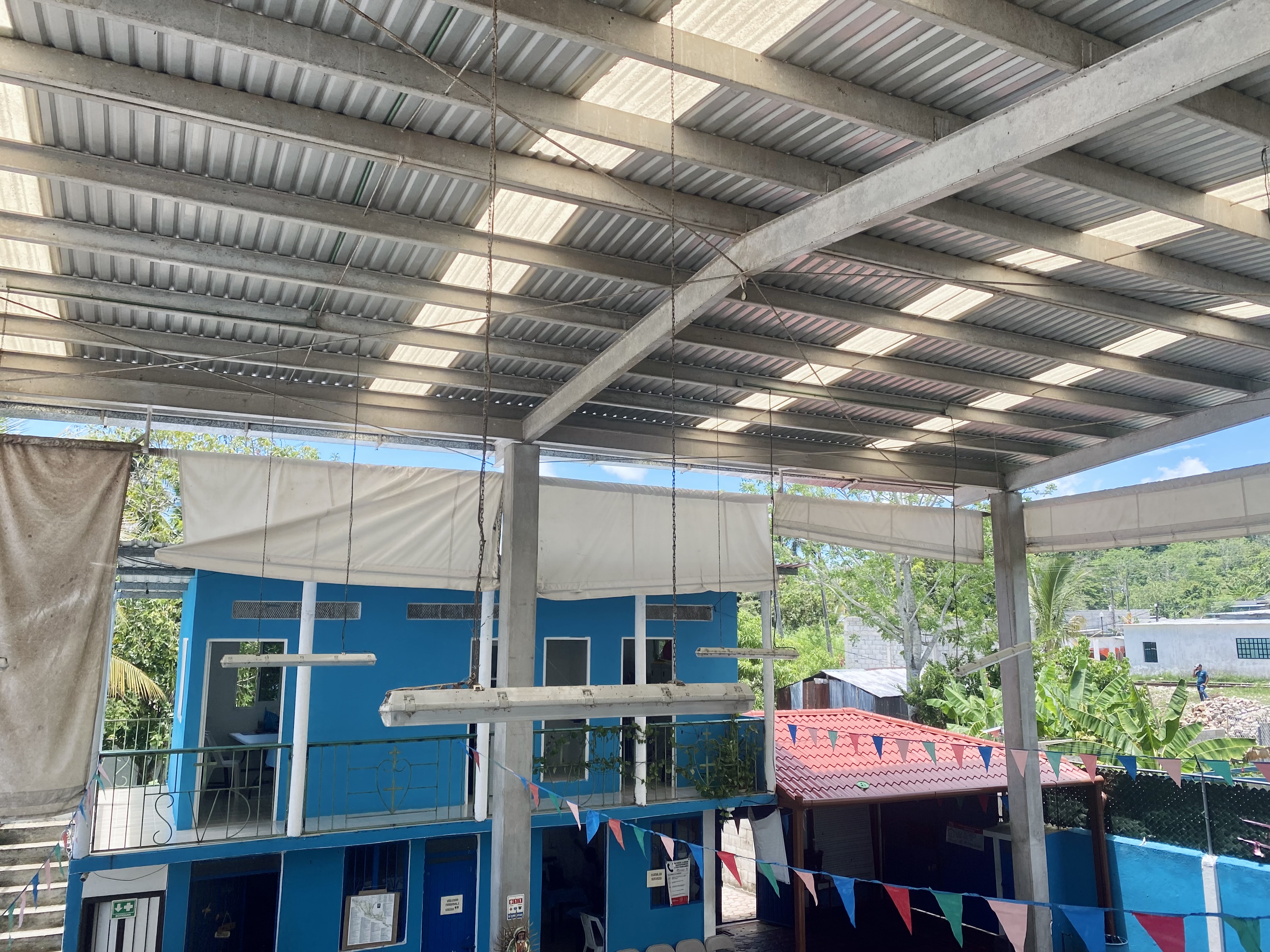 The trip renewed in me a sense that there are ways to solve our immigration and asylum problems if we keep working at them. Everyone we met believed strongly, in an almost over-the-top way, that the U.S. was the promised land of opportunity where money and blue jeans grew on trees. They also, without fail, articulated the traumas they were fleeing from in their home countries. It was partly economic, but for almost everyone, they had been the targets of violence, extortion, gang recruitment or government repression and needed to leave where they were to be safe and in order to protect their children. None could afford to wait the 5, 10, 25 or "never" years for a U.S. visa, even if they had an employer or close family members with citizenship or permanent status in the U.S. who could file the paperwork to even get in the queue. To those walking to the U.S., there was no alternative to their journey. There was no line to wait in and there was no visa to be had. They were walking for safety and risking their lives in the process. 
On our last day, before we left La 72 in the morning, we ran into the family from Venezuela we first met in Guatemala at El Ceibo, the ones who recounted some of their trauma in the Darien Gap in Panama. The ones with a daughter. They had made it another step on their journey and were in a safe place with the good people of La 72.  
We didn't see the kid from Honduras with the red lips tattooed on his neck. Not sure if he was still on the journey, but I suspect some day I will see him in the U.S. working hard and hopefully, alive to tell the tale.