Since early March we, and many others, have been calling for the release of people from prisons, jails and immigrant detention centers as a necessary step to stop the spread of COVID-19, and protect the lives of those incarcerated. During late March and April there were releases, largely of people in pre-trial detention in county jails and/ people at the end of their sentences, if they had been incarcerated for a non-violent offense. At the same time very few state prisons joined in releases, and the Federal system also largely failed to release people. 
The numbers now are truly horrific. As of June 9, the Marshall Project reports that 43,967 people who are incarcerated in state and federal prisons in this country have tested positive for COVID-19 - and only a handful of states have even begun wide-spread testing in prisons. That is an overall rate of close to 29 per 1,000.  States that have instigated wide spread testing regimes, such as Texas, have double this rate or more. New Jersey has the highest rate at 135 cases per 1,000.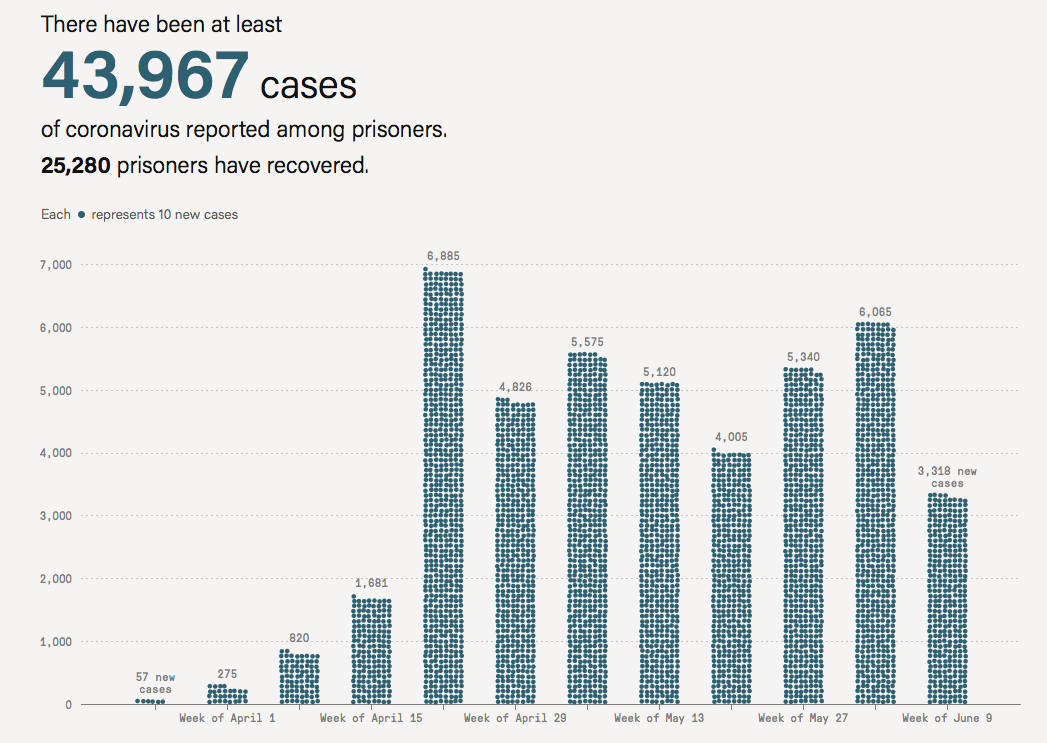 522 people have died of COVID-19 in prison since the beginning of the outbreak.
In addition, there have been 9,180 cases of prison staff with COVID-19 and 38 deaths.
The Marshall Project breaks down the data by each state. You can review their reports here.
In immigrant detention centers, the total number of people being held has fallen off dramatically - from 38,000 in mid-March to just over 24,000 today. However, the driving force behind this fall in detentions is not releases but deportations. While advocates have been successful in getting humanitarian releases for individual clients, it has been quite a battle, as ICE has fought every effort in the courts. ICE has also continued its process of transferring people within its detention network, which has accelerated the spread of the disease. Meanwhile, deportations have continued, and include documented deportations of people with COVID-19 to Mexico, Jamaica, India, El Salvador, Guatemala, Colombia, and Haiti, with concerns about deportations to Brazil and Ecuador as well. 
ICE has been reporting confirmed cases of COVID-19 among people incarcerated in their detention network since April, but recently changed the format of these reports. They also reported an inexplicable increase in the number of people tested over two days by 1,800, with no parallel increase in cases. That said, according to official data, of the 5,096 people tested, 2,016 have tested positive (as of June 5). Almost 1,000 are still in custody. ICE only reports 2 deaths in custody, but we've reported on three, and frankly, people released and/or deported are not tracked. Which is to say, I don't believe their reporting on this at all.
Conditions inside immigrant detention centers and prisons remain horrible. Among the more outlandish cases of gross inhumanity, is the GEO Group's spraying of chemical disinfectants intended for outdoor use inside Adelanto Detention Facility. On May 21, Freedom for Immigrants reported jointly with the Inland Coalition for Immigrant Justice that dozens of people have been made sick by the use of this disinfectant  - but the company has not (as of this writing, to my knowledge) changed its practice. ICE, for its part, has simply backed the company, saying any suggestion they are using the chemical inappropriately is a lie.
Check out the FreeThemAll campaign and follow for further updates and actions.