Read more about InAlienable.Support Quixote Center's InAlienable program!
InAlienableDaily Dispatch
September 12, 2019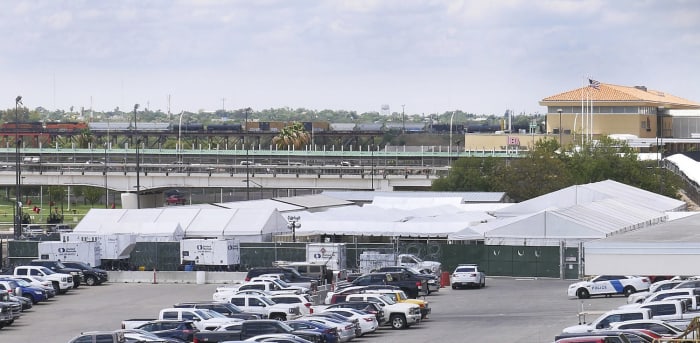 Supreme Court Allows Trump Asylum Rules to Stand
Yesterday the Supreme Court gave Trump a "huge," "big" victory by allowing his new rule limiting the number of people who can seek asylum in the country to stand - at least for now. Trump's proposed rule would deny migrants the ability to pursue asylum in the United States if they passed through a third country first and failed to pursue asylum there before coming to the United States. In effect, this would deny everyone seeking asylum at the U.S./Mexico border from applying, unless they are from Mexico. The rule shreds current asylum law and practices, and was immediately challenged in court. From the Associated Press:
The legal challenge to the new policy has a brief but somewhat convoluted history. U.S. District Judge Jon Tigar in San Francisco blocked the new policy from taking effect in late July. A three-judge panel of the 9th U.S. Circuit Court of Appeals narrowed Tigar's order so that it applied only in Arizona and California, states that are within the 9th Circuit.
That left the administration free to enforce the policy on asylum seekers arriving in New Mexico and Texas. Tigar issued a new order on Monday that reimposed a nationwide hold on asylum policy. The 9th Circuit again narrowed his order on Tuesday.
The high court action allows the Republican administration to impose the new policy everywhere while the court case against it continues.
It's unclear how quickly the policy will be rolled out and how exactly it fits in with the other efforts by the administration to restrict border crossings and tighten asylum rules.
Importantly, the Supreme Court ruling only overturns a lower court injunction - it does NOT support of the merits of the policy directly. Legal challenges against the new rule will continue, and it is hard to see how it can survive as it is a clear violation of current law. Mexico is not legally identified as a "safe third country" under U.S. law, and the U.S. effort to get such an agreement with Mexico has not gone forward. The only country the U.S. has such an agreement with is Canada. A separate effort for an agreement with Guatemala has been slowed with legal challenges in Guatemala - and as the single largest group of migrants seeking asylum in the U.S. right now are from Guatemala, it is clearly not a "safe" third country.
Noah Feldman, writing for Bloomberg, emphasizes that this was a ruling on process - not the legality of the rule:
But reversing the lower courts that blocked the regulation, pending litigation, isn't the same thing as upholding it as lawful. The court of appeals still has to issue a final ruling on whether the rule violates federal immigration statutes and whether the government was authorized to issue it without first seeking notice and comment from the public.
Then, after final rulings from the appellate court, the Supreme Court will surely weigh in — and still might strike it down.
Asylum hearings, in tents, without judges
Meanwhile, immigration courts were set up in tents along the border to hear asylum claims from people ordered to "remain in Mexico" pending a court date.
At this point we have to pause and note the absurdity. Not only are people denied the right to seek asylum from within the United States - even those who present themselves at a port of entry have been told to stay in Mexico - but they can't even get a real court hearing. Asylum seekers are patched through to a judge in San Antonio via teleconference while sitting in a tent in Laredo, TX, after sitting in a shelter or refugee camp for months to make their asylum claim.
There are currently 42,000 people awaiting hearing dates on asylum claims in Mexico. 42,000!!!
As the hearings began yesterday, no legal observers, media, or pro bono attorneys were allowed to view the proceedings. From Buzzfeed:
Ashley Huebner, associate director of legal services at the National Immigrant Justice Center, was able to enter the tent facility briefly before being told to leave because she didn't have a client appearing before the court. She said the lack of access to court observers and reporters was concerning.
"It's particularly critical here because the entire process is taking place with such a lack of transparency," Huebner told BuzzFeed News. "The entire setup confirmed how absurd it is to call this a courtroom and court proceedings."
As of early September, more than 42,000 asylum-seekers have been forced to wait in Mexico while their immigration proceedings play out, according to acting Customs and Border Protection Commissioner Mark Morgan. Asylum-seekers in MPP [Migration Protection Protocols], also known as "Remain in Mexico," have reported being assaulted, kidnapped, and extorted while being forced to wait in Mexico. With limited shelter space, some have to rent apartments or rooms, while others are homeless and relying on donations.
You may recall that the administration was under some heat for repurposing funds appropriated by Congress for other accounts in order to pay for enforcement measures. This court fiasco is paid for, in part, by funds appropriated originally for FEMA.
NPR Runs segment on Democratic candidates and immigration policy
NPR reached out to Democrats running for the presidential nomination to find out where they stand on immigration policy. Though a pretty select filter in terms of questions (nothing difficult on detention, "Remain in Mexico," asylum law, or the movement to abolish ICE). But still worth a look. From lead in to story:
Donald Trump's immigration stances — family separation, a ban on immigrants from several majority-Muslim nations, the cancellation of the Deferred Action For Childhood Arrivals program, to name a few — have given Democrats much to criticize as the 2020 presidential election approaches.
It means that the Democratic candidates are pretty uniform in coming out hard against the president on immigration. However, they differ on the particulars of what policies they would like to put into place instead and, in many cases, have not articulated what they would do specifically.
To get a sense of what exactly the candidates would like the immigration system to look like, we asked them some basic questions about legal immigration levels, border security and what kind of a crime crossing the border illegally ought to be.
Full article here.