A new series in which we (will aspire to) offer a sampling of today's headlines on immigration, race, and related stories.
August 23, 2018
I dreamed a dream in time gone by... :
Canadian Prime Minister Justin Trudeau responds to immigration heckler – and doesn't back down.
... Now life has killed the dream, I dreamed:
DJT is distressed by the plight of whites in South Africa because Tucker Carlson embraced a white nationalist conspiracy theory of "white genocide" in the post-Apartheid South Africa.
His not-at-all-intended-to-stoke-the-base-and-distract-from-accidentally-admitting-to-a-felony-on-national-television tweet reads: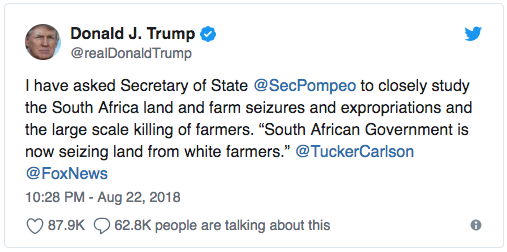 The history of the land policies at issue is more complex than that. This instance of policy-by-tweet has drawn the ire of President Ramaphosa.
Fun (?) Fact: this is the first time DJT has used the word "Africa" in a tweet.
The Courts:
Anticipated ruling from federal court in Texas could push DACA issue to the Supreme Court.
Following up on ACLU's complaint that USCIS was setting "traps" by coordinating green card appointment times with ICE agents, US District Judge Mark Wolf (Boston) is expected to issue an injunction against at least one ICE regional office.
American Immigration Lawyers Association and American Immigration Council are filing a complaint alleging that ICE coerced migrant parents to sign away rights.
A look at the law firms that represent private, for-profit prison operators.
The Policies:
More coverage of the proposed rule change that will threaten legal immigration and US citizen children.
Op-Ed in the Miami Herald calls ending TPS for Haitians a violation of the Fifth Amendment.
The People:
Chilean artist in Chicago explores the mental health impacts of immigration and isolation in new "Mundane" exhibition.
A group of >100 Guatemalan migrants, half of them minors, were discovered in Arizona desert and apprehended by Customs and Border Protection.
The Strike:
More background on the ongoing nationwide prison strike.
Also:
White nationalist uproar after Trump speechwriter fired for speaking at same event as white nationalist publisher (same guy Kudlow invited to his house – see yesterday's Dispatch).
_____________________________________