Read more about InAlienable.Support Quixote Center's InAlienable program!
InAlienableDaily Dispatch
August 20, 2019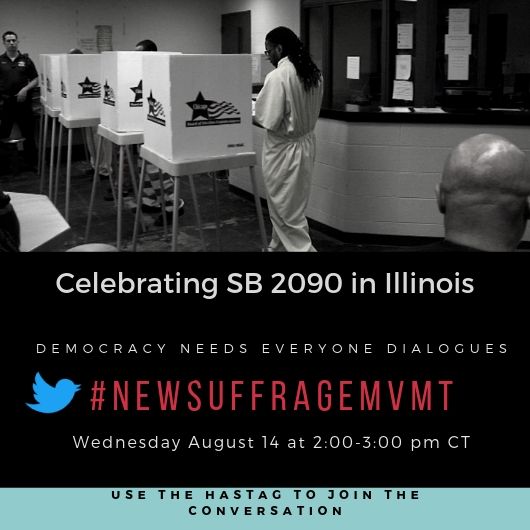 Immigration news has been continuous and alarming, but there are other campaigns on the InAlienable radar to update you on. Last year we co-sponsored the National Prison Strike and have been sharing information about longer term actions that have evolved through the network created by the strike. The most active campaign is the Right2Vote Campaign, which is working in multiple states on ending felony disenfranchisement (denying people with felony convictions the right to vote). 48 of 50 states deny people who are incarcerated the right to vote, and 18 of 50 states continue to deny the right to vote to people with felony convictions even after their release. You can check out the latest Right2Vote updates here.
A related issue, but one rarely discussed, is that people who are held in pretrial detention are also effectively disenfranchised. These are people who have not been convicted of a crime, but are awaiting trial behind bars, mostly because they cannot afford bail. The numbers of people held pretrial in this country are enormous - well over 20 percent of our bloated mass incarceration machine is filled with people not yet convicted: Of the 2.3 million people incarcerated in this country, over 510,000 have not been convicted. To put that in perspective - our pretrial (unconvicted!) prison population is larger than the TOTAL prison populations of all but two other countries (China and Russia). [We have, of course, the largest total prison population and highest incarceration rate (adjusted for population) of any country on the planet.]
Chicago made history this month by mandating that Cook County Jail create a polling place for people in pre-trial detention. Amani Sawari writes in Daily Kos:
On March 17th, 2020 Cook County Jail will make history as the first polling place located in a jail. Out of 102 counties throughout the state, only 8 could show that they facilitate elections for people in pre-trial detention. It's obvious that legislation was required in order to protect the rights of pre-trial detainees. Organizers main goal is an end to felony disenfranchisement in the state of Illinois. Illinois is a state were citizens voting rights are restored automatically upon their release from prison. The next step for organizers is to re-enfranchise incarcerated citizens. For those that have questions about either of the bills or the status of felony disenfranchisement in Illinois please participate in the Democracy Needs Everyone Dialogues on Wednesday August 14, 2:00 - 3:00 pm CT using #NewSuffrageMvmt. We're not finished yet, there are many more jails to provide with polling equipment and many more voices to amplify, but this historic milestone deserves celebration. For local supporters, Chicago Votes will be hosting an Unlock Civics cookout on Saturday August 24th at La Villita Park Canopy from 4:00-7:00 pm in celebration of the passing of these two historic bills. [Note: The second bill requires provision of civics courses to people who are incarcerated prior to their release]
Lawsuit filed on behalf of 55,000 ICE detainees
A lawsuit has been filed by 15 detainees against Immigrant and Customs Enforcement, as a class action suit representing 55,000 immigrants. From the Guardian,
The suit filed in Los Angeles on Monday outlines individual experiences at eight different facilities, but immigration lawyers say the mistreatment is representative of systemic problems that affect tens of thousands of people. The complaint comes as the Trump administration escalates its efforts to make it harder for asylum seekers and migrants from certain countries to come to the U.S., detains undocumented migrants for longer periods of time and expands the use of private prison contracts in the immigration system.
Attorneys said the conditions at some U.S. detention centers were so brutal that migrants who have fled torture and violence "are forced to abandon viable claims for immigration relief and accept deportation out of a desperate desire to escape the torture they are enduring in detention on U.S. soil."
"They cannot take it any more," said Elissa Johnson, an attorney with the Southern Poverty Law Center, one of several not-for-profit organizations involved in the suit in Los Angeles. "That is not a choice that anyone should have to make," she told reporters.
The suit highlights issues we have raised here many times - use of solitary confinement, lack of access to medical treatment and inadequate attention to specific dietary needs of detainees, overcrowding and use of indefinite detention with little due process. 
Another look at Mississippi
We've posted a number of articles about the raids in Mississippi two weeks and the fallout from them. But here is one more. Henry Grabar writes at Slate about the impact of the raids in Forest, Mississippi - just one of the towns impacted. The raids have had an enormous impact on the local area - as many people have lost their jobs, children are still separated from parents that have been detained, and fear and frustration grow. It is an important snapshot of what this kind of enforcement means to small towns throughout the south that have become home to immigrants working in agriculture and food processing over the last 20 years. From Grabar's article:
The workplace raids that took place on Aug. 7 represent the new face of immigration enforcement in the Trump era. Six hundred and eighty workers were arrested across seven chicken plants in two counties. That dwarfs the raid last August in which ICE agents detained 160 workers at a manufacturing plant in Paris, Texas. Before that, in April 2018, ICE arrested 97 immigrants at a meatpacking plant near Morristown, Tennessee. That had been the largest act of workplace immigration enforcement since 2008, reflecting a jarring change from the Obama administration's decision to focus internal immigration enforcement on those who had committed serious crimes. Now Morristown seems small.
In Morton, Mississippi, population 3,600, more than 10 percent of the town has now been either incarcerated or fired. While 300 of those arrested were released shortly after the raids, the claim made by the U.S. attorney for the Southern District of Mississippi, Mike Hurst, that "all children were with at least one of their parents" by the night after the raids was not true then, and it was not true days later. It turns out that the first thing that happens when hundreds of adults vanish is a child care crisis.