Catholic Day of Action for Immigrant Children
Read more about InAlienable.Support Quixote Center's InAlienable program!
InAlienableDaily Dispatch
July 19, 2019
Yesterday, 70 Catholic leaders locked arms in an act of nonviolent civil disobedience, in an effort to put pressure on Congress and the presidential administration to end the immoral and inhumane practice of detaining immigrant children. The action took place in the Russell Building Rotunda. Though open to everyone, the protest was the first in a series intended to mobilize Catholics in particular to stand up for the rights of immigrants. From the press release of organizers:
The Catholic Day of Action for Immigrant Children brought together more than 200 Catholic sisters, priests, brothers and lay Catholic advocates representing nearly 20 national organizations who sang, prayed, and chanted as they demanded an end to the immoral and inhumane practice of detaining immigrant children. This action is the beginning of a campaign in which Catholic leaders are increasing their willingness to take significant risks as an act of faithful resistance. Photos here. Video of civil disobedience here.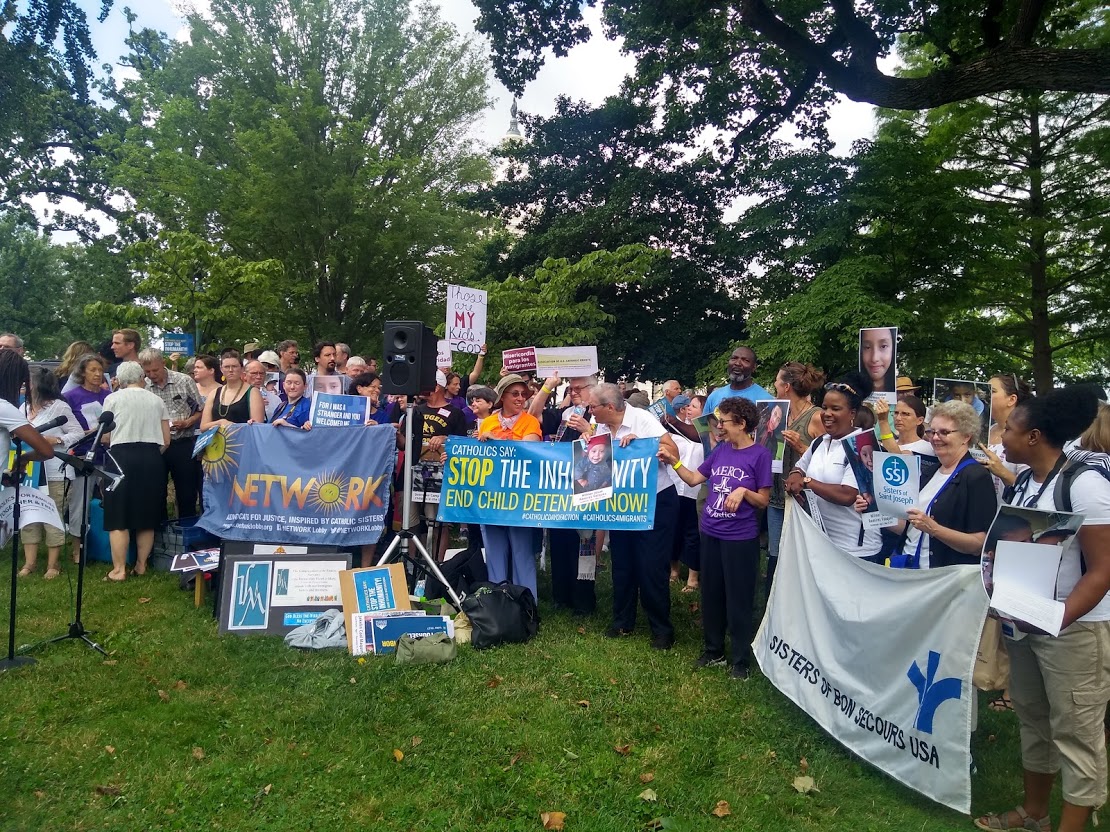 Earlier on the Capitol Lawn, Sr. Carol Zinn, SSJ, Executive Director of the Leadership Conference of Women Religious; Fr. Joe Nangle, former Co-Director of Franciscan Mission Service, and Sr. Gayle Lwanga Crumbley, RGS, were among the leaders who addressed the gathering before moving in to the Senate building. Excerpts from their remarks can be found here: 
Sr. Carol Zinn, SSJ, Executive Director of the Leadership Conference of Women Religious: 
"Catholic sisters have a long history with immigrant communities. We have seen the pain, suffering, fear, and trauma firsthand. In recent months, as the humanitarian crisis has escalated, we have joined the tens of thousands who are outraged at the horrific situation at our southern border. Over 1000 Catholic sisters have spent time ministering to those in need and have donated almost $1 million to help support the care of those seeking safety, freedom, security and a better life for their families. We are here today because of our faith. The Gospel commands, and the values of our homeland demand, that we act."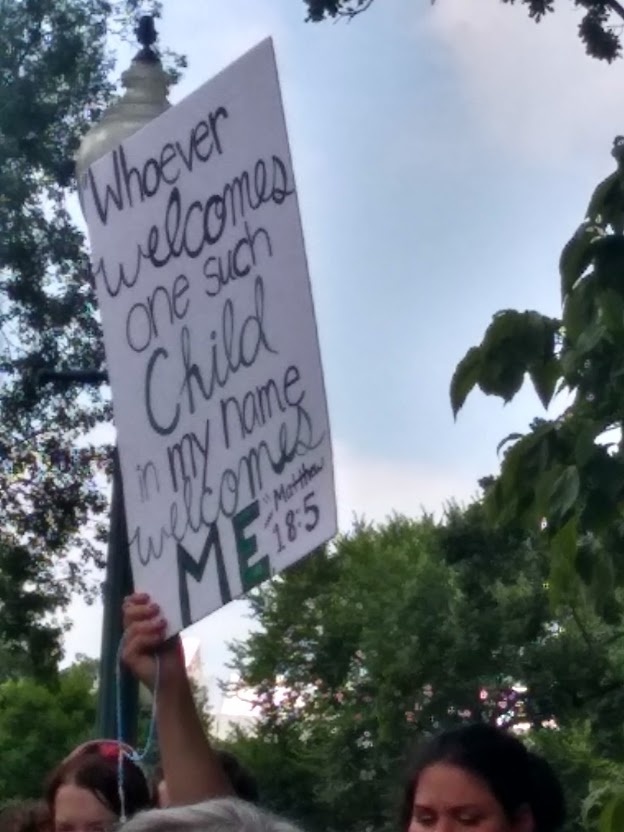 Fr. Joe Nangle, former Co-Director of Franciscan Mission Service:
"Our country was born in the darkness of what we now call original sin. And we now, some 200 plus years later, had thought that we had begun to overcome these sins. However, in these days, Donald Trump is dragging us back to those evil times, with a combination of irrational fears, hatred of people not like him, and sheer cruelty. What is almost as evil, is so-called Christians support and applaud and enable this descent into a new dark age in America. We are speaking about the evidence for this and these actions today. We are particularly citing the dishumanity taking place, even as we speak, at our southern borders. This is why we call on our millions of fellow Catholic sisters and brothers, particularly our bishops, to join in the struggle for the soul of America."
Sr. Gayle Lwanga Crumbley, RGS 
"I stand in solidarity with all who seek to better their lives. Psalm 1:27 tells us that children are always a blessing. They are filled with joy and laughter. They are fragile from the very beginning. We have to protect them. The Catholic community has decried the treatment of children on our southern border, not only as a violation of human dignity and rights, but also contrary to religious teachings and the sacred call to care for people who are most at risk, especially children."
Other participants issued the following statements:
Patrick Carolan, Executive Director, Franciscan Action Network:
"We are here today because of these 8 children who died either in custody or trying to seek asylum. They are children of God. They are your brothers and sisters, your neighbor."
Eli McCarthy, PhD, Director of Justice and Peace at Conference of Major Superiors of Men: 
"Today's action was focused on increasing the visibility of Catholics willing to take more risks to significantly improve treatment of children and end child detention. We see the urgent inhumanity and injustice. We are challenged by our faith to enter more deeply into solidarity, inspire others to take on more risks, to increasingly non-cooperate with injustice, and to live the Eucharist -- being one body, ready to be broken for others. This is only the first phase of a 3-part campaign to end child detention and thus create more political space to challenge family detention and beyond."
Lawrence E. Couch, director of the National Advocacy Center of the Sisters of the Good Shepherd and a coordinator of the Catholic Day of Action:
"While I dreaded the loss of liberty that I risked with my act of civil disobedience, it is nothing compared to the experiences of our sisters and brothers on the border who live in fear and cruel, inhumane conditions. I was particularly moved this morning by the photographs of the innocent children who died in custody or on their journey to safety. I raise them up in prayer and say 'no more.'"
Several bishops have sent statements of support for this gathering and civil disobedience action. For full details, click here.
List of Endorsing Organizations
The protest was also covered by ABC News.