Immigration through Mexico is not just from Central America
Read more about InAlienable.Support Quixote Center's InAlienable program!
InAlienableDaily Dispatch
June 3, 2019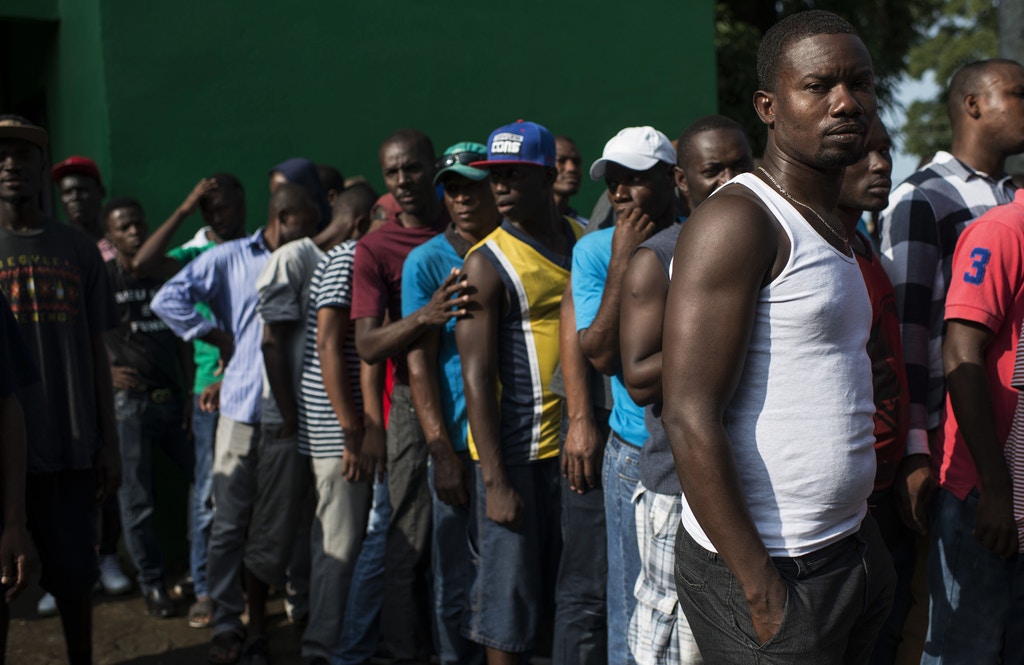 In the discussions of migration across the Mexico/U.S. border a recurrent theme is the increase in people from Central America, who currently make up the majority of those seeking asylum at the border. However, people from many other countries end up in Mexico seeking entry into the United States and have been caught up in the border crackdown. Roughly 10 percent of people detained in Mexico between 2015 and 2018 (one measure of the diversity of migration through the country) are from Africa and Asia. Leading countries are Cameroon, Democratic Republic of Congo, and Eritrea from Africa, India, Bangladesh and Nepal from Asia. Another nearly 5 percent are from Haiti and Cuba - detention of Haitians skyrocketed in 2016, when over 17,000 Haitians were detained in Mexico, though last year less the figure was just under 500.
The Voice of San Diego offers an interesting background article on the situation of people from Eritrea stuck in Tijuana while waiting to cross the border to file asylum claims. The situation of black migrants in Mexico is often difficult. There are fewer resources to assist people, and language barriers can be very difficult. A general overview:
The number of Haitians arriving in Tijuana was much larger in 2015 and 2016 than the number of African migrants has ever been, said Guerline Jozef of Haitian Bridge Alliance. Some Haitians decided to stay in Tijuana, rather than go to the United States, and start lives there. Now there is some infrastructure for Haitian migrants in Tijuana – churches, a shelter and a community where they can seek help. African migrants have no such community to turn to because their numbers have always been smaller and because most haven't chosen to put down roots in Tijuana.
Cameroonians have been able to access the Haitian community to some extent because like the Haitians, they speak French. Some have signed up for Spanish classes at places like Espacio Migrante in Tijuana that work with Haitian and other migrants, while they wait to seek asylum in the United States. But most Eritreans speak Tigrinya – and sometimes other languages, like Amharic – that aren't as widely spoken.
"Their guard is up," Alemayehu said. "They've been through a lot already – they've seen people die on the journey. They've been robbed at gunpoint, raped. On top of that, they're thinking, 'There's no one who speaks my language or looks like me.'"
Jozef and Alemayehu are trying to bridge some of those cultural gaps to bring all the black migrants into a community in Tijuana. It's been difficult to build trust between the advocates and asylum-seekers, but their trips to Tijuana every few weeks have started to pay off.
"When it comes to the black migrants, there is no spotlight on their ordeal," Jozef said. "We have to literally go find them, which is very disconcerting and heartbreaking. We have a community of black migrants since 2015 who have never been a central focus of the immigrant justice movement. There is a lack of narrative. Therefore, there are no services for them."
Read the full story from the Voice of San Diego here.
In 2016, the Miami Herald ran a long article on the situation of Haitians migrating from Brazil, where many had relocated after the 2010 earthquake. This was the peak year of migration through Mexico, and the article is worth sitting with to reflect on what people endure trying to reach the United States. The journey is 7,000 miles crossing through 11 countries. As noted above, many have simply decided to try and make a life in Mexico along the border. We wrote about this last year as the other country that many Haitians had been moving to following the recent economic crisis in Brazil, Chile, began to make it harder for Haitians to stay.
From the Miami Herald:
More than two dozen migrants interviewed by the Miami Herald in Tijuana, San Diego and Miami say they employ both high-and-low-tech skills to find their way across borders, over mountains and past state security forces. Social media, including Facebook and the WhatsApp messaging system, help them find information from others who have gone ahead. But the most basic systems work, too: Remnants of clothing tied to trees along the way help them locate the trail in the wilderness.
They also admit to hiring the smugglers who stalk jails, refugee camps and border crossings. They promise safe passage for a negotiable but hefty fee. The trip can last two to four months and end up costing anywhere from $2,500 to $13,000, depending on negotiating skills, migrants said.
Monelus, who spent four months to reach Mexico, says she lost a total of $2,350 from three failed attempts to cross Nicaragua. On the fourth, she hired a smuggler for $1,000. He got her to Honduras on foot and then on horseback. Monelus' mother paid for both trips, the first to Brazil five years ago and the most recent one to get to California, by selling a plot of land and a family store, Monelus said.
At the time of the article, an estimated 40,000 Haitians were in transit from Brazil to the Mexico/U.S. border. Migration from Haiti through Central America and Mexico has slowed some in the last two years, but these trends tend to be cyclical. As Chile clamps down on residency requirements for Haitians a new exodus could well begin.
In short, migration through Mexico is complex, as it is in the rest of the world. While certainly enforcement measures have increased inside Mexico and along the border with the UNited States in response to the Central American refugee crisis, the reality is that many other refugees are seeking passage through Mexico and are caught up in the crackdown at the border. The situation is likely to only get worse as Trump continues to pressure Mexico, with recently announced tariffs, to crackdown on migration.
Organizations that are doing more to lift up the situation of migrants from Haiti and Africa and offer support include the Haiti Bridge Alliance and the Black Alliance for Just Immigration.