Shut it Down: Detention Update
Read more about InAlienable.Support Quixote Center's InAlienable program!
InAlienableDaily Dispatch
June 12, 2019
The daily average of people being held in immigrant detention in the United States is now up to 52,000. Detention happens through a sprawling network of over 200 facilities around the country. Nearly three-fourths of the people detained are held in privately managed or owned prisons; the companies with the bulk of Immigration and Custom Enforcement (ICE) contracts are the GEO Group and CoreCivic.  
Immigrant detention is supposed to be an "administrative" hold as people wait for a determination of their immigration status. However, the conditions under which people are incarcerated in this system are deplorable. Documented year after year by advocates as well as the Department of Homeland Security's own Office of Inspector General, detainees are denied access to adequate healthcare, are fed unhealthy, often spoiled food, are placed in solitary confinement for extended periods of time, are effectively denied legal representation by restrictive visitation protocols, are forced to work within these facilities through "voluntary" work programs through which they are remunerated less than $1 a day, and most have no idea how long they will be in these conditions.    
As detention expands, overcrowding is common. One result has been a dramatic increase in serious illness in facilities. In March this year, thousands of immigrants were quarantined around the country. From CNBC:
ICE health officials have been notified of 236 confirmed or probable cases of mumps among detainees in 51 facilities in the past 12 months, compared to no cases detected between January 2016 and February 2018. Last year, 423 detainees were determined to have influenza and 461 to have chicken pox. All three diseases are largely preventable by vaccine. As of March 7, a total of 2,287 detainees were quarantined around the country, an ICE official who spoke on condition of anonymity told Reuters.
So what does all of this mean in human terms? WNYC's program The Takeaway, ran a report this week about the case of Yulio Castro-Garrido, an immigrant from Cuba who died in January of 2018 after being held at the Stewart Detention Center in Georgia for six weeks.
Thirty-three-year-old Yulio Castro-Garrido, an Immigration and Customs Enforcement detainee from Cuba, had no health problems when he first entered ICE custody at the at the Stewart Detention Center, a sprawling immigrant jail in rural Georgia run by private prison company CoreCivic. But Castro-Garrido died two months later of pneumonia, a lung infection and viral influenza, according to the ICE Detainee Death Review of his case.
On January 30, 2018, Castro-Garrido died in a hospital after spending six weeks at the Stewart Detention Center. The review notes three "areas of concern" regarding the migrant's care while in ICE custody. These include include: staff neglecting to monitor Castro-Garrido's blood pressure after showing signs of stage-two hypertension, and staff not immediately calling for an ambulance on the day he was taken to a hospital, causing a delay in his access to emergency care.
The third concern detailed in the review involves labor practices at the facility. After reporting his illness to staff, Castro-Garrido worked in the detention facility kitchen for food service duties under CoreCivic supervision, potentially transmitting his illness to others. He even worked in the kitchen on the day he was taken from the facility in an ambulance, the ICE review notes. In the past, the facility has fallen under criticism for allegedly threatening migrants who refuse to take part in labor at the facility.
The report provides a powerful example of how the various forces in play on immigrant detention intersect through the lens of one, tragic but not unique case. You can read the full report from the Takeaway here.  Or listen below.
Child Detention: Shutdown Homestead Facility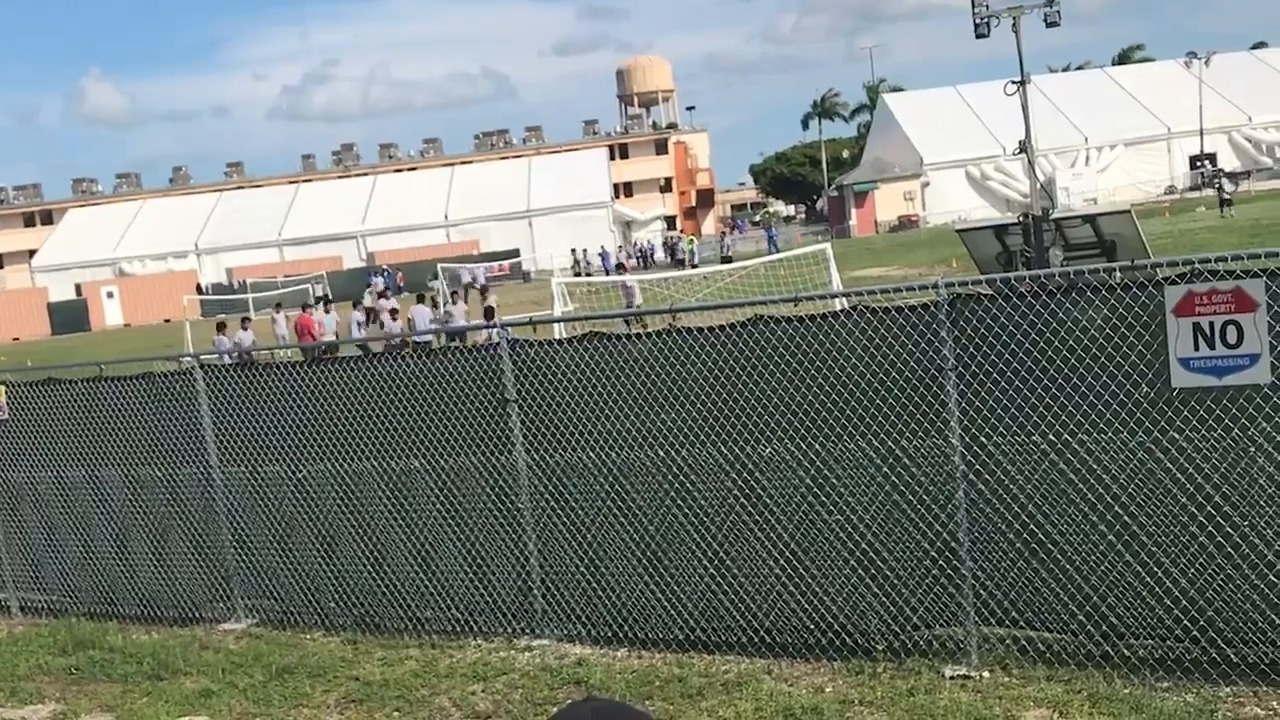 Another 13,200 children are being detained through a seperate system coordinated by the Department of Health and Human Services' Office of Refugee Resettlement (ORR) through a network of shelters run by "non-profits" - the largest by far being Southwest Key. In most cases, child detention facilities must be licensed by the states where they are located to provide child care. This provides an extra layer of oversight, but there are still widespread problems. In February of this year, for example, it was reported that the federal government had received 4,500 complaints of child sexual abuse over a four year period in its detention facilities. Last year Arizona suspended Southwest Key's state license to house children following disclosures of lax enforcement of background checks for people working with children. Southwest Key's license has since been reinstated, and it began receiving kids again this February.
Standing outside of this system of state oversight (limited though it may be), are temporary facilities used by the federal government to house unaccompanied minors. The most famous was in Tornillo, Texas, just outside of El Paso. Tornillo has been closed, but currently there are up to 2,500 children being held in a large complex in Homestead, Florida. The facility is operated by Comprehensive Health Services. We reported several weeks ago about former DHS head and Trump Chief of Staff John Kelly's connection to the company. Reuters noted last year: "In a filing with the Securities and Exchange Commission last year, the firm's parent company, Caliburn International Corp., noted President Donald Trump's immigration policies were driving "significant growth."
As a temporary facility, the complex is not state licensed. However, children are spending an average of 67 days in this facility awaiting family or community sponsors at a cost of $750 a day. The Department of Health and Human Services has even lowered the ratio of health professionals to children required by its own guidelines for this facility, from 1:12 to 1:20. The lack of oversight has been widely criticized.
Since Homestead has no state supervision, even the Miami-Dade school district does not know what kind of programming the private corporation running the facility is providing to children in detention. Miami-Dade School Superintendent Alberto Carvalho has criticized the shelter for its lack of transparency and expressed concerns about the inequity of the quality and standards of education provided to children in detention.
Criticism has reached congress. Oregon Senator Jeff Merkley introduced legislation with House member Judy Chu earlier this year to ban temporary facilities such as Tornillo and Homestead, called the Shutdown Child Prison Camps Act. It is currently stalled in committee.
Protests are planned at the facility on June 16 to expand calls to have it shut down.