Read more about InAlienable.Support Quixote Center's InAlienable program!
InAlienableDaily Dispatch
May 9, 2019
National Call-in Day: Block Trump Money Grab (From Detention Watch Network)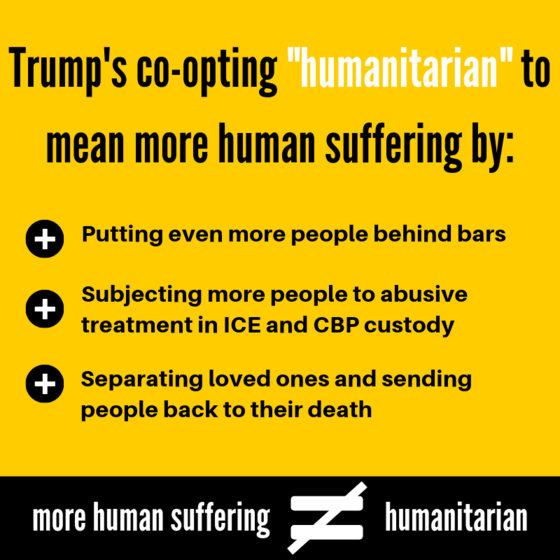 On Wednesday last week, the Trump Administration sent a $4.5 billion request for a supplemental funding package that includes billions for Immigration and Customs Enforcement (ICE) and Customs and Border Protection (CBP). Despite being cloaked in the language of humanitarian aid, the funding sought for ICE and CBP would instead increase human suffering by ensuring more people are detained in inhumane conditions, blocked from accessing due process, and criminalized through politically motivated prosecutions.
Don't be fooled—this isn't really for humanitarian aid!
The Trump administration, under guidance from white nationalist Stephen Miller, demonstrates daily that its approach to migration is rooted in hate and cruelty.
The Trump administration is co-opting "humanitarian crisis" to pay for more human suffering. This is an attempt to fast-track even more funding to fuel Trump's anti-immigrant agenda and to expand an already massive and inhumane immigrant detention system, all deceptively cloaked in the language of humanitarian response.
Today, May 9th, is the National Call-in Day to stop Trump's harmful money grab! Join organizations across the country making calls to Congress to stop the supplemental funding request.
Call your member of Congress!
Dial 1-844-332-6361 and enter your zip code.
Once you're connected, use this script: "Hello, my name is [first and last name]. I'm calling as part of the Defund Hate campaign. I'm calling to ask [Member of Congress] to publicly oppose Trump's supplemental funding request. This request will only give billions to Trump's agenda to maximize harm to those arriving at the border by building and expanding deadly immigration detention jails. More people behind bars is not a humanitarian response. [Member of Congress] should publicly speak out and urge leadership to reject the White House supplemental budget request. Thank you."
ICE Blocking Legal Services in Texas Facility
RAICES has filed a formal complaint with the Trump administration over tactics employed at the Karnes Detention facility that is blocking immigrant access to free legal services:
An immigration legal group has filed a formal complaint against the Trump administration saying it is blocking detained immigrants from free legal services.
The complaint filed Wednesday by RAICES, a nonprofit immigrant legal services group, accuses Immigration and Customs Enforcement of creating barriers for people held at the Karnes, Texas, immigration detention facility to meet with legal teams.
The complaints are many and include such things as ICE failing to make space available for private meetings with clients, setting new requirements for lawyers to meet with clients, so that fewer people can meet with attorneys, and eliminating a "walk-in" signup list.
Read more on the story here.
Read more about InAlienable.Support Quixote Center's InAlienable program!