Bait and Switch: Trump announces tariffs to "punish" Mexico on immigration
Read more about InAlienable.Support Quixote Center's InAlienable program!
InAlienableDaily Dispatch
May 31, 2019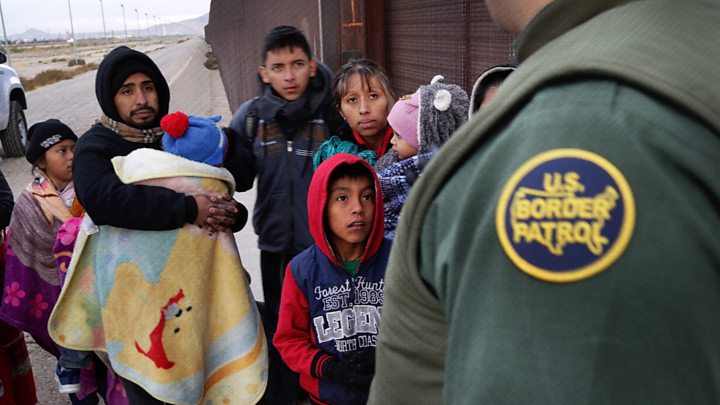 Yesterday Robert Mueller held a press conference on his last day as Special Counsel overseeing the investigation into Russian interference in the 2016 election and possible obstruction of justice by Donald Trump. Not long after Trump went on a rampage about immigration and announced his administration would be implementing tariffs against all products coming into the United States from Mexico beginning at 5 percent on June 10th and increasing up to 25 percent by October 1st until Mexico does more to stem the flow of Central American refugees.
It is difficult not to see the two developments as related. On the press conference (from The New York Times):
"If we had had confidence that the president clearly did not commit a crime, we would have said so," Mr. Mueller said, reading from prepared notes behind a lectern at the Justice Department at a hastily called public appearance.
He also noted that while Justice Department policy prohibits charging a sitting president with a crime, the Constitution provides for another remedy to formally accuse a president of wrongdoing — a clear reference to the ability of Congress to conduct impeachment proceedings.
Although it lasted less than 10 minutes, the news conference presented an extraordinary spectacle of a top federal law enforcement official publicly stating that the president's conduct had warranted criminal investigation, even though it was impossible to indict him for any crimes. Mr. Mueller delivered his statement on his last day as special counsel, saying it was his final word on his investigation and he was returning to private life.
Not long after, Trump was questioned about this - in which he repeated denials of wrongdoing, but then went on to say he would be making a major announcement about Mexico later in the day. The announcement yesterday outlined the increased tariffs. Trump said, "If the illegal migration crisis is alleviated through effective actions taken by Mexico, to be determined in our sole discretion and judgment, the tariffs will be removed."
Interestingly, Mexico's legislature began the process of ratifying the U.S.-Mexico-Canada Trade Agreement (USMCA) - the renegotiated North American Free Trade Agreement - yesterday as well. Predictably, Trump's announcement throws that process into disarray and also led to a collapse in stock market prices for a number of firms that manufacture products in Mexico for sale in the United States. Mexico is the United States' largest trading partner.
Given the economic stakes, Trump's announcement seems a very calculated move to overshadow the Mueller press conference and the ongoing calls for the House of Representatives to open an impeachment inquiry. We'll see how that plays out.
Does the U.S. border begin in Chiapas?
As far as the substance of Trump's claim that Mexico is not doing enough to halt immigration from Central America, there is little to hold onto. Since 2014, Mexico has stepped up its own enforcement of immigration laws, especially targeting people migrating from Central America. This was in part a response to pressure from the Obama administration, which provided expanded security assistance to Mexico for this purpose. Mexico routinely deports more people than the United States - some years twice as many people are deported from Mexico to Central America - last year over 500,000. According to the Congressional Research Service,
Since 2014, Mexico has established 12 naval bases on the country's rivers, three security cordons stretching more than 100 miles north of the Mexico-Guatemala and Mexico-Belize borders, and a drone surveillance program. Mexico does not have a border police; instead, its National Institute of Migration (INM) is the only agency with legal authority to detain migrants, with some assistance from the federal police. These unarmed agents have worked to increase immigration control along known migrant routes, including on northbound trains and at bus stations. INM has improved the infrastructure at border crossings and created numerous mobile highway checkpoints. It also has increased the number of cases it refers to prosecutors for crimes against migrants.
In an NPR Report last year, Priest César Cañaveral, who heads migrant outreach for the Catholic Church's local diocese, said, "Today the Mexican government is hunting migrants without sympathy, even though the exact same thing is happening to Mexicans at the U.S. border." He says, "The border security measures here in Chiapas are even harsher than on the U.S.-Mexico border."
In addition to increased security at Mexico's southern border, Mexico has also felt the brunt of the Trump administration's crackdown on its northern border with the U.S. The United States policy of "remain in Mexico" applied to asylum seekers has led to a crisis for Mexico, as refugees seeking asylum in the United States are stuck in refugee camps in Mexico awaiting their turn for credible fear interviews. Trump seems unable to connect the dots between this policy and the fact that more people are (as a result) trying to cross irregularly between points of entry to file asylum claims from U.S. soil. Of course with Trump it may well be the case that he understands this well; generating this crisis is the whole point.
That said, Mexico has already cracked down on immigrants under pressure from the United States - it is not clear what more Trump wants Mexico to do. Last month 1,300 people escaped from a detention facility in Chiapas - half of whom returned within a day. The people being detained at the Siglo XXI detention facility were from Cuba, Haiti, Guatemala, Honduras and El Salvador - though the largest group is from Cuba. In short, U.S. immigration enforcement has already been outsourced to Mexico. U.S. authorities going back to Obama's administration at least have acted as though the U.S. border extends to Chiapas, Mexico.
This latest announcement then is hard to take. What more is Mexico supposed to do? It doesn't matter. Trump is using immigration as he has since he was a candidate - to deflect from other issues and ramp up resentment. Hundreds of thousands of people are paying the price.