Increase in the number of immigrants becoming citizens
Read more about InAlienable.
Support Quixote Center's InAlienable program!
InAlienable
Daily Dispatch
May 20, 2019
Last year there was significant uptick in the number of immigrants who became citizens. The 15 percent increase is not historically huge, but likely indicates an increase as the next election cycle looms - a clear inspiration for becoming a citizen is voting.
More than 544,000 immigrants became U.S. citizens in the first three quarters of fiscal year 2018, overall a 15 percent increase from the same period a year ago, according to the latest data from the U.S. Department of Homeland Security. The largest year-to-year increase occurred in the first quarter of 2018, however there was a slight decrease in the third quarter.
Most immigrants can apply for U.S. citizenship after being a permanent resident for five years, or three years after marrying a U.S. citizen. The U.S. immigration agency estimated (pdf) that there were 13.2 million permanent residents in 2015, and 9 million among them would be eligible for citizenship upon application.
Read more here.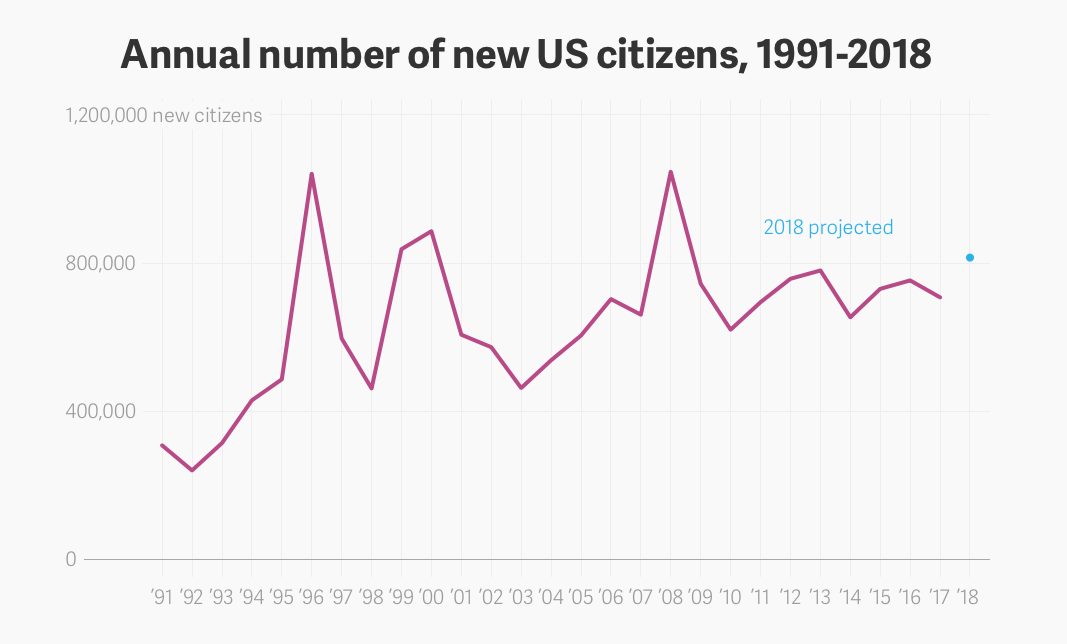 ICE prepares to open more detention facilities
Immigration and Customs Enforcement is looking to open new detention facilities to incarcerate immigrants. Over the past three months, arrests at the border have increased significantly. Because this administration refuses to utilize the many available, cheaper and more humane options to incarceration, capacity at detention facilities is strained. So, by the logic of the corporate/government daisy chain, more detention beds are needed.
ICE is considering using existing facilities or constructing new facilities in the Los Angeles, San Diego and San Francisco areas to house between 5,100 to 5,600 detainees, according to official documents posted on the Federal Business Opportunities website. The facilities would be used to house "criminal aliens and other immigrant violators," the documents say.
The move comes as U.S. border patrol said it would consider flying migrant families from states along the border to other locations across the country.
ICE has faced significant opposition to opening new detention facilities in the past. In 2017, the American Civil Liberties Union and 13 other groups issued a letter imploring ICE to halt plans to open new facilities across the country.
Full story from Time, here.
Rolling Stone's takedown of Trump's immigration strategies
Ryan Bort, at Rolling Stone, offers a critical overview of Trump's latest immigration plan, placing it in the context of a number of half-baked ideas and cruel fantasies that are part of the inspiration for this administration's approach. For example:
Putting his son-in-law in charge of immigration is only one element of Trump's braindead approach to the border. On Thursday, the Post reported that the president's obsession with the aesthetics of a potential border wall is driving up costs and giving designers headaches. According to current and former administration officials, his "frequently shifting instructions and suggestions have left engineers and aides confused, and he has repeatedly insisted on cosmetic features that serve little practical purpose. For example, he has demanded the wall — which would actually be a fence — be painted black and have spikes on top, "describing in graphic terms the potential injuries that border crossers might receive."
Trump has also insisted the fence be as tall as possible despite warnings about inflating the cost and potential structural integrity. He has rejected the idea that the wall will take years to build and, according to the officials spoken to by the Post, "suggested that some of his friends in New York would have ideas on how to build it faster."
You can read the full article here.