State and local edition
Adelanto cuts ties with ICE detention facility
Read more about InAlienable.
Support Quixote Center's InAlienable program!
InAlienable
Daily Dispatch
May 15, 2019
Adelanto, California is home to a large detention facility run by the GEO Group - the largest private prison company contracting with Immigration and Custom Enforcement to incarcerate immigrants. Last month the city-manager announced that the city would end its agreement with ICE to manage the facility. What might look like a local victory to cut ties with a detention facility is, under the surface, an apparent move by the GEO Group to escape local and state oversight. Liz Martinez of Freedom for Immigrants and others expressed their concerns in a report in the Guardian yesterday:
Martinez and other critics fear Geo is manipulating local officials and hoping to directly contract with Ice. Without a local government involved in the contract, the company could sidestep a new, strict state law that restricts and regulates the private prison industry…
"If you've got a communication string just between Ice and a private facility, there's obviously going to be a lot less transparency, which leads to less accountability," said Phil Torrey, managing attorney of Harvard University's immigration and refugee program. Torrey also noted that without the city involved in the contract, Ice and Geo would not have to comply with several disclosures required by federal and state law.
The decision emerged from an agreement between the city manager, Jessie Flores and ICE CEO, George Zoley, with no input from the city council or public comment. There was an effort to reopen discussion of the decision by the city council in late April, but the city's attorney indicated that neither ICE or GEO group was willing to revisit the decision. GEO is likely looking to expand the facility - and the city could push back by refusing to issue land use permits. This looks like the next battle.
"We demand a just and proper [facility] closure that ensures everyone is released and has access to legal representation," said Martinez of Freedom for Immigrants. "The city of Adelanto can't simply wash their hands of this. They have an obligation to answer to the community and to intervene and prevent any future permitting of an expansion."
Read the full story here.
Georgia shutters Immigration Review Panel
The state of Georgia's legislature created the Immigration Enforcement Review Panel in 2011 as part of a package of anti-immigration laws. The purpose of the panel, officially at least, was to hear complaints from individuals concerning the failure to enforce state immigration laws. The eight person panel, however, never achieved anything and simply became a platform for grandstanding. During its first six years the panel heard 20 complaints, all but one from the same person D.A. King, "the well-known anti-illegal immigration activist."
The panel got into trouble during the last gubernatorial election:
Its demise was hastened last year by then-Lt. Gov. Casey Cagle, a candidate for governor who filed a complaint shortly before the GOP primary alleging that the city of Decatur was creating sanctuaries for criminals.The city's officials accused Cagle of trying to use the board to pander to conservatives with a baseless claim, noting that the Republican quickly invoked his fight against the liberal bastion of Decatur in digital ads and stump speeches. Cagle failed to show up at a hearing on the complaint, and at another meeting weeks later, a board member challenged a Decatur attorney to "talk to me out in the hall" in a bizarre and testy confrontation.
The review panel was sued by the city of Decatur and lost, forced to pay the city's attorney's fees. The panel had become so unpopular, that even the staunchly anti-immigrant governor Brian Kemp signed off on legislation to shut it down.
Read the full story in the Atlanta Journal Constitution.
[caption id="" align="aligncenter" width="400"]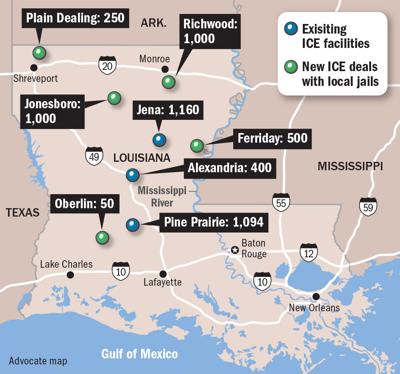 Photo courtesy of The New Orleans Advocate[/caption]
Louisiana's prison population is shrinking - but immigrant incarceration is growing
The state of Louisiana has doubled its capacity to detain immigrants under new contracts with Immigration and Customs Enforcement in recent months. Already the site of the LaSalle ICE Processing Center in Jena, which is run by the GEO Group and holds 1,200 people, several Louisiana sherif departments have entered into agreements with ICE to detain immigrants. This comes as Louisiana's incarceration rate, the highest in the country several years ago, has been falling following major reform legislation in 2017.
"It seemed that Louisiana was ready to move away from its dependence on mass incarceration through its efforts at justice reinvestment," said Jamila Johnson, a senior supervising attorney with the Southern Poverty Law Center. "It's disheartening to see that it continues to rely heavily on it through its switch to the mass incarceration of civil detainees."
This year, ICE began using River Correctional Center (500 beds), Jackson Parish Correctional Center (1,000 beds) and Richwood Correctional Center (1,000 beds) to house detainees, said Bryan Cox, an ICE spokesman.
Johnson said these efforts began in September after the agency contracted with Bossier Medium Security Facility in Bossier Parish to house up to 240 detainees.
Read the full story here.
For more information, check out:
Adelanto cuts ties to troubled ICE detention center — and removes a layer of oversight
With Unanimous Approval, Georgia Shuts Down Immigration 'Kangaroo Court'
As fewer inmates fill Louisiana jails, wardens turn to immigration officials to fill bunks, budgets