Read more about InAlienable.Support Quixote Center's InAlienable program!
InAlienableDaily Dispatch
May 10, 2019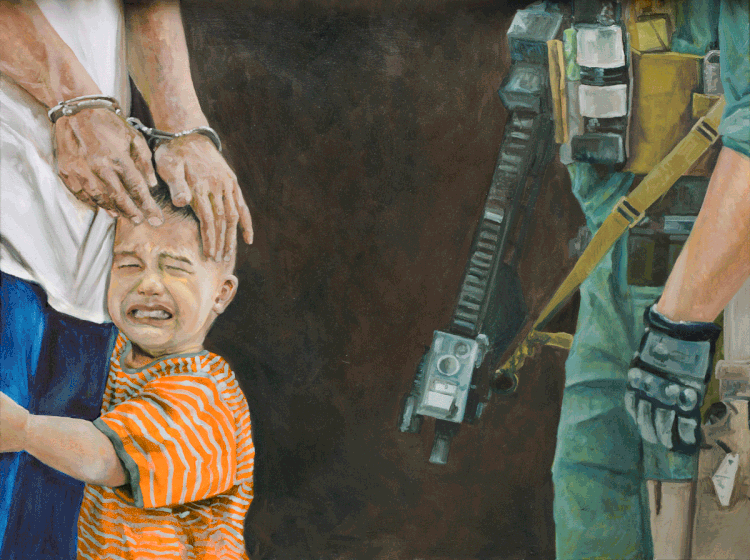 Turning your body into a compass
Playwright Catherine Filloux has written a play about child separation, which will be livestreamed on Monday night. Below it an intro to a story about the play from Woman Around Town. Click here for the full story, including an interview with Filloux about her work.
When, in June 2018, Judge Dana Sabraw of California put a legal chokehold on the Trump administration's unconscionable child-separation policy, one could sense a collective sigh of relief emanating from our nation's soul. No matter your stance on immigration, tearing thousands of petrified children from their parents' arms was a moral violation Americans could not stomach.
But nearly a year after Judge Sabraw's ruling, the trauma orchestrated by Trump and his band of child-catchers continues, and, although the widespread outrage may have subsided, the immorality of it all has only intensified.
Last month, in a court filing, the Justice Department admitted that the timeframe for reuniting these children with their families would be one year, two years or maybe longer. Because no records were kept, bureaucrats must sift through reams of data to connect dots that may or may not lead them to each child's family's whereabouts. This filing lays bare a cruel truth. While officials devised a plan to separate children from their parents, they gave no thought to reuniting them.
Even if these children are miraculously, at some point, able to rejoin their families, their trauma will be far from over. As child healthcare advocates have been warning since the very beginning of this crisis, when young children experience such extreme trauma, their brain development is compromised, often irreversibly so.
Playwright Catherine Filloux, a recipient of the 2017 Otto René Castillo Award for Political Theatre and 2015 Planet Activist Award, has made this grim truth the focus of her latest work. Set against the backdrop of this country's escalating crackdown on immigrants, turning your body into a compass tells the story of two women, a human rights advocate and a neuroscientist, who join forces to expose the irreparable trauma inflicted on children separated from their families.
Conceived as a 360° web story, turning your body into a compass will be live-streamed on May 13th at 3 p.m. EST. For more information and to access the livestream go to the website.
National Bail Out prepared for another Mothers Day
The National Bail Out Collective was established in 2017 as an effort to raise bail funds so that black mothers could be reunited with their families. We have covered the bail industry here - and the sad fact that nearly a quarter of the number of people incarcerated in this country have not yet been to trial. They are in jail simply because they cannot afford bail. National Bail Out has freed over 300 women over the last 2 years.
From Bustle:
Mother's Day is just around the corner, and while many of us will be spending the day with our moms, not everyone is so fortunate — especially women who will spend the day in jail because they don't have enough money to pay bail. This Mother's Day, a second-year initiative is aiming to help as many Black families who have been directly affected by mass incarceration as they can. The National Black Mama's Bail Out Day is raising money to help bail out incarcerated Black mothers, so they can be reunited with their children and families in the spirit of the upcoming holiday — and you can help them reach their goals.
The National Bail Out collective was established in May 2017 as a collaborative effort between many Black community organizers and organizations from across the states, including Southerners On New Ground (SONG), Black Lives Matter, The Dream Defenders, and more. According to their site, the goal of the National Bail Out is to "push against mass criminalization" by providing bail funds for Black community members who cannot afford to pay bail, and by providing additional financial support once they are released from jail.
For more information on National Bail Out check their website here.