Read more about InAlienable.
Support Quixote Center's InAlienable program!
InAlienable
Daily Dispatch
April 29, 2019
Trump lies again….and again, and again. Does it matter?
Earlier this month, the Washington Post reported that Trump had suggested releasing undocumented immigrants into Sanctuary Cities as a kind of political payback for opposition to the administration on immigration policy. The context for this move is a surge in the number of arrests at the border, which has forced the administration into releasing some people from detention. The Department of Homeland Security officials apparently thought Trump's suggested ploy a bad idea and shot the idea down. So is it happening? The Donald himself:
"Last month alone, 100,000 illegal immigrants arrived at our borders, placing a massive strain on communities and schools and hospitals and public resources like nobody's ever seen before," Trump said during a rally in Green Bay, Wis. "Now we're sending many of them to sanctuary cities. Thank you very much. They're not too happy about it. I'm proud to tell you that was actually my sick idea."
All this is, of course, a lie, but it apparently makes a nice sound bite in non-sanctuary exurban communities. According to the Associated Press:
There were no indications federal officials were taking any steps to move forward with the idea or considered the president's words anything more than bluster. His words to the Wisconsin crowd, suggesting his "sick idea" was in motion, appeared to be no more than that.
People with knowledge of the discussions say White House staff discussed the idea with the Department of Homeland Security in November and February but it was judged too costly and a misuse of money. The people were not authorized to speak publicly and spoke on condition of anonymity.
The reality is that a large portion of families leave border communities upon release and make their own way to large cities around the country - some of which are Sanctuary Cities. According to the Transactional Records Access Clearinghouse, since 2016, nearly half of new family cases have been entered in immigration courts located in Sanctuary Cities. All of which may simply be a coincidence, given that these are also some of the largest urban areas in the country (New York, Chicago, Los Angeles, San Francisco).
Asylum seeking families are overwhelming immigration courts….except they are not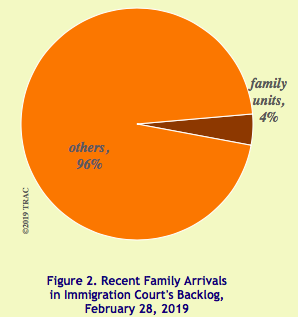 There has been much discussion about the increase in "family units" crossing the southern border, mostly from Central America, many seeking asylum. Trump has made a huge deal about this - claiming that the border is now like "Disney Land" since family separation policies were ended.
Not really…From the Transactional Records Access Clearinghouse (TRAC).
Since September, about one out of every four newly initiated filings recorded by the Immigration Court have been designated by the Department of Homeland Security (DHS) as "family unit" cases. See Figure 1. While there have been a total of 174,628 new court filings recorded over the past six months, only 41,488 of these were designated by DHS as part of family units. The actual number of families involved were less than half this number since each parent and each child are separately counted as "court cases" even though many are likely to be heard together and resolved as one family unit.
So far 16 percent of these new "family unit" cases have already been closed, while the remaining 35,006 cases are still pending. Thus, recent family arrivals represent just 4 percent of the current court's 855,807 case backlog...
This figure, of course, only reflects recently arriving families. When a similar surge of one or more parents arriving with children started back in 2014, these family cases never rose sufficiently to become a dominant component of the court's caseload. At the end of 2016 right before President Trump assumed office and tracking was discontinued, just 19 percent of the court's backlog were family cases. Again, the actual number of families involved were significantly fewer since each parent and each child are counted separately in the pending workload even though many are likely to be heard together and resolved as a family unit.
The real crisis, is that most of these families are simply turned back or deported. And that the Trump administration makes it very hard to know which! Continuing from same report: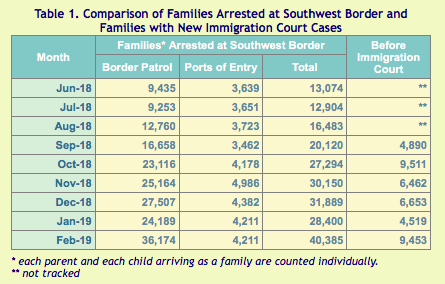 There has been no systematic accounting of how cases involving families arriving at the border are being ultimately resolved, or just how many will involve Immigration Court proceedings in their resolution. Families arriving at the border do not automatically have the right to file for asylum in Immigration Court. Under existing laws, such families must pass a number of hurdles. First, those simply coming for better economic opportunity are subject to expedited removal by DHS - a purely administrative process that doesn't require a decision by any judge. Simply expressing a "credible fear" of returning to their home county is also not sufficient. Each family must pass a credible fear or reasonable fear review. Those that do not pass this review do not have an opportunity to proceed and present their asylum claims. Again, such individuals are subject to expedited removal from the country.
At present there is a lack of reliable data on just what happens after each family arrives at the border. Different agencies - including the Border Patrol, the Office of Field Operations, Immigration and Custom Enforcement, the U.S. Citizenship and Immigration Services, the Immigration Court, and the federal criminal courts - can be involved somewhere along the way. Each of these have their own tracking systems. As a result, there is currently no continuous tracking system that follows a family from its arrival at the border onward to the final resolution of that family's case.