Read more about InAlienable.
Support Quixote Center's InAlienable program!
InAlienable
Daily Dispatch
April 23, 2019
Local Action Spotlight - Support local bail funds, #MeltICE Campaign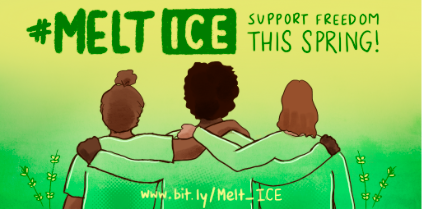 The National Bail Fund Network launched a campaign last week to raise awareness about the conditions under which people are held in immigrant detention facilities, and to also raise funds for bond payments for those seeking to get out of detention facilities, but who lack the necessary resources to post bond. The #MeltICE Campaign has an organizing guide here, and some visuals that can be shared to raise awareness about the campaign. The campaign itself is focused on boosting awareness through social media over a few days. However, the materials will be of value beyond the social media boost this week.  You can download the materials here. To support a local bond fund, check the list here.
Trump Family Up to Something on Immigration...?
Jared Kushner, senior White House advisor son-in law is preparing to deliver his immigration plan to the president his father in-law, in the next few days. Kushner claims to have the support of both Stephen Miller (Senior White House F.I.R. [fascist in residence]) and the president his father in-law, both of whom have been involved in drafting the plan that will be re-presented to them for further careful drafting. We can hardly wait for this preview of the next 15 months of 2020 election talking points on the presumptively kinder-gentler-race-baiting-immigration policy being drafted. For now, it is vague:
Kushner said the border security aspect would look at using physical barriers and technology to "keep illegal goods and keep out people who are coming in illegally while also facilitating trade and the flow of legal people as quickly and as efficiently as possible."
Kushner added that he'd like to see the U.S. immigration system give more weight to economic qualifications as opposed to family connections. He cited Canada and Australia as models for this approach.
The third point, he said, is that the administration would aim to "maintain our country's humanitarian values."
Which is to say, there will likely be little substantive change in anything except maybe the adjectives used to sell this administration's horrific policies on immigration. We'll see....
Meanwhile the list of substantive proposals from Democratic Presidential candidates aimed at reversing the Trumpian hellscape on immigration is so short, we can include it here:
Did you catch that? We'll keep you posted.