Read more about InAlienable.
Support Quixote Center's InAlienable program!
InAlienable
Daily Dispatch
April 2, 2019
Support Hunger Strikers and Amplify the Call to Abolish Detention
(from Detention Watch Network)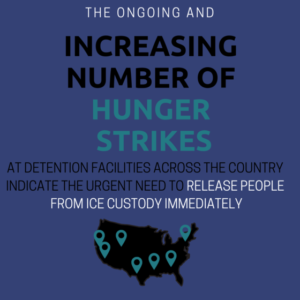 We are forwarding this call to action from Detention Watch Network. The Congressional Briefing mentioned for today has already happened, but you can still retweet details and sign the petition linked below.
Just this year, there have been seven hunger strikes that we are aware of inside detention to protest the inhumane nature of immigrant incarceration. Hunger strikers' demands often underscore well-documented issues endemic to the immigration detention system, including egregious conditions, abusive treatment, and fatally inadequate medical care. The ongoing and increasing number of hunger strikes at detention centers across the country indicate the urgent need to release people from Immigration and Customs Enforcement (ICE) custody.
Today, a coalition of immigrant justice groups are holding a Congressional Briefing to draw attention to the increasing number of hunger strikes, the conditions that led to these strikes, and the communities that are being impacted.
Support hunger strikers and amplify the call to abolish detention today by:
If you ever hear rumors of a hunger strike happening at a detention center near you, please report it to Gabriela Marquez-Benitez, DWN's Membership Director for support: gbenitez@detentionwatchnetwork.org
The real crisis is in Central America
Interesting interview with John Carlos Frey of the PBS NewsHour on Democracy Now this morning about the Trump's faux border crisis.
I don't know if we're at capacity; I don't have access to that information. But this is a phenomenon that happens every year. There is a surge around this time of the year of migration. It's not more people than we're used to seeing, record numbers we used to see back in early 2000s, 1.6 million people in the year of 2000. We're at about 600,000 people right now. So the fact that we're at capacity doesn't quite make sense, because we're at about a million less apprehensions than we were about 20 years ago.
So, if you're a Border Patrol agent or if you're CBP, you're going to know that there's going to be a surge in the spring. That's when most people come. They come before it gets too hot. And, you know, you put your personnel at the border accordingly, and you make room. This is their job, to manage the border, to manage migration. And the fact that they're having to hold them under the bridge is either incompetence or it's the administration trying to create some sort of false drama that there's an emergency or that there's a crisis. I really don't understand the way that this administration is managing the border. It's shameful.
Read/watch the full interview here.