Read more about InAlienable.
Support Quixote Center's InAlienable program!
InAlienable
Daily Dispatch
March 12, 2019
Together Rising, others, work to reconnect families
During the peak of the family separation crisis last year, hundreds of immigrant parents were deported without their children. Last weekend, 29 parents presented themselves at the border, once again seeking asylum with the hope of be reunited with their children.
Background, Washington Post:
In most of the 2,700 cases from when the Trump administration separated families at the border last year, both the parents and children remained in the United States, sometimes held in shelters and detention centers thousands of miles apart. Almost all of those families have now been reunified and are in the process of pursuing their asylum claims.
But the cases of about 430 parents deported without their children were particularly difficult. Often, the government lost track of which child belonged to which parent, and it did not link their immigration cases, sending parents back to Central America without telling them where their children were….
After Trump signed an executive order officially ending the family separation policy on June 20, lawyers launched a legal battle to reunify many of the deported parents and their children in the United States. The American Civil Liberties Union filed a lawsuit demanding that the government allow 52 parents back into the United States to pursue their asylum claims, which the lawyers argued had been stymied after the parents were separated from their children at the border.
But the government has not responded to that appeal and later said it needed more information about the parents from the ACLU. It remains unclear when, or if, the U.S. government will invite those parents back to the United States to launch new asylum claims.
Saturday evening….29 parents were at the U.S. border with legal advocates, reapplying for asylum and attempting to get back the children that had been taken from them into U.S. custody. At the same time, Glennon Doyle and her nonprofit group Together Rising sent out an email giving more background on how those 29 parents were found and brought together to the border. Two of Together Rising's board members, Liz Book and Glennon's sister Amanda Doyle, were there with the families and sending live video updates. Initially, they were told that there was no capacity to process the asylum seekers — but around 8 p.m. Saturday they began allowing all 29 parents and their families to enter...Saturday night's action at the border was the result of intense, on-the-ground work organized and funded by Together Rising and Al Otro Lado, along with Matthew 25 Southern California, ACLU, Families Belong Together, and clergy partners.
RAICES Sets Up IceBox at SXSW (from RAICES announcement)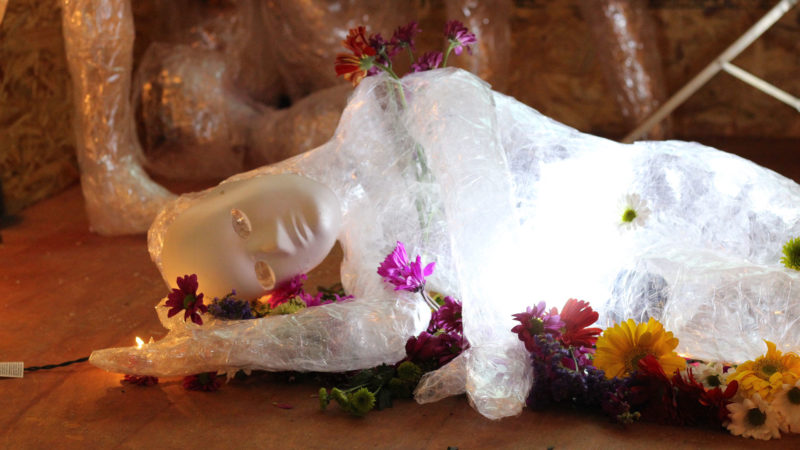 RAICES, in cooperation with Austin-based artists Yocelyn Riojas and Jerry Silguero, will recreate a hielera during South by Southwest this weekend and next. The 8 x 20 foot storage pod turned hielera will be kept at approximately -10 degrees Fahrenheit to recreate what most migrants face after apprehension by ICE agents. Though visitors are not expected to stay the one to three days migrants report they are forced to stay in these rooms, guests will leave with a small taste of what it is like to be immersed in the immigration process as a migrant.
Outside the hielera, visitors can observe the community painted mural, "Asylum Is A Human Right," but only from outside a wire fence placed at a distance from the artwork symbolizing the barriers our immigration system imposes on that internationally-recognized right. Bandanas will be tied to the fence with messages written by any and all who wish to comment on our country's approach to immigration.
RAICES hopes that visitors will feel moved to join us in calling on ICE and CBP to stop the practice of holding migrants in freezing temperatures and inhumane conditions as part of this country's immigration process. After having experienced it first hand, perhaps guests will feel as we do that this is an unnecessary and cruel practice that must end.
The hielera installation can be viewed in a parking lot at 308 Guadalupe St. in Austin at the following times:
12 PM to 6 PM Friday, March 8
11 AM to 2 PM Saturday, March 9
11 AM to 6 PM Friday, March 15
11 AM to 2 PM Saturday, March 16
Southwest Key Founder and Chief Executive Officer Resigns
After decades of making millions from government contracts to detain children, Southwest Key's founder and CEO is out. From the New York Times:
For months, Juan Sanchez was at the center of the national uproar over family separations at the Mexican border because the nonprofit he founded, Southwest Key Programs, was housing migrant children taken from their parents. On Monday, facing intense scrutiny from his own organization and federal investigations over alleged financial improprieties, he stepped down after 32 years at the helm.
The charity's chief financial officer, Melody Chung, left last month after a New York Times article outlined allegations of mismanagement and possible malfeasance at the charity.
Southwest Key began an internal investigation after the article was published in December. The Justice Department also started investigating.
The Southwest Key shelter in a former Walmart superstore in Brownsville, Tex., known as Casa Padre, became a symbol of the Trump administration's family separation policy, with immigration advocates likening it to a warehouse for children. But it was also a generator of millions of dollars in federal grants at a nonprofit unusually concerned with its bottom line.
Worth noting that Juan Sanchez leaves under suspicion of financial mismanagement. Decades of documented abuse at facilities, failure to complete background checks, even the temporary suspension of Southwest Key's Arizona license, was not enough to get him out. Of course, none of these violations actually threatened federal contracts: Money matters. Immigrant kids, not so much.