Read more about InAlienable.
Support Quixote Center's InAlienable program!
InAlienable
Daily Dispatch
March 11, 2019
National Call in Day to block new detention facility near Chicago. Today!
Alert from #CommunitiesNotCages
This evening, the Dwight, IL Village Board will be voting on three proposals presented by Immigration Centers of America (ICA) to build a 1,200 bed detention center just 90 miles south of Chicago. This proposal, which has faced a consistent and public rebuke from the community, as well as, faith, legal, and grassroots organizations from across the state, has moved forward to this final stage. Earlier last month, the Dwight Planning Commission issued a three to two vote to recommend a 'yes' vote to the Village Board regarding this ICA proposal.
Late last week, facing pressure from the Mayor, St. Patrick's Catholic Church cancelled a planned information session regarding the proposal. This move, which shocked community members, is emblematic of the secrecy that ICE detention center agreements are always shrouded in. Given today's timeline for the vote, it is crucial to flood the phone lines of the Dwight Village Board, who need a majority vote to approve this toxic proposal.
Take 5 minutes today to urge the Dwight Village Board to vote no to ICA's proposed immigrant jail. Call the members of the Dwight, IL Village Board and urge them to vote no on this destructive proposal.
Step 1: Call Justin Eggenberger, 815-584-0010, and Randy Irvin, 815-474-9795. We believe they are persuadable targets. Additional members of the Village Board to call can be found here.
Step 2: Use the following script as a guide, we encourage you to add an example of why this is important to you:
Hello, my name is [first and last name] and I'm calling to urge you to please vote NO to all proposals presented by Immigration Centers of America to build a detention center in your community. ICA is a company that is no different from ICE's other private prison contractors and will yield the same results that immigrant detention has created since its inception. The jobs this jail will create are low-wage, non-union jobs. This detention center, like all others, will largely be run on forced labor as people detained are paid at most $1 a day to work and maintain the jail running. Currently, there are seven different lawsuits across the country because of the coerced labor people detained are forced to perform. Lastly, detention centers are deadly, in the past two years, 22 people have died inside of them largely due to the medical negligence and abuses rampant in the immigrant detention system. Dwight needs a sustainable way to thrive as a community, not a jail that will create unstable, low wage jobs, legal liabilities, and carry out extensive human rights abuses. We urge you to vote NO on all ICA proposals. Thank you."
A Border Energy Corridor?
Turning the border into an energy corridor that would offer employment and many long-term benefits to people on both sides is an interesting idea. This idea draws life from the idea that the ecological features of the border can be re-imagined as shared resources, and that cooperative management of those resources would offer a path to a more peaceful relationship between the United States of America and Mexico. Read more about the idea in Scientific American.
The idea is more than a pipe dream. A consortium of 27 engineers and scientists from a dozen U.S. universities has developed a plan. Last week they delivered it to three U.S. representatives and one senator. "Let's put the best scientists and engineers together to create a new way to deal with migration, trafficking—and access to water. These are regions of severe drought," says Luciano Castillo, a professor of energy and power at Purdue University who leads the group. "Water supply is a huge future issue for all the states along the border in both countries."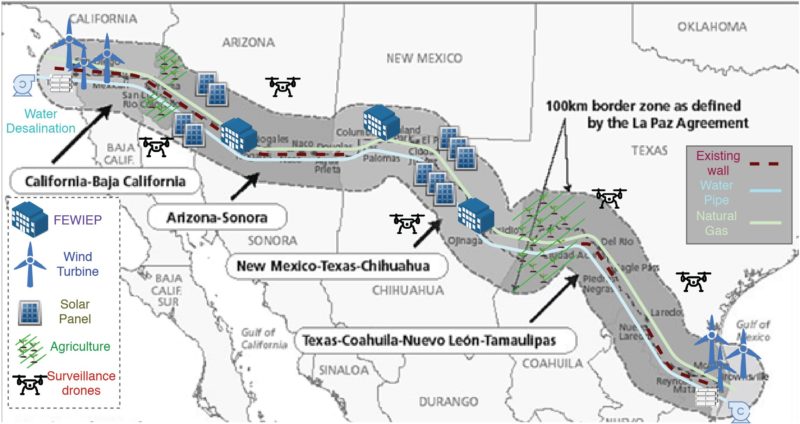 The devil is in the details, of course, and no doubt many issues would arise to complicate this scenario. But a different kind of conversation about the border is desperately needed. One that emphasizes both sides of the border and shared benefits would be much better than the current debate about walls and security cameras.