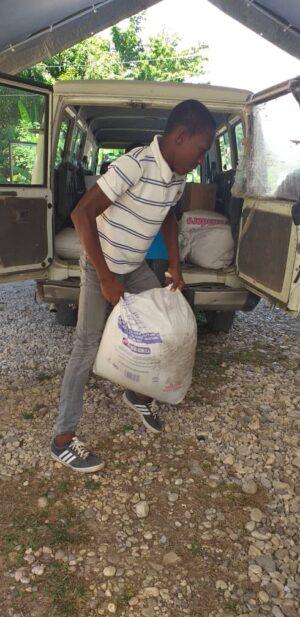 On August 14, 2021, a series of earthquakes struck Haiti's southern peninsula, leaving 2,400 people dead and doing enormous damage to the area's infrastructure. Like most of Haiti outside of Port au Prince, the peninsula is a predominantly agricultural area. Damage to roads and bridges, the death of farm animals, and mudslides from the tropical storm that struck the area a few days later, have all conspired to threaten food production. Farmers struggle to get supplies for the winter planting, and are cut-off from markets in Port au Prince due to armed groups controlling the roads into and out of the city.
In response to the earthquake, the Quixote Center is funding direct cash payments to individuals in the impacted area. We emphasize cash payments over other types of  aid in order to support local markets, especially local and regional farmers, who can see their livelihoods damaged further when markets are flooded with imported food aid. Where markets are open, and local supplies available, supporting the local economy is better for Haiti in the long run.
Even if supplies become difficult to source nearby, they can often still be sourced from other parts of Haiti. Though transport is difficult, it is worth the effort to build connections within Haiti for relief efforts.
Quixote Center partners with an agro-ecology program that includes a seed bank near Gros Morne, Haiti. With support from the Quixote Center, our partners at the Jean Marie Vincent Formation Center purchased seeds from farmers in Gros Morne and delivered them to farmers near Camp Perrin, which is located near the epicenter of the August earthquake.
Guy Marie Garcon, who coordinates the program at the Jean Marie Vincent Formation Center, wrote, 
The community of Gros Morne has often been a victim of hurricanes and earthquakes in recent memory, so we understand the pain of the farmers in the South. We have the possibility to help our compatriots in the South, which is why we propose to send seed support for planters in [Camp Perrin]. We would send them good quality bean seeds, so that they can replant their gardens. By purchasing these seeds from farmers in Gros Morne, we would provide good quality local seeds for the farmers in the South, rather than importing them from abroad. We know that our seeds will grow well in the South.
Of course, we faced a struggle getting the seeds delivered, as there is no safe way to drive them directly to Camp Perrin. The driver from Gros Morne delivered the seeds to a program partner's office in Port-au-Prince safely, but he did have to navigate roadblocks in St. Marc to do so.  
Once in Port-au-Prince, the seeds waited for a couple of days for safe passage south.
The seeds were delivered to the Sacred Heart Parish in Camp Perrin on Saturday, January 15th, and from there will be delivered to 100 small farmers, ultimately providing assistance to 450 people in Toirac and surrounding areas like Mailloux, Sous De Vie and Barat. 
It is a small project, but is an example we hope will grow. Rather than bring in outside supplies that displace Haitian growers, we are supporting local growers. For those of you who donated through our emergency response fund, we thank you for your generosity.