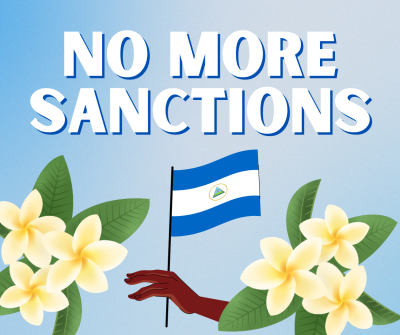 Back in June, Senators Rubio and Kaine introduced legislation to extend and expand sanctions directed at the Government of Nicaragua. The bill builds upon the NICA Act of 2018, passed under the Trump Administration, and RENACER of 2021, a Biden Administration-supported bill. Quixote Center provided analysis and information about both bills in this 2021 post.  
A key feature of RENACER was a threat to "review" Nicaragua's participation in CAFTA, the Central American Free Trade Agreement. It also restricted new loans from the World Bank and InterAmerican Development Bank. Both measures were designed to pressure the Nicaraguan government by restricting access to loans and investment used for economic development. An October 2022 Biden Administration executive order extended the earlier sanctions to prohibit investment in certain economic sectors, specifically gold, and provide a mechanism for restricting trade and investment in other sectors. 
The new legislation, the Restoring Sovereignty and Human Rights in Nicaragua Act of 2023, would extend the current sanctions regime through 2028 and expand the economic sectors targeted for restriction to include gold, cattle, coffee, and "any other sector of the Nicaraguan economy identified by the Secretary of the Treasury." This stipulation prevents both investment and trade; the reasoning is that the Nicaraguan government has imposed taxes (like any functioning government) and therefore stands to gain from these and other profitable sectors.  
The new legislation also extends U.S. government interference in Nicaragua's ability to obtain loans for development by authorizing the State Department to pressure other Central American governments to oppose any loan or financial or technical assistance through CABEI (Central American Bank for Economic Integration) to the government of Nicaragua for any reason. If effective, because of the earlier restrictions on World Bank and IDB loans, this could severely damage Nicaragua's economy and substantially restrict Nicaragua's ability to invest in infrastructure improvements, such as roads and water systems. 
The legislation criticizes the Nicaraguan government for human rights violations, especially against the Catholic Church, and objects to its refusal to support Ukraine in the war with Russia. The stated purpose of sanctions is to force democratic elections and end violence and other human rights violations against civilians. In other words, the purpose of the sanctions is to force leadership change. 
No matter how one feels about the Nicaraguan government, the key question is who sanctions actually harm. The U.S. sanctions regime obviously bothers them, because Nicaraguan President Daniel Ortega complains about it. But sanctions in place since 2018 have not led to the government's collapse. Prior sanctions against Cuba and Venezuela had similar goals with similar outcomes. Economic sanctions do further impoverish ordinary people who are trying to figure out how to support themselves and their families. Intractable poverty leads to migration, and the last few years has seen unprecedented migration from Nicaragua. The same thing happened in Venezuela. Sanctions also provide the targeted governments a reason to blame the United States for poverty and lack of economic development.  
Quixote Center stands in solidarity with the Nicaraguan people, opposing U.S. sanctions that make their lives worse. Instead, we call on our government to engage with the government of Nicaragua and other Central American countries to promote democratic processes and human rights in the hemisphere. The U.S.-Nicaragua relationship needs a reset.  
You can contact your Senator here to express your concerns about sanctions against the people of Nicaragua.