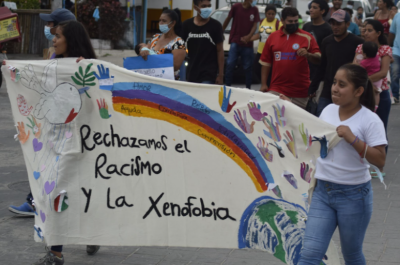 The media predicted a massive surge at the U.S. border after the Biden Administration finally put an end to Title 42, and now outlets are scrambling to understand why this failed to materialize. 
The reality is that migrants, advocates and even border officials, are unsure of what happens next. This drop at the border is no measure of success, but is rather evidence of a deep failure on the part of the United States to honor its commitment to provide safe refuge to people fleeing danger. 
The Asylum Process Has Been Decimated
Although the Quixote Center advocated for an end to Title 42 and its associated deportations, the new rules are no improvement. In the wake of Title 42, the Biden Administration has enacted a series of rules that together systematically destroy people's ability to seek asylum. 
The asylum rules require applicants to: 1) apply for asylum in a third country and be denied; or 2) use the convoluted, barely functional CBP One App to schedule an asylum appointment. You can click HERE to see how that process would unfold if you were seeking asylum. We know from our recent experience in Panama, for example, that one can apply for asylum there, but the government is not processing applications. A migrant who applied would be stranded. 
People who present at a port of entry without a CBP One appointment will be processed under Title 8, the rule before Title 42 was in place. But they can now be placed in expedited removal proceedings, which raises the bar for asylum and fast-tracks deportation. If you are deported, you now face a five-year entry ban and could be prosecuted with a felony if caught reentering irregularly. In just a week since the end of Title 42, the U.S. deported 11,000 people. Just today, as we write this, the U.S. deported 86 migrants back to Haiti, to face a lawless and dangerous environment without a functioning government and virtually no economic opportunity. 
We have heard stories from advocates at the U.S. border that officials are turning people away at ports of entry, not even allowing them to apply for asylum. This is Illegal. We have also heard that INM, Mexican immigration enforcement, has been blocking migrants from reaching the port of entry on the U.S. side, even if they have a CBP One appointment. All of this just adds to the confusion migrants face as they try to navigate a constantly changing policy environment. 
Amongst the confusion on what to do next, human tragedy is inevitable. Eight-year-old Anadith Tanay Reyes Alvarez died in Border Patrol custody because officials ignored her families' plea for medical attention. She is not the first migrant child to die in federal custody this year, and she may not be the last. 
Migrants are Trapped on the Migratory Route
As people try to navigate the few, increasingly convoluted pathways to enter the U.S. they find themselves trapped in different parts of the migratory route. 
Shelters in Mexico are past capacity, and just across the U.S. border, families and young children are living in horrific conditions. Families in Panama are sleeping on the streets. This all leaves people susceptible to violence from organized crime groups and human rights abuses. 
But it doesn't have to be this way. 
What You can Do to Help
You can click HERE to support shelters like La 72 and the Franciscan Network on Migration. They provide life-saving services to migrants in Mexico and throughout the Americas, and need help to meet the increasing demand. 
You can also click HERE to support the Quixote Center and our advocacy and education efforts for immigration justice.