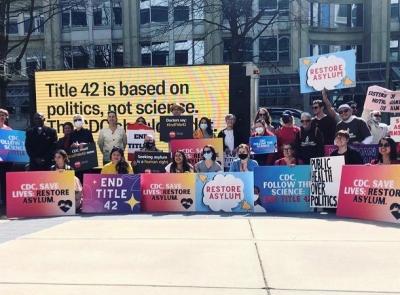 The Centers for Disease Control and Protection issued the Order Suspending Introduction of Certain Persons from Countries Where a Communicable Disease Exists on March 20, 2020. The order claimed authority under Sections 362 and 365 of the Public Health Service (PHS) Act, 42 U.S.C. 265, 268 - hence the shorthand, "Title 42" - to immediately remove people from the United States without granting them access to asylum processing or other humanitarian relief. The order was issued days after COVID-19 was declared a global pandemic, and the fact of the pandemic provided the political cover for ending access to asylum for almost everybody encountered at a US border, a long-standing, but to this point unfulfilled, Trump administration goal.
Over 1 million people have been summarily expelled under Title 42 policies in the two years since, far more since Biden took office than under Trump. Indeed, Biden remains committed to Title 42 despite the rejection of it by public health professionals, human rights organizations, and Congressional leadership.
In recent weeks there have been conflicting decisions on Title 42 implementation from our increasingly partisan federal court system. The result is that if the CDC does not end the policy on April 2 (the next renewal date), it will have to issue a new set of procedures to accommodate a court decision requiring that families have access to credible fear interviews. The administration has already pressed the CDC to enact exemptions for refugees from Ukraine and unaccompanied children (the latter in response to a lawsuit from Texas that was seeking reimplementation of expulsions for unaccompanied children). Both are reasonable decisions if Title 42 was a legitimate policy, but in context these exemptions simply underscore the fact that Title 42 is a political order, not a public health one.
Further, the decision to expel 1 million people for public health reasons has to be viewed alongside the fact that even during the pandemic Customs and Border Protection processed an average of 491,000 border crossings every day. In other words, the pandemic did not halt border traffic by a long shot. The idea that asylum seekers or other migrants crossing between Ports of Entry, representing something like 0.01 of all border crossings in FY 2021, constitute a unique public health threat defies logic.
Additionally, many people are now being detained in congregant settings while awaiting expulsion by plane - something that has been common for Haitians since March of 2020, but only applied to others on a large scale since August of 2021 when Biden launched near daily Title 42 expulsion flights to southern Mexico - since expanded to Guatemala, Honduras, Colombia and elsewhere. As the primary "public health" rationalization for implementing Title 42 back in March of 2020 was avoiding detention in congregate settings, the current expansion of this practice to facilitate removal by plane is just another example of how Title 42 is not a public health order and should be rescinded.
Finally, Human Rights First has documented that at least 9,886 people removed under Title 42 have been victims of physical assault in Mexico, including murder, after being expelled. Which is to say, far from any kind of defense of public health, Title 42 actually represents a public health disaster for the refugees it is inflicted upon.
For all of these reasons, between now and the end of March we need to pressure the CDC (and the administration which is clearly, if unofficially, the source of the policy) to end Title 42 once and for all!

Contact your members of Congress: We have made that easy, just click here to send a message to your representative and senators. Feel free to share this alert, and also take additional steps of calling and/or writing members' offices if you are able.
Contact the CDC and the White House with a simple message - end Title 42!
White House Comment Line: 202-456-1111
Centers for Disease Control and Prevention: 800-232-4636