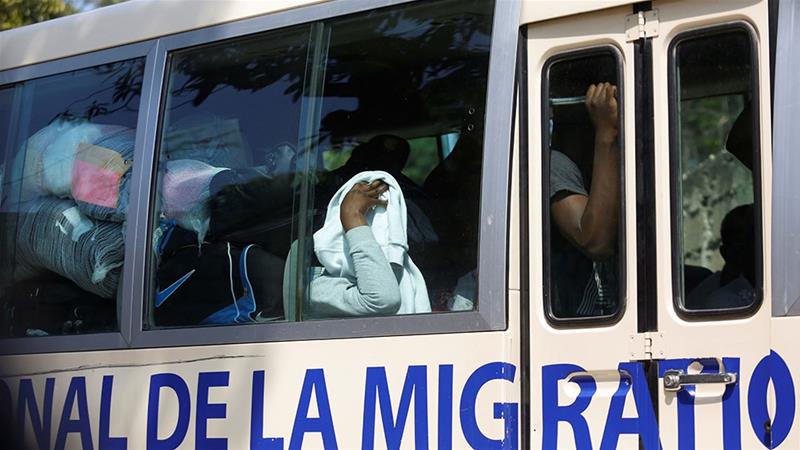 We reported on Friday that Immigration and Customs Enforcement was intending to include several people confirmed positive with COVID-19 on a deportation flight to Haiti. You can read that related background on the flights here.
On Monday, Immigration and Customs Enforcement removed three people from a deportation flight to Haiti once it was made public that the individuals had tested positive for COVID-19 and that ICE intended to deport them anyway. Of course, the other 97 people on the flight were likely exposed to the novel coronavirus that causes COVID-19 while in detention within the United States, as ICE has failed to take steps necessary to protect people in detention, and has refused to implement judicial orders to release people at risk more quickly. Releases are happening, but very slowly. 
All of those deported were subjected to further testing and possible quarantine upon their return to Haiti. The people being deported also face a growing backlash, one seen in Guatemala and elsewhere, as people fear that those who have been deported from the United States are spreading the disease. Through no fault of their own they have become targets of ostracization and even threats of violence upon return.  
Representative Frederica Wilson introduced legislation yesterday calling for the suspension of all deportation of Haitians until the pandemic is brought under control. The "Haiti Deportation Relief Act" comments on the bill:
"Deporting people to Haiti in the midst of a global pandemic is both inhumane and unsafe. Continuing these flights will likely contribute to the spread of the novel coronavirus in the impoverished nation where many people do not have access to basic health care," said Congresswoman Wilson. "That is tantamount to a death sentence for Haitians who are living with compromised water and sanitation systems and do not have access to the sanitation measures we've undertaken in the United States."
"ICE (U.S. Immigration and Customs Enforcement's) continues to deport people in the midst of a global pandemic and risks contributing to the spread of COVID-19. We simply should not be deporting anyone who has been in an affected facility, nor to countries such as Haiti that may struggle to respond to an outbreak," said Rep. Bennie G. Thompson, chair of the Committee on Homeland Security. "I applaud Representative Wilson for her advocacy, and I am proud to join my colleagues in calling for deportation flights to be halted."
"The Trump administration's decision to continue deporting Haitians during a global pandemic is irresponsible and cruel. Even before the pandemic, Haiti faced a significant political and economic crisis," said Rep. Eliot L. Engel, chair of the Committee on Foreign Affairs. "These deportations are indefensible and must be halted immediately. I commend Representative Wilson for this crucial legislation."
Meanwhile, deportation flights continue. Legislation to end all deportations for the duration of this crisis is needed. Though we know such an effort faces an uphill, perhaps impossible, battle in the Senate (and would not be that easy even in the House), it still seems a fight worth pressing for.