In the ten days since Jovenel Moise was assassinated the international media has been primarily focused on the constantly shifting details of the attack itself. The Haitian police have arrested nearly 30 people for involvement, including nearly 20 Colombians (some with US training background) apparently working under contract with a Miami based security company, run by a Venezuelan ex-pat. Several more Colombians were killed in fighting with Haiti's police, and others remain at large. A Haitian-American doctor has been arrested as one of the possible "masterminds" behind the plot, and the head of Moise security has also been brought in for questioning. 
Meanwhile, some things remain the same...
In some ways, the division of power within Haiti looks similar to before the July 7th assassination. Claude Joseph as acting prime minister, working alongside Leonel Charles as head of the Haitian National Police, represents the continuity of Moise's governing coalition such as it was. The political opposition situated in the remnants of Haiti's senate have nominated Senator Lambert as acting president, and Ariel Henry as acting prime minister, proposing that they assemble an interim government to oversee elections - to be held in 2022. Finally, there are hundreds of civil society organizations who are calling to launch a participatory process of selecting an interim authority to oversee a new electoral process. 
For now, the United States and international community seem to be backing Joseph, though the US did dispatch a team to facilitate conversation between Joseph and the official political opposition. President Biden is dispatching Marines to lock down the US embassy in Port au Prince, but has indicated that more troops from the United States were "not on the agenda." For now, then, the fear of military intervention has been forestalled. However, the voices of social movement leaders continue to be set aside by US policy makers - which is a dynamic we seek to change.
There continues to be reports of attacks in the popular neighborhoods of Port au Prince, where armed groups have been fighting for weeks now, displacing 14,000 people or more. Security concerns have made reaching some of those displaced nearly impossible for local partners. We have delivered some funding to help those displaced, and are also now raising general funds so that we can respond in other ways to the crisis as well.
A Call to Action from social movements
The message from social movement partners in Haiti and the folk we work with here in the United States is that Haitians must lead in this transition - and not just an acting prime minister. Rather calls for an inclusive process should be heeded. This week a statement was circulated for organizational signatures to lift up this central message alongside other relevant points. The statement includes the following principles to guide further action
A Haitian solution. Haitians should lead in building the path forward. Foreign actors must not impose solutions from abroad. Even prior to Moïse's murder, Haitian organizations have been building consensus for a transitional government. Foreign governments and international institutions must not overstep their role by declaring who has authority in Haiti, particularly when that conflicts with Haitian law.
We need only look to the recent MINUSTAH mission to see that foreign military interventions fail to create lasting public democratic institutions that are necessary for any country to function. Despite spending 13 years and $7 billion -- ten times Haiti's GDP-- the MINUSTAH mission left Haiti with more guns and less democracy. The mission also afflicted Haiti's citizens with sexual exploitation and abuse, leaving behind hundreds of children fathered by peacekeepers, and was responsible for introducing cholera to Haiti, killing an estimated 10,000 people.
A commitment to a participatory dempcratic process. After decades of foreign intervention and aid policies that have destabilized Haiti, each branch of the Haitian government has been systematically dismantled, and public confidence in Haiti's governance has declined to nearly nothing. Haitian organizations and civil society have long been calling for a transition government to restore stability, basic security, and democracy. Haiti must have a transition process in order to rebuild its democratic institutions, and this process must be inclusive of all sectors of Haiti's population. 
Ensuring that conditions for fair, participatory, and credible elections are in place before rushing Haiti to the polls. Elections are a fundamental part of the democratic process. However, they must be free and fair and perceived as legitimate in order to strengthen democracy. Elections will not be free and fair without inclusive voter registration, an independent and legitimate electoral body, and the security necessary not only to vote, but also to campaign leading up to election day. Meaningful participation requires that women and other marginalized groups also participate in the electoral process. A race to hold elections on an internationally-imposed timeline risks further eroding democracy in Haiti. 
Protection for the right to free expression and the right to life. Over the past three years, all Haitian people have learned that there is no safety; there is no guarantee that they will make it home when they leave. Human rights defenders and activists are frequent targets of threats and attacks, and essential health care workers have been injured and killed through kidnappings, attacks and gang violence. Gender-based violence, including rape, has been increasing during this crisis, and thousands of women and girls have been displaced from their homes, making them even more vulnerable. 
Three years ago, on July 6-7, 2018, the emerging evidence that government officials had stolen more than $2 billion from state coffers and rising gas prices sparked the first in a series of protests against corruption and impunity. These massive mobilizations of Haitians across class and political lines marched together to call for accountability and democracy. They were consistently met with brutal repression from the government and indifference from the international community. 
There have been 18 massacres documented in Port-au-Prince over these past three years. Perpetrators have targeted neighborhoods active in opposition protests, and have not been held accountable. Human rights groups have documented connections between officials and the armed groups responsible for these massacres, including Moïse and other government ministers.  Further, some argue that these massacres  constitute crimes against humanity. 
Recognition of how foreign interventions have contributed to current conditions in Haiti. While many are calling Haiti a "failed state", what we see is the failure of centuries of policies imposed on Haiti by the international community, including aid policies, that prioritized foreign interests and short-term gains over sustainable democracy and prosperity for Haitians. The 2010 earthquake was an opportunity to rebuild Haiti with strong public institutions. However, despite hundreds of millions of aid dollars, Haiti's entire public administration was outsourced to foreign institutions and NGOs. 
To read the full statement connect HERE. If your organization can sign, you can do so HERE.  The statement with signatures will begin to circulate next week, including to member delegations at the United Nations and policy makers in the United States.
Must See Webinar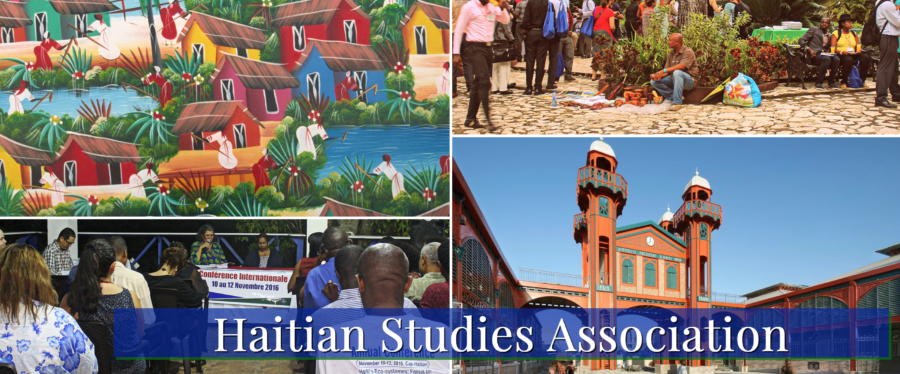 Finally, the Haitian Studies Association is sponsoring a webinar with social movement leaders from Haiti on Wednesday July 21 from 11:00 to 12:30 EDT. Participants are:
Moderator: Mamyrah Dougé-Prosper, University of California, Irvine
Panelists: Rosy Auguste Ducena, RNDDH; Velina Elysée Charlier, Nou Pap Dòmi; Magalie Comeau Denis, Komisyon pou Jwenn yon Solisyon Ayisyen; Sabine Lamour, SOFA; Josué Merilien, UNNOH/ Konbit
The event is Co-Organized by the Haitian Studies Association, Center for Economic and Policy Research, Haiti Response Coalition, Haitian Studies Institute at Brooklyn College, Institute for Justice and Democracy in Haiti, Kimberly Green Latin American and Caribbean Center at Florida International University, and North American Congress on Latin America.
Click HERE to register