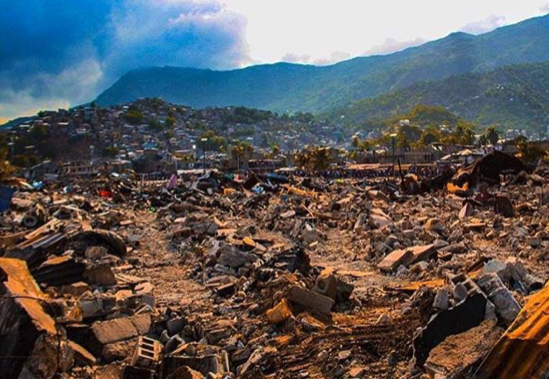 Shada Demolition
On Monday, June 15 bulldozers razed the community of Shada II in Cap-Haitien, along Haiti's northern coast. Close to 1,500 families lost their homes as a result. Apparently none were notified in advance of the destruction, nor were any compensated for the loss. This inexplicable act was officially carried out in retaliation for a gang assault that left a police officer and five other people dead days before - but this is either not at all true, or, at best, a very partial explanation. The largest gang in Shada is assumed to be politically aligned, and thus this may well have been in part retaliation. However, that hardly suffices as an explanation for putting 1,500 families out of their homes in the midst of a pandemic.
The organization SOIL has been working in Shada II since 2004 issued a statement about the demolition (full statement here):
At this critical moment in global history, when the world is grappling with the combined public health emergencies of COVID-19 and systemic racism, we feel it is critical that we call attention to human rights issues that impact the communities we serve. There are many unanswered questions about what happened in Shada II last week, and we urge human rights groups to investigate. At the same time, SOIL stands in solidarity with the thousands of innocent people who lost their homes and belongings, and we recommit our organization to sustained social change. True change demands that all stakeholders come to the table to shine a light on the injustices suffered by vulnerable communities caught in the crosshairs of larger political, economic, and social forces, particularly at a moment when the world is facing an unprecedented crisis that calls for compassionate ingenuity and proactive support to those most at risk. 
We will continue to report on this as more details unfold and the community regroups to decide what comes next.Toto Constant is Back in Haiti
Emmanuel "Toto" Constant was deported from the United States to Haiti on Tuesday, June 23. Constant is the former leader of the FRAPH, a notorious paramilitary organization responsible for the deaths of thousands of people while the country was under military rule following the coup against Aristide in 1991.  Constant fled to the United States when Aristide was reinstated in 1995 where he remained until this week. Meanwhile, in Haiti, Constant was convicted in 2000 in absentia for his involvement in the massacre at Raboteau. Despite the conviction, Constant was allowed to remain in the United States. Early efforts to remove him stalled, and most assume he was being protected as a former CIA asset. However, he was later convicted of real estate fraud in New York and imprisoned. For many the hope was he would remain in prison. 
After serving 12 years of a 37 year sentence, Constant was released from prison and immediately taken into custody by Immigration and Customs Enforcement. Reports that Constant was to be deported emerged in early May. Over the course of several weeks ICE would put Constant on a flight manifest, to later remove him. Constant was finally deported this Tuesday. What does this mean?
Constant was arrested upon his arrival under the 2000 conviction which still stands. However, Constant is entitled to a new trial. Brian Concannon and Mario Joseph (both of whom were involved in landmark human rights trials in the late 1990s that led to the 2000 conviction of Constant and others) published an op-ed in the Miami Herald that explains what is at stake.
A credible prosecution of Constant must respect both his rights and those of the Raboteau Massacre's victims, who have official status in the case under Haiti's "civil party" system. The victims are entitled to a robust prosecution that presents all the available evidence, as well as the right to notice of hearings, to participate in some of them and to appeal rulings that infringe on their rights. The original Raboteau trial is a good benchmark: It included expert testimony from international forensic and military experts, documents from the military archives and extensive victim and witness testimony.
The passage of time since Constant's crimes in Haiti does not prevent his prosecution. His death squad's murder and torture of civilians were both widespread and systematic, placing them squarely within the definition of crimes against humanity, so the statute of limitations cannot apply. Constant was convicted under a command responsibility theory, and the evidence was mostly documents, which are as credible as ever.
For now, the hope is that Constant remains in custody. He has many former political allies in positions of power under the current government -and should he be released, could wreak havoc. The U.S. has a role here. In 2000 the Clinton administration stalled releasing documents related to FRAPH activity that had been taken by US forces from FRAPH headquarters in 1995 during the operation to reinstate Aristide. Once documents were released they were heavily redacted. The U.S. must support requests for evidence this time around. 
Deportation flights continue...for now
As indicated by Toto Constant's arrival in Haiti, deportation flights are continuing. We encourage everyone to continue to reach out to members of Congress and press for an end to these flights.
If you have not done so yet, you can send a message to your member of the House and ask them to support legislation to end deportations to Haiti. The Haiti Deportation Relief Act was introduced by Frederica Wilson and has the support of committee and subcommittee chairs on the Foreign Relations committee - which means it could get a hearing, committee vote and make it to the floor of the House if people show enough support. It clearly will have a hard time moving in the Senate - but we must press when and where we can!
In addition, the Quixote Center's Executive Director, John Marchese, was one of 360+ human rights activists and other notables to sign a letter that was sent to the Department of Homeland Security and State Department, including the U.S. Ambassador to Haiti, last week. The letter was organized by the Haitian Bridge Alliance. You can read that here. You can also then print this letter, and send it with a message to your members of Congress to end deportation flights! Find their address here.