[caption id="attachment_10036" align="alignnone" width="700"]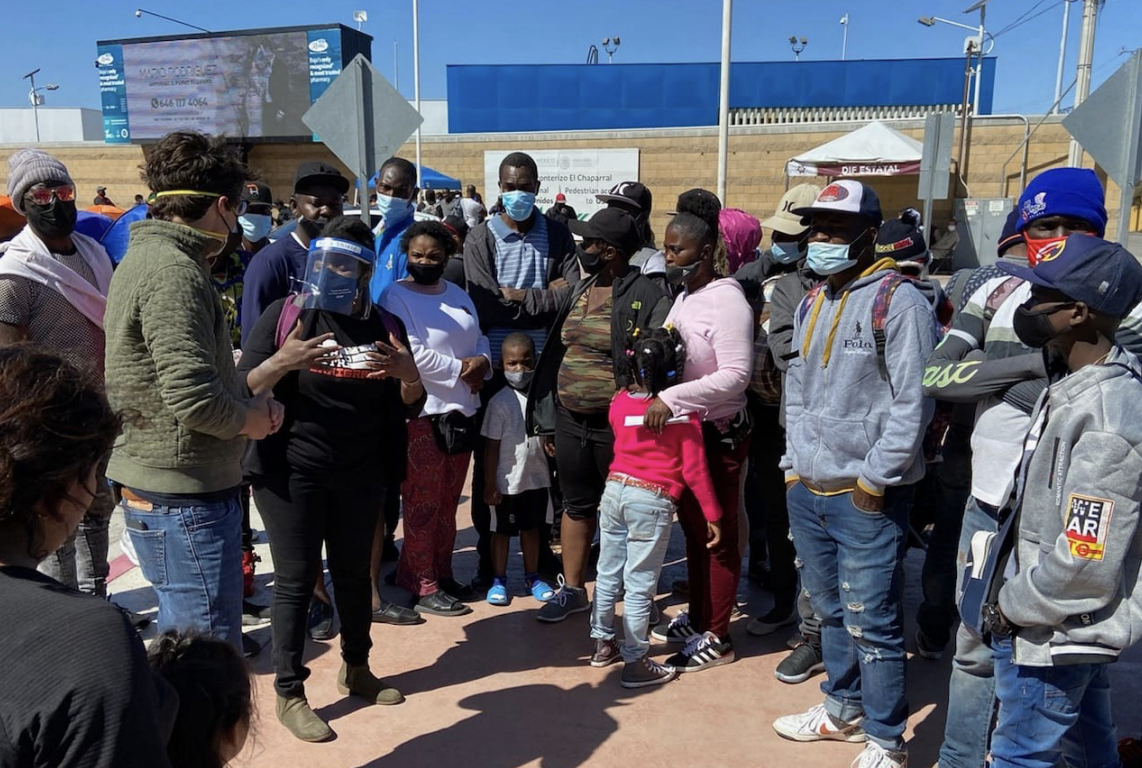 Photo Courtesy of John Lazarre & Guerline Jozef[/caption]
December 10, 2021 marks the 73rd anniversary of the formal approval of the Universal Declaration of Human Rights by the United Nations General Assembly. The United States voted to approve the declaration in 1948 along with 47 of the then 58 members of the United Nations (there were eight abstentions, and two not-voting). The Universal Declaration was a bold claim that everyone on the planet was entitled to a core set of rights, regardless of where they lived. It was and remains a powerful vision. Yet it is one that is wholly unrealized in the lives of the vast majority of people on the planet.
One has to look no further than the United States treatment of Haitians and others at the US border with Mexico to get a glimpse of how far we are from realizing the vision of universal human rights.
Title 42
Since January, the Biden administration has summarily expelled close to one million people. That is, one million people denied the right to make a claim of asylum under the provisions of a "public health" order issued by the Trump administration. The order is referred to as "Title 42" in reference to the section of the federal code under which the Center for Disease Control and Protection claimed authority to suspend asylum in March of 2020. It has been widely criticized by immigrant and human rights organizations, as well as public health professionals, including some in the CDC itself. Nevertheless Biden has maintained, and indeed expanded, the use of Title 42. 
Under Title 42 people are immediately removed to the last country of transit. In theory, this applies to both Mexico or Canada, but there have been comparatively few Title 42 expulsions back into Canada (in FY 2021 there were 7,500 Title 42 expulsions on the northern border, compared to 1.1 million on the southern border). The public health rationale for this abrogation of international responsibilities rests on two things: The threat that COVID-19 holds for Border Patrol personnel if forced to monitor and process people in congregant settings, e.g. held in Border Patrol stations. And the related claim of a lack of capacity to safely quarantine and test people in custody (though testing is readily available now).  (See page 11-16 in linked report)
As a result, migrants encountered by Border Patrol are summarily expelled - most within 2 hours of being encountered. The catch is that Mexico and Canada have to agree to take people back. Mexico agreed to accept Mexican nationals, and people from El Salvador, Guatemala, and Honduras when Title 42 was first announced. These four countries make up over 90% of the people encountered at the United States/Mexico border - but it leaves others, like folk from Haiti, in a legal limbo. Though some have been removed to Mexico anyway, most are detained in congregate settings within the United States, in a complete contradiction of the stated rationale for the policy, until they can be expelled by plane. 
The public health argument has never really been the point, of course, and so the fact that the Department of Homeland Security fails to implement its own operating procedures when it comes to enforcing Title 42 is hardly surprising. Indeed, the Biden administration has also argued that Title 42 provides a needed deterrent to migration. The logic is that if people know they will be summarily expelled from the United States - they won't attempt to come in. Deterring people from seeking refuge in one's country by meting out harsh treatment to those who try is, of course, a violation of human rights. 
The "shipwreck of civilization" at Del Rio and beyond
This week Pope Francis visited migrant camps in Greece. Against the backdrop of the official misery created by European xenophobia, he lambasted the region's leaders for their poor treatment of migrants, and the political impulse used by nationalists throughout the continent to sow hatred and fear against refugees for political gain. He referred to this situation as the "shipwreck of civilization" and could have just as easily been talking about the United States. Though there are many parallels one could point to between Europe and the United States in their shared determination to offload responsibilities for migrants and deny refugees entrance, the Biden administration's deployment of Title 42 against Haitians stands out as particularly relevant.
It was just in September that the Biden administration decided to use Haitians as a prime example of its deterrent strategy, basically tossing the Universal Declaration of Human Rights in a trash can in the process. When an unexpected (officially at least) increase in the number of Haitians seeking entrance into the United States occurred at the Del Rio border crossing in Texas in mid-September, the Biden administration launched a mass removal process that has led to the expulsion of over 9,000 Haitians back to Haiti (official IOM data as of November 26, 2021. There have been 6 flights since), and reportedly (at the time) another 8,000 back into Mexico - despite Mexico's heretofore reluctance to accept Haitians under Title 42. 
At the time, the administration claimed that there were a total of 30,000 migrants encountered in the Del Rio sector and that an "estimated" 12,000 were able to avail themselves of asylum protection. This is misleading. According to Border Patrol figures, just under 18,000 Haitians were encountered in September. Given the larger numbers discussed, I am assuming the 8,000 Haitians Mayorkas said were basically pushed back into Mexico in September are not counted in CBP's official tally of "encounters" for that month. Either that, or Maryokas was simply guessing. 
Over half of the 18,000 people officially encountered have been removed since mid-September - including thousands supposedly placed in Title 8, or regular immigration processing. Some Haitian families were able to avail themselves of asylum processing. However, it is clear that this was a delay tactic, as many have been expelled anyway. Indeed, nearly 20% of those removed to Haiti via plane have been children indicating a high number of family expulsions.
It is not safe to return people to Haiti. As the situation in Haiti continued to deteriorate over the summer, in August, the Department of Homeland Security's Office for Civil Rights and Civil Liberties warned the administration that returning Haitians to Haiti risked, "violating US civil and human rights obligations," according to an internal document obtained by BuzzFeed News. 
When the increase in Haitians arriving in Del Rio occurred a month later, however, all of these concerns were set aside.
Really, more of a plane wreck…
From mid-September to Monday, December 6, 2021, the Biden administration expelled nearly 10,000 Haitians back to Haiti on 90 removal flights (September 19 to December 7). In other words, in less than three months the administration has flown more flights to Haiti than any other country except Mexico and Guatemala. Meanwhile, Haitians made up less than 3% of all encounters with Border Patrol in FY 2021. 
Hameed Aleaziz wrote in Buzzfeed News this week, "A DHS spokesperson said that following the earthquake in August, deportations of Haitians were suspended, but that after the embassy in Haiti determined that conditions had improved, they were restarted."
It is hard to imagine anyone reviewing the situation in Haiti between July and August this year, and deciding conditions had improved. While I reject the way major media outlets continue to employ cartoonish language to describe Haiti in sensationalized terms (failed state, hell on earth, and so on), the security situation has clearly continued to deteriorate. Kidnappings have increased dramatically. The violence in Port au Prince neighborhoods like Martissant, sections of Delmas, and Croix de Bouquet, have led to the displacement of thousands of Haitians. As a result, outside of the capital the situation has worsened, leaving communities isolated and often unable to get needed supplies from Port-au-Prince.
The provision of resources "for the humane receipt" of individuals, amounted to a pledge of funds that was to provide $100 per person for relocation. However, the funds from the United States were late in arriving, and the International Organization on Migration, which was actually doing the work, was left scrambling for resources. People typically received far less than the pledged amount, often no more than the cost of a bus ticket home. For many of the people expelled in this way, it was the first time they had been in Haiti in years. Almost all of those expelled from Del Rio had arrived at the U.S. border via South America, where many Haitians resettled in the years since the massive earthquake in 2010.
Under such circumstances, it is not a surprise that many of those returned have reportedly already left again. The increase in the number of people leaving Haiti by boat in recent weeks seems an indication of this desperation.
Human rights debacle
The obscenity of the removal policy to Haiti - and its illegality - has been pointed out by many. Recently it directly led to the resignation of the US Special Envoy to Haiti, Daniel Foote, who wrote in his resignation letter:
I will not be associated with the United States inhumane, counterproductive decision to deport thousands of Haitian refugees and illegal [sic] immigrants to Haiti, a country where American officials are confined to secure compounds because of the danger posed by armed gangs in control of daily life. 
Removals to Haiti were also a contributing factor to the resignation of State Department legal counsel Harold Koh - who introduced his detailed resignation letter:
I write first, because I believe this Administration's current implementation of the Title 42 authority continues to violate our legal obligation not to expel or return ("refouler") individuals who fear persecution, death, or torture, especially migrants fleeing from Haiti.
Finally, the UN High Commissioner for Refugees Filippo Grandi issued a statement calling on the US to end Title 42 enforcement, saying, 
The summary, mass expulsions of individuals currently underway under the Title 42 authority, without screening for protection needs, is inconsistent with international norms and may constitute refoulement. 
The realization of universal human rights remains a principle worth fighting for. But in the United States over the last year, we can see why that realization still feels distant. Biden has doubled down on the Trump campaign against asylum - indeed for Haitians in particular, Biden has proven to be much worse. So, as the speeches are made this week, marking the anniversary, remember that we have a long way to go. Even the most basic right to seek refuge - a right of crucial importance to the framers of the Declaration writing in the wake of World War II - is widely being denied across the globe.
And the United States under president Biden still remains among the worst violators.
Join us in calling on the Biden administration to end MPP and Title 42, and restore asylum with respect to the human rights and dignity of all migrants by signing our petition HERE.