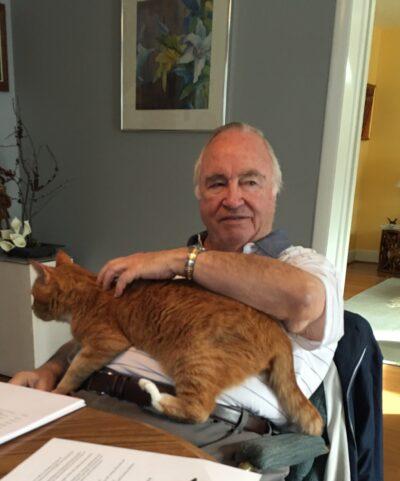 With great sadness, we announce the passing of long-time Board Member and friend, Br. Francis O'Donnell. Br. Frank died July 22, 2022, at Stella Maris Hospice of complications from injuries sustained in a fall. Br. Frank has been a member of the Quixote Center board for 8 years.
We are grateful for his wisdom, steady guidance, dedication, good humor, and friendship. During his time as a board member, he has played several key roles, including several terms as Secretary, charter membership on the Diversity, Equity, and Inclusion Committee, and revision of the employee handbook. It was easy for us to forget the many other demands on Br. Frank's time because he was never "too busy" to take on an assignment, and his work for the Quixote Center always seemed to be at the top of his "to do" list. But Br. Frank was a remarkably busy man, serving on several boards as well as performing a full-time job as a staff attorney at the Maryland Office of Administrative Hearings. In his 62 years as a member of the Marianist Community, he spent the first 20 years in education, then went to law school at UMd to be able to "create change from the inside." Over his career, he has championed the rights of students, inmates, tenants, immigrants, women, LGBTQ+ people, racial and ethnic minorities, and the poor. He has embodied the true Quixote spirit of dreaming impossible dreams, tilting against the windmills of oppression, and creating a world more justly loving.
A viewing will be held Aug. 3 from 3-5 pm and 7-9 pm at the Church of the Annunciation in Rosedale (5212 McCormick Avenue, Baltimore, MD 21206) followed by a funeral August 4, 10:30 am, at the same site. There will be a storytelling session on August 3 at 7:30 pm as part of the viewing. Burial will be at Sacred Heart of Jesus Cemetery in Dundalk following the funeral Mass and lunch on August 4.