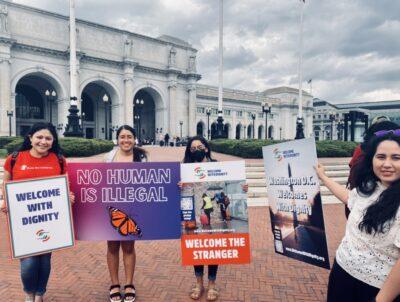 Texas' governor Greg Abbot is putting immigrants on buses to Washington, D.C., apparently as some kind of protest related to the Biden administration's decision to end Title 42. The first bus arrived on Wednesday, April 13, but not at Homeland Security, Congress or the White House. Rather, the bus arrived in front of a building on Capitol Hill that houses several television networks' newsrooms, including Fox. While I'm pretty sure Abbott knows that Fox News does not make immigration policy, Fox commentators, not members of Congress, are clearly the "influencers" Abbott wants to reach with this stunt.
Did I mention Abbott is running for re-election?
Anyway, the immigrants, mostly asylum seekers from Venezuela and Nicaragua, received a bus trip to the east coast, free of charge. So, thank you Greg Abbott. The trip is supposed to be voluntary, and only after people have been processed by the Department of Homeland Security. But it is probably still illegal. Denise Gilman, the co-director of the Immigration Clinic at the University of Texas School of Law said, '"[t]hey had to say it's voluntarily but everything about the program suggests it would be coercive and therefore of questionable legality. If it's truly voluntarily, why is it only going to D.C.?"' We all know why, of course, but fair question, legally speaking.
Meanwhile, back in Texas, Abbott is creating another border disaster as part of the same election season protest of the Biden administration. Abbott has mandated that trucks entering Texas from Mexico, all of which are subject to inspection by Customs and Border Patrol already, be re-inspected by Texas state troopers. All week, trucks have been stuck in 5-6 hour lines, causing significant delays for already strained supply chains.
On Wednesday this week, Abbott did end inspections on one bridge in Laredo, after claiming to have negotiated an agreement on security with the governor of the neighboring Mexican state Nuevo Leon. However, the rest of the 1,200 mile border remains subjected to Abbott's enhanced inspection regime.
Finally, according to the Texas Tribune, "Abbott…said the state will create boat blockades on the Rio Grande to deter migrants and install concertina wire, a type of barbed or razor wire, in low-river crossings on the river that are high-traffic areas."
All of these moves represent Abbott joining the bi-partisan frenzy that has been set off by Biden's announcement that enforcement of Title 42 would end May 23, 2022. Already, three state Attorneys General are suing the Federal Government over this announcement, and both the U.S. House and Senate have introduced legislation now to keep Title 42 in place. Democrats as well as Republicans are signing on to that legislation, as everybody figures out how to play the optics created by an increase in people trying to cross the border if Title 42 enforcement ends.
But Abbott's immigration pogrom also means something more disturbing, and that is the damage that Trumpism continues to inflict. While Biden, Obama, Bush and Clinton have each contributed their own disturbing chapters to the strategic criminalization of migration for political gain, Trump used immigration as an electoral sledgehammer, degrading logic and human beings at the same time.
Abbott is playing these games because he thinks it still makes for good politics. If he is correct, that is truly frightening. As I noted in trying to explain Abbott's other immigration debacle, Operation Lone States, "one should never dismiss as stupid that which is done with malicious intent. Never. That's how they win."
What you can do?
We need to end Title 42. It is a human rights debacle. Click HERE to contact your members of Congress and tell them not to support any effort to mandate its continuance.
There may well be an increase in the number of people who attempt to cross the border in the coming months because of the end (or expected end) of Title 42. If you want to help, you can volunteer to come to the border and work in shelters to provide assistance. If you can't make it to the border, donate to groups who are doing that work.