Taste the Nation, a new series on the streaming network Hulu, is hosted and produced by Padma Lakshmi, best known as the host of Top Chef. An immigrant herself, Padma wanted to research immigration in the US in the wake of Trump's election and the US's latest anti-immigrant wave. Recognizing the power of food, she chose it as the lens to frame the topic. Through 10 episodes, the show explores 10 popular foods in America. As we learn the history, techniques and rituals that surround the food, we are also shown the history of the people making it, particularly their migration story. The immigration policies that impacted them, both current and historical, are also highlighted.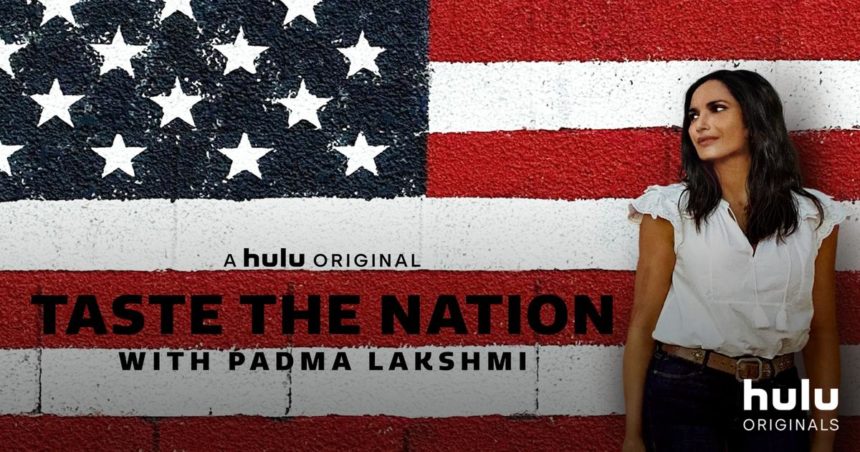 It is often said that the United States is a nation of immigrants. However, that statement negates an entire group of people and mischaracterizes the history of another. 
There are people whose ancestors have always lived here in the Americas and episode 7 explores the rich food traditions of the Apache and the impact of colonialization on those traditions. The episode starts with fry bread. A food many are familiar with and often considered traditional. But the episode quickly explains that fry bread is a food that was developed out of a necessity to use the commodity food rations given to indigenous people by the United States government, after forcibly removing them from their traditional land and food sources. Though it may be tasty, it is a painful symbol of colonialization, displacement and genocide. The episode goes on to highlight the amazing bounty of food that the Arizona desert provides.  Foods such as prickly pear fruit, barrel cactus fruit, onions, and small game such as rabbit or pack rat. Indigenous chefs are reclaiming the recipes and cooking techniques of their ancestors that have been erased and nearly lost. They are reclaiming the medicinal, healing properties and health benefits of their ancestral food. 
To say that African American ancestors "migrated" to the Americas negates the fact that they were forced to come in chains. Episode 3 explores the rich food traditions of the Gullah Geechee, descendants of enslaved Africans who were brought to the Americas primarily for their knowledge of growing rice. They now live along the coast from northern Florida to North Carolina with an unofficial capital in Charleston, SC. Modern southern and soul food can be traced back to the Gullah, but often they aren't given credit. Padma talks with chefs and community members who are working and fighting to preserve the traditions and language of the Gullah (a blend of the various languages of the enslaved Africans and English). Sitting on ancestral land where so many atrocities happened, Padma acknowledges that talking about Gullah history is painful, but it is an important part of American History and it is part of the healing process this nation has to undertake. 
They say you are what you eat, but do we even really know what we are eating? or where it comes from? Hot dogs are often seen as quintessentially American, as American as baseball and apple pie. But hot dogs, or wieners, are German; so, in episode 2, Padma travels to Milwaukee to explore German immigration. This episode focuses on assimilation and the fact that so many of the German contributions to US culture have been so thoroughly absorbed, they are no longer viewed as German, but simply American. Padma says "Assimilation is complicated. While many people fight to be accepted. Others work to hold on to what might get lost. And that push and pull my friends, is America."  
Many episodes explore what it means to pass on your cultural traditions to children who have a hyphenated identity. In episode 3, about Indian dosas, Padma's daughter (Indian-American) reluctantly admits that she prefers pancakes to dosas. This cultural transmission is further complicated when you can't travel back to where your traditions originate, as in episode 6 about kabob and the Iranian-American children of immigrants who fled Iran following the revolution. 
The very first episode of the series is perhaps the most relevant to our current debate on immigration. The episode goes to El Paso, to explore, the burrito. The chefs interviewed are quick to note that what we've been eating at Chipotle, is NOT what they are making. One chef notes that "a burrito is tradition wrapped in colonialization… Flour is not one of our ancestral foods. It's an imposed food." So that flour tortilla, like fry bread, is a symbol of colonialization. The episode talks a lot about the region and the arbitrary border that separates families and friends and has become ever increasingly militarized. Padma says, America loves Mexican food, but asks, "what about the hands that make that food?" Chef Marentes takes great pride in making his tortillas but notes, "It's hard for me to think that people are going to accept my tortillas before they accept my cousins." 
The last episode takes the viewers to Hawaii and is about poke. It focuses on the fusion of traditional Japanese and Hawaiian ingredients and cooking techniques. Gastronomically, the two have fused well, elements of each have been retained but have combined to create a delicious hybrid. Padma wonders if this could serve as a model for the nation. What would our country look like if traditions could be accepted and respected but also joined to create something new and beautiful. It's a hopeful note, one that is much needed in these times. 
What does it mean to be American? Who decides? Which cultures are welcomed, accepted? Which ones are ignored or erased? Taste the Nation explores all of these questions and more. 
But as Chef Twitty says, quoting a West African saying, "if you sit at my table and eat with me, you'll know who I am." The table Padma Lakshmi explores is rich in flavor and diversity. It brings stories of pain and hope. And if we sit together and eat at this table, we will get to see the beauty of what it means to be American. 
(Hulu is a subscription based streaming service: https://www.hulu.com/)