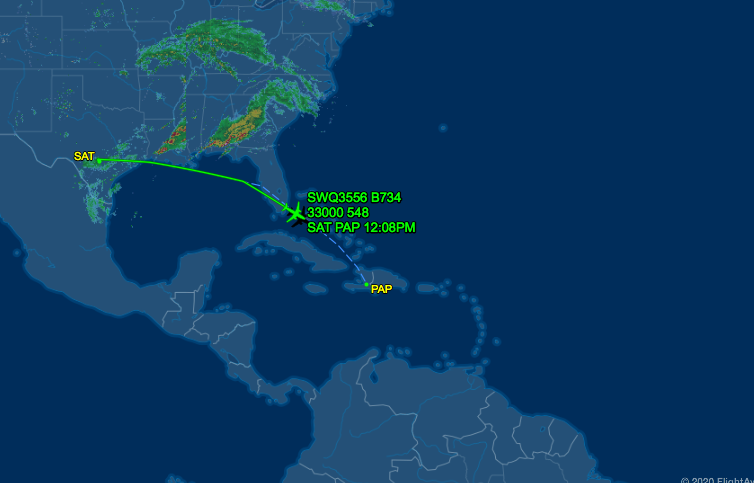 One of the most obvious ways in which ICE continues to thumb its bureaucratic nose at decency and common sense is their policy of continuing deportations amidst a global pandemic. Based on information from public flight tracking websites, the Center for Economic and Policy Research has identified 330 likely deportation flights to Latin America and the Caribbean since February 3, 2020. There were three flights yesterday - two to Mexico, one to the Dominican Republic.
We know that these flights have sent people who tested positive for COVID-19 to Mexico, Guatemala, Colombia, El Salvador, Jamaica, India and Haiti. Likely, people with the virus have been deported to most other places these planes fly. At this point it would be nearly impossible to assemble a flight where no one had been exposed, as coronavirus is now present throughout the ICE detention network. The testing regime is insufficient. ICE does not test everyone before they board a deportation flight, and those who are tested are given a 15-minute, "rapid test" that has been demonstrated to have a high false negative rate.
The chorus of people who have asked these flights to be halted is significant: Editorial boards, members of Congress and nearly every non-governmental organization working on immigration policy or in a country impacted by these flights. For more background on these flights and the problems associated with them you can read our reporting on this blog, Jack Johnson's research article on the CEPR blog, or Daniella Burgi-Palomino's opinion piece on Truthout here.
The latest effort demanding a halt to these flights is a letter to State Department officials, including the U.S. ambassador to Haiti, organized by the Haitian Bridge Alliance. This letter is demanding that deportation flights to Haiti in particular be halted throughout the duration of the current health crisis. The letter was released today. From the Haitian Bridge Alliance press release:
Today Ibram X Kendi, Danny Glover, Edwidge Danticat, Rev. Jesse Jackson Sr., Opal Tometi, Guerline Jozef, Dr. Barbara Ransby PhD, Randall Robinson, Jackson Browne, and Rainn Wilson, along with 359 other prominent human rights, humanitarian and racial justice leaders signed a letter urging the United States to immediately halt deportations to Haiti during the COVID-19 pandemic.
A letter to the U.S. Ambassador to Haiti Michele Sison, Secretary of State Mike Pompeo and Department of Homeland Security Acting Secretary Chad Wolf states: "Deportations export COVID-19 throughout the region and put countless lives at risk….The capacity of Haiti's health system to respond to COVID-19 cases is already at its limit," and a spike of infections could "destroy an already weak economy and exacerbate political instability."
Immigration and Customs Enforcement (ICE) has sent six deportation flights to Haiti since March 18, despite the serious risk of infection to deportees and transmission upon arrival. At least eight deportees who had tested positive for COVID-19 by ICE were deported to Haiti on May 26. One of them complained of symptoms the night before he was deported. Given the severe limitations on the availability of COVID testing and the unreliability of test results, "there is simply no safe way to deport persons."
ICE told the Senate Judiciary Committee on June 2, 2020, that it does not test all detainees before deporting them. The letter notes that of the 30 Haitians deported on May 26, 14 were not tested before deportation, and the other 16 were tested with the "15 minute test" which the Food and Drug Administration considers unreliable because it gives "false negatives." The lack of reliable testing violates explicit promises given by the United States to Haiti that it would test all deportees within 72 hours of their departure.
What can you do....
Frederica Wilson has introduced legislation in the House of Representatives to halt all deportations to Haiti until the health crisis in both countries is over. You can click on the button below send a message asking your member of Congress to co-sponsor this legislation.