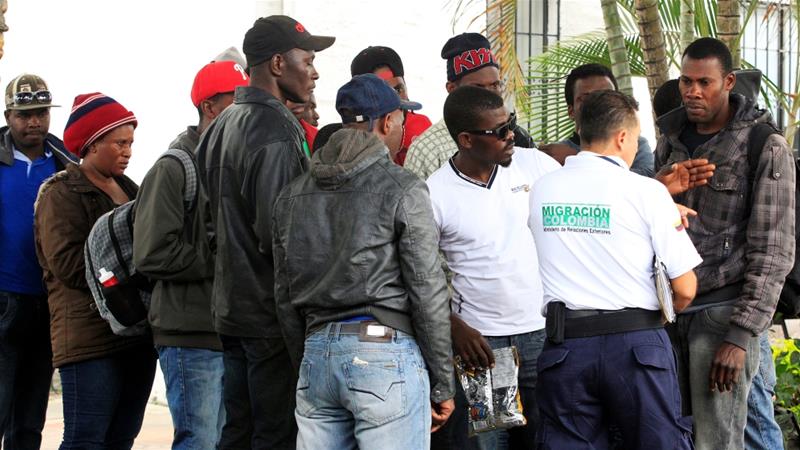 "The U.S. Immigration and Customs Enforcement did not immediately reply to a request for comment," has become a common line in story after story about the actions of U.S. immigration agencies in the midst of the novel coronavirus pandemic. This specific quote is from a Reuters report yesterday concerning the decision of the administration to deport 61 people to Haiti, despite there being near universal efforts across the globe to restrict travel. Haiti has closed its international airport, for example. To no avail. Though President Moise reportedly agreed to accept the flight, the foreign minister, Claude Joseph, opposed the flight and lobbied the U.S. government to stop it.
Haiti is particularly vulnerable to an outbreak of COVID-19. Though there are currently only 25 confirmed cases in the country, the reality is that very few people have been tested. Next door in the Dominican Republic confirmed cases are closer to 2,000. As the lack of testing indicates, Haiti's health infrastructure has been decimated by years of attrition. At the moment, Haiti has very few ICU beds available, has, by some reports, only 64 ventilators in the entire country, and its efforts to quarantine people has not gone well thus far. Social distancing is an enormous challenge. With the bulk of people working in the informal economy, and with food prices escalating daily, some members of nearly every household, by necessity, leave their homes to secure a daily wage to then try and purchase food. Should Haiti face anything like what is happening even just next door in the Dominican Republic, the health system and network of nonprofit agencies that coordinate (more or less) with the Ministry of Health, will struggle to adapt. 
These are all reasons enough to cancel the flight, and were all delivered to the administration and Immigration and Customs Enforcement by members of Congress, attorneys, human rights advocates, and as noted, the foreign minister of Haiti. The Trump administration's response was to send the plane anyway with "no comment"  by way of explanation.
If one digs a little deeper into this flight, however, one can see a pattern of indifference to the conditions the people trapped in our immigration detention and enforcement machine are facing. As the administration is refusing to halt ICE's deportation flights across the region, ICE is knowingly contributing to the spread of COVID-19. This is not speculation. It has already begun. 
With only a brief pause in mid-March, as Guatemala, El Salvador and Honduras tried to stop these flights from arriving, the United States has continued to deport people throughout Central America, Mexico and Colombia in the midst of this global pandemic. ICE's only comment has been that "flights will continue." As a result, ICE has deported at least three people with COVID-19 in the last week, and many others have been hospitalized upon arrival in their home countries with "flu-like symptoms."
This week we joined with 60 other organizations in a letter demanding that these flights stop. The letter was organized by the Latin America Working Group and concludes with the following recommendations:
We urge the Trump Administration to immediately take the following actions:
Halt deportations of women, men, children and families back to their home countries;
Release immigrants from detention maximizing use of humanitarian parole, release on recognizance, and where necessary, ​community-based alternatives to detention, following medical screening and in a manner consistent with public health protocols on COVID-19;
Process unaccompanied children according to the safeguards that the TVPRA provides and that child welfare standards compel;
Apply the same health screening processes currently used by CBP for other individuals crossing the land border to asylum seekers -- including referral to health officials for additional testing of any individuals with symptoms of illness and those who have recently traveled to high-prevalence areas -- and provide them health information (in their own language) on prevention, isolation and treatment measures;
Parole arriving asylum seekers at ports of entry as expeditiously as possible, release other asylum seekers using other community-based alternatives to detention;
Coordinate with local groups to ensure housing and transportation upon release, and avoid holding asylum seekers in enclosed or densely populated spaces; Ensure the passage of humanitarian assistance and staff from the United States to reach asylum seekers on the Mexican side of the border;
Urge Western Hemisphere governments not to take advantage of the pandemic to unduly restrict human rights, freedom of the press, and civil liberties, including access to information about COVID-19; and
Release humanitarian funding that was previously withheld for Central America and provide substantial additional resources to support the work of international and local humanitarian organizations to assist with public health needs, food insecurity, access to sustainable livelihoods and water, and efforts to combat the virus.
Things you can do!
You can help get the word out by sharing the letter (linked here) on Facebook, Twitter, or by email.
You can also sign this petition coordinated by LAWG demanding an end to deportation flights
And also, sign (and share!) this petition, calling for ICE to #FreeThemAll, and release people from detention facilities.