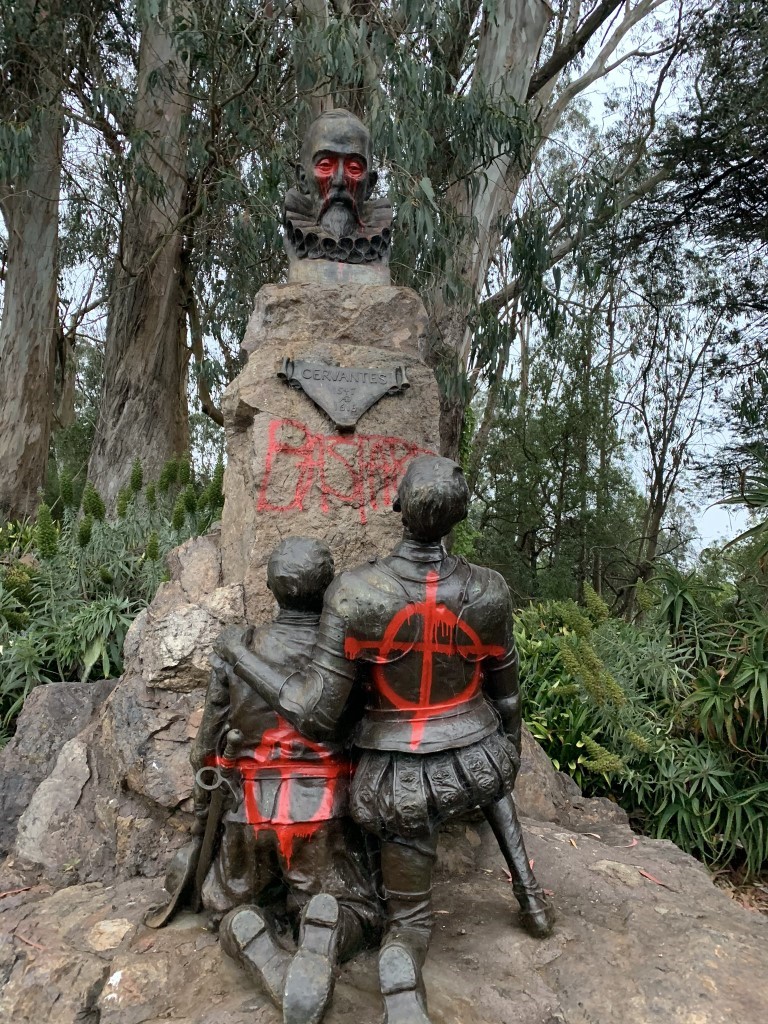 On social media several weeks ago, I read, with no small alarm, the hysterical rants of the great protectors of our cultural patrimony, upon the defacement of the sculpture of Cervantes in a San Francisco park. Clutching my pearls, I wondered what had become of our way of life. Digging deeper, I learned that the two statues facing Cervantes were also "desecrated" with spray paint. These statues, of course, represent Don Quixote and Sancho Panza. Our founders at the Quixote Center took the name of this fictional nobleman because he embodied a quest for living according to lofty, if sometimes ludicrous, ideals. His squire, Sancho, has shared a name with our computer system at the Center, lo, these last 40 years. 
On the night of June 19, 2020, when statues including Junipero Serra and Francis Scott Key were toppled in Golden Gate Park, red paint was sprayed on the eyes of the bust of Cervantes and his creations, and the word "bastard" on the pedestal for the bust, as well as red crosshairs on the backs of our beloved knight and his faithful Sancho. 
Some folks – not least a bystander named "Howard" – were upset. As covered by the local CBS affiliate: "'Don Quixote and Sancho Panza — and for what?' asked a frustrated Howard, watching the graffiti removal from John F. Kennedy Drive. 'It's very sad. It makes me feel it's totally out of hand and it has nothing to do with civil rights.'" He further lamented that the police just "let them do it." A blogger stated that the protesters were Antifa.  
I don't know about the truth of this claim. I don't know anything about the beliefs of the person whose hand held the can of spray paint. I don't really think either of these guys does either, although Howard may have seen something. He certainly seems to think this was somehow unfair. 
Maybe it was. Or maybe it was done by people frustrated that fictional characters got a monument, showing more honor for their imaginary lives than those of flesh and blood people. 
The Judeo-Christian tradition has a word or two on the subject of graven images. Some have pointed to the story in Exodus when Moses called out the worship of a golden calf. But a more instructive case for our current moment may come from a different tale. In Numbers (21:4-9), Moses is divinely instructed to fashion a bronze serpent to protect the Israelites from the bites of serpents. After many generations have passed, however, this same sculpture – the Nehushtan, or "brazen serpent" – resurfaces in 2 Kings (18:4). By then it had become an object of worship in itself, contemptible because it is just a thing, not worthy of worship, so Hezekiah destroys this remnant of the past.  
Anyone who considers a statue or even a big box store worthy of an impassioned defense – while also allowing that some people may simply deserve to die – is an idolater, according greater value to a physical and aesthetic object than to a being endowed with senses, feelings, and life. Yet it seems every generation must learn anew the lesson that we can still treasure the wrong things, and often we do.  
Statues are worth something, to be sure, and not just in financial terms. Like so much art, a statue is often understood to embody ideas and ideals and other qualities that go beyond observable features and tell us something about the age, context, or emotional life of the artist and the moment in which they were created. 
But whatever statues may be worth, tangibly or intangibly, statues have no affective life to call their own. Statues – apart from, perhaps, the mythological Galatea (not to be confused with Cervantes's novel of the same name) – cannot feel pain, know longing, suffer. A statue can be toppled or sent to the depths of the sea, but it cannot drown. It cannot have the life crushed out of it, because it has no life. When people's lives are threatened by violence – be it state-sponsored or systemic or personal – prioritizing statues over people is indefensible. 
Just because statues do not deserve saviors does not mean they are of no consequence. Centering public art that celebrates and memorializes the lives of oppressors is not an accident and it is not harmless. It has a long history and is a legitimate site of debate and activism. Symbols of past and present violence and oppression do real harm by celebrating historical misdeeds as if they were heroic exploits; and it is fair game for protesters to address these harms. 
The work of toppling statues can help to correct a narrative that has afforded access to privileged places on pedestals to oppressors while actively suppressing the stories of those who struggled and survived against their sinister designs. 
Percy Bysshe Shelley's poem "Ozymandias," tugs irresistibly at my mind. In it, the statue of a monarch lies in pieces, with the head fallen to the ground and words carved into a pedestal reading, "My name is Ozymandias, King of Kings; / Look on my Works, ye Mighty, and despair!" This ironic twist rewrites the narrative of a king who thought that nothing could humble him, but time and even the artist's rendering, have betrayed this belief. History has triumphed over his "sneer of cold command." 
Racial justice demands attention to telling a fuller, and hence more truthful, story. Recently, the narrative of J. Marion Sims has been rewritten with this understanding. Sometimes revered as the "father of gynecology," his experimental method of using live enslaved human subjects without anesthesia to test his hypotheses has led to much justified criticism. Telling this story now is important work. Relocating his statue from Central Park to the cemetery where he is buried makes him just one statue among many in a place where all sorts of people are remembered – without necessarily being honored. This more suitable placement gives new meaning to the words of early 20th century labor activist Mother Jones: "Pray for the dead, and fight like hell for the living." Moreover, a plaque offers context and names Lucy, Anarcha, and Betsey, three of the Black women who were subjects in his research, adding their names to the historical record.
Returning to our namesake, in the last chapter of the first volume of Don Quixote, the knight errant comes upon a group of penitents garbed in white and carrying a statue of the Virgin Mary. Our hapless hero decides he must rescue this helpless icon from her captors. In his zeal to deliver the damsel in distress, Don Quixote ends up getting knocked to the ground. While he lives to have more tales of derring-do, his attempt to rescue a statue is a tale of tomfoolery. This episode suggests that Cervantes would have laughed at the notion of people trying to come to the aid of an inert statue featuring his visage (or even that of a certain European slaveholder).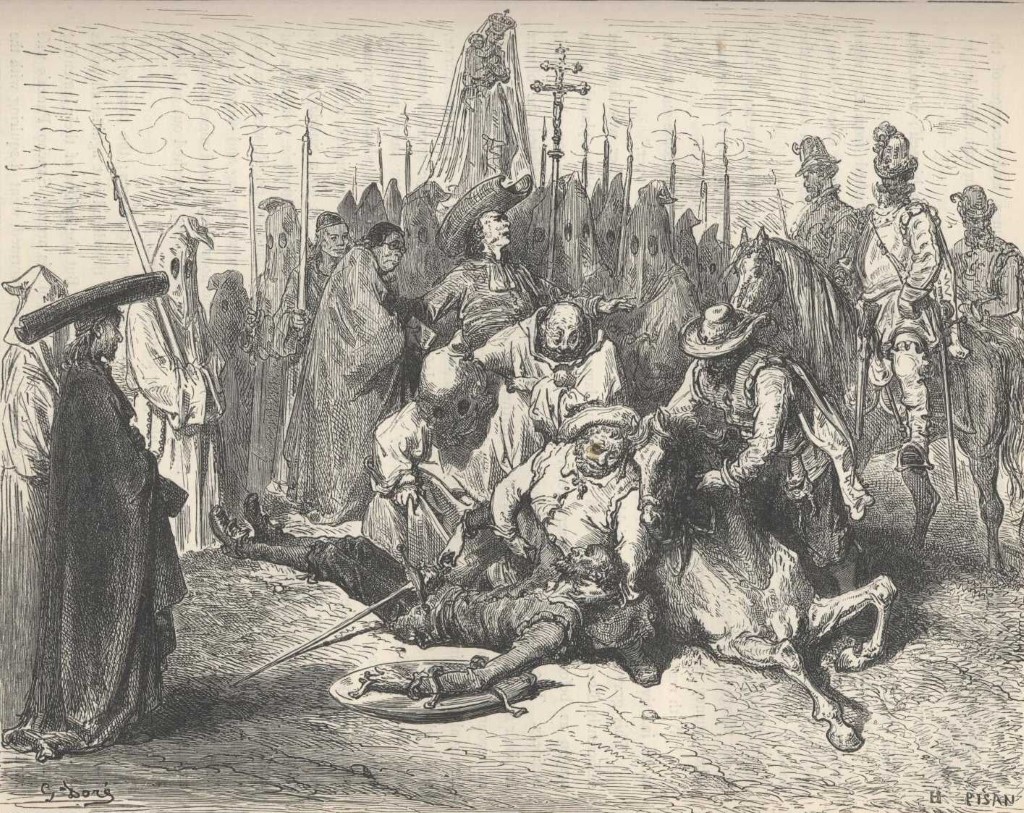 So, if you thought the folks at the Quixote Center would be offended by a little paint added to some literary statuary, you don't know us very well. We maintain that people who work for justice in the world may be laughed at sometimes, but that the work is worthwhile anyway. While we take our causes seriously, we try not to take ourselves too seriously.  
We prefer to focus on today's work – standing with movements for justice – so that the narrative of tomorrow can lift up new heroes who stand with the oppressed people of history and work for our collective liberation.