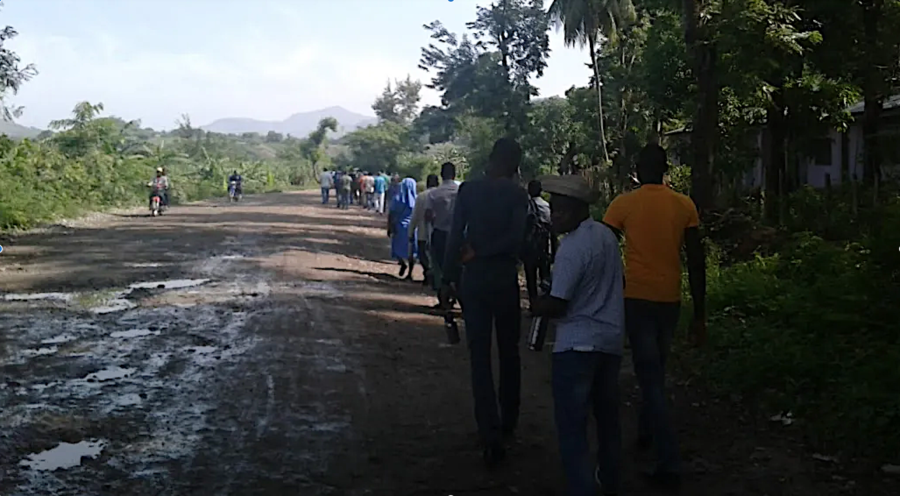 Walking on the road near Grepen in Gros Morne
 
[The community of Gros Morne where we have worked with the Jean Marie Vincent Formation Center for 20 years now, has been spared the worst of the violence over the last three year. They have certainly felt the insecurity, been impacted by road blocks, fuel shortages and so on. However, in the last two weeks violence has been increasing, with attacks on women merchants at the local market, robberies and attacks on the road.  In response to these attacks a coalition of 27 community organizations came together this week as "Makon" to issue the following statement encouraging local authorities and all the people of the communal sections of Gros Morne to work together to confront the crisis.]
 
(vèsyon kreyòl la anba a)
Makon Community Group of Gros Morne is an umbrella group composed of 27 local community organizations and civil society groups that are active in the town of Gros Morne and all 8 communal sections. Makon meets monthly to discuss, share, and propose solutions for the betterment of our community. Makon strongly condemns all of the violent acts committed against market women and all other acts of violence that are victimizing our society, such as violence against women and girls, kidnapping, and theft. This is spreading throughout the country, and no one is safe. During the past 2 months, Gros Morne has become unsafe. 
Consider the fact that multiple acts of kidnapping have been committed in Savanne Carree, in the communal section of Pendus, on the border between the communes of Gros Morne and Bassin Bleu. This has given Gros Morne a bad reputation nationally. Makon strongly condemns these actions, and asks every person in our society to work together to stop these dishonest and violent acts. We have never experienced an atmosphere in Gros Morne as violent as it is now. This used to be a place where everyone lived peacefully, and we refuse to tolerate this syndicate of dishonest and criminel people of bad faith and bad blood. They are causing major disturbances in the area as they cause families to cry out in pain as children are left orphaned. Despite the fact that there was a general malaise of social, political, and economic indifference regarding the socio economic suffering of the poor, Gros Morne has never been this violent. We are now living in a time when the people of Gros Morne cannot leave their homes at 5AM out of fear. Consider the fact that in a single week, a young man was shot in Fon Ibo, a market woman was shot and robbed in Lestere, an old man was shot and killed, and this is not even a complete list of those who were shot. Churches can no longer hold nighttime services due to the level of insecurity. 
Makon condemns all of these acts, and pleads with each and every member of our local society to work together to stop these terrible acts of violence. 
We Ask : 
Local authorities must take public action to identify this network of dishonest and criminel people of bad faith and bad blood and arrest them
All citizens of Gros Morne must collaborate with the police and the judiciary by sharing any information that they are able to, without putting themselves in danger. We have never experienced Gros Morne as it is now, and we will not tolerate this change in our town. 
Everyone must use logical methods to identify unknown persons in their local area, and alert the police and the judiciary about any suspect persons. 
Local police and judicial officials must make a phone number available, and highly publicized, so that citizens can call them 24/7.
The police must make regular patrols of the area, especially in the zones of Fon Ibo, Grepen, Ti Guinen, Cite Lucien, Campeche, Ba Moulin, Mòn Salin, Rivyè Mansel, and Cressac. 
The state must provide resources for the local Gros Morne police, in every sense of that word. 
The police must be honest about what they are seeing, and what they can and cannot do to help. If an issue arises that is beyond the police, where they feel that they cannot make an intervention, they must make the population aware of this as soon as possible. 
We hope that everyone will take action as responsible citizens in order to save our community. 
Let´s use all of the strength of the Gros Morne community to stop these violent acts!
This message is important for everyone in all sectors of our society. 
Nòt Espas Makòn Kominal Gwomòn
Makòn Kominal Gwomòn ki se espas kote majorite OCB (27) ki nan sosyete sivil ògnize a non vil Gwomòn ak 8 seksyon kominal yo, toujou reyini chak mwa pou diskite, pataje, pwopoze solisyon pou byennèt kominote a, Kondane ak tout fos li, tout zak asasinay sou ti machan yo ak lòt qwo zak malonèt sosyete a ap sibi tankou (vyolans sou fanm ak tifi, kidnapin, vòl elatriye) ki gaye sou tout peyi a kote pèson pa epanye. Sitou nan vil Gwomòn pandan 2 dènye mwa sa yo. 
Lè nou konsidere plizyè zak kidnapin ki repete nan SAVANN KARE/PANDI nan limit GWOMÒN ak BASENBLE. Tout sa yo fè Gwomòn komanse genyen move repitasyon. MAKÒN kondane zak sa yo ak tout fos li epi mande pou chak kouch moun nan sosyete a mete men pou te konn viv alèz, nou pap tolere pou yon ekip: SANSAL, MALFEKTÈ, SANGINÈ, MALFWA vin simen latwoubly epi kontiniye mete dlo nan je fanmi yo, lage timoun san manman san papa non lari a. Malgre tout endiferans sosyal, politik ak ekonomik ki konn genyen, GWOMÒN paka mache menm nan 5è non maten. Lè nou konsidere nan yon semèn yon jenn gason pran bal nan Fonyibo, yon madanm ki pral cheche lavi Leste pran bal epi rive pedi 23 mil dola, yon sitwayen ki pral cheche lavi mouri anba bal epi plizyè lòt moun pran bal. Oken legliz pa ka fonksyone nan sèvis aswè yo pou site sa Sèlman.
MAKÒN kondane zak sa yo epi mande pou chak kouch mou nan sosyete a mete men pou frennen tout vye zak sa yo.
NOU MANDE:
Fòk tout otorite local yo mete aksyon piblik an mouvaman pou rive dekouvri rezo MALFEKTÈ, SANSAL, SANGINÈ ak MALFWA sayo epi mete yo anba kòd
Fòk Sitwayen ak Sitwayèn pote kole pou yo kolabore ak lajistis, lapolis nan pataje enfòmasyon pandan yap pwoteje pwòp tèt pa yo, paske nou pat janm gen yon Gwomòn kanibal e nou pap tolere sa
Fòk chak sitwayen ak sitwayèn de fason Teknik rive idantifye tout moun yo pa konnen non lokalite yo, epi pou tout moun ki parèt sispèk nan lokalite a rele lapolis ak LAJISTIS
Fòk LAPOLIS ak LAJISTIS mete nimewo telefon disponib 24/24 epi pibliye yo ak afiche yo tout kote
Fòk LAPOLIS fè patwouy tout kote nan vil sitou: FONYIBO, GREPEN, TIGINEN, SITE LUCIEN, NAN KANPECH, BA MOULIN, MON SALIN, RIVYE MANSÈL, KRESAK… elatriye
Fòk LETA nan piwo nivo ranfòse LAPOLIS GWOMON nan tout sans
Fòk LAPOLIS sispann kale wès nan komin nan si toutfwa genyen kèk pwoblèm ki fe yo paka fè entrèvansyon se pou yo avèti popilasyon an sa byen rapid.
Nou espere ke ou tout an jeneral ap pran reponsabilite nou pou sove kominote a.
ANN MAKÒN FÒS NAN GWOMÒN NOU POU KWAPE SANGINÈ SA YO!!!
Mesaj sa a konsène tout sektè an jeneral
ESPAS MAKÒN KOMINAL GWOMÒN