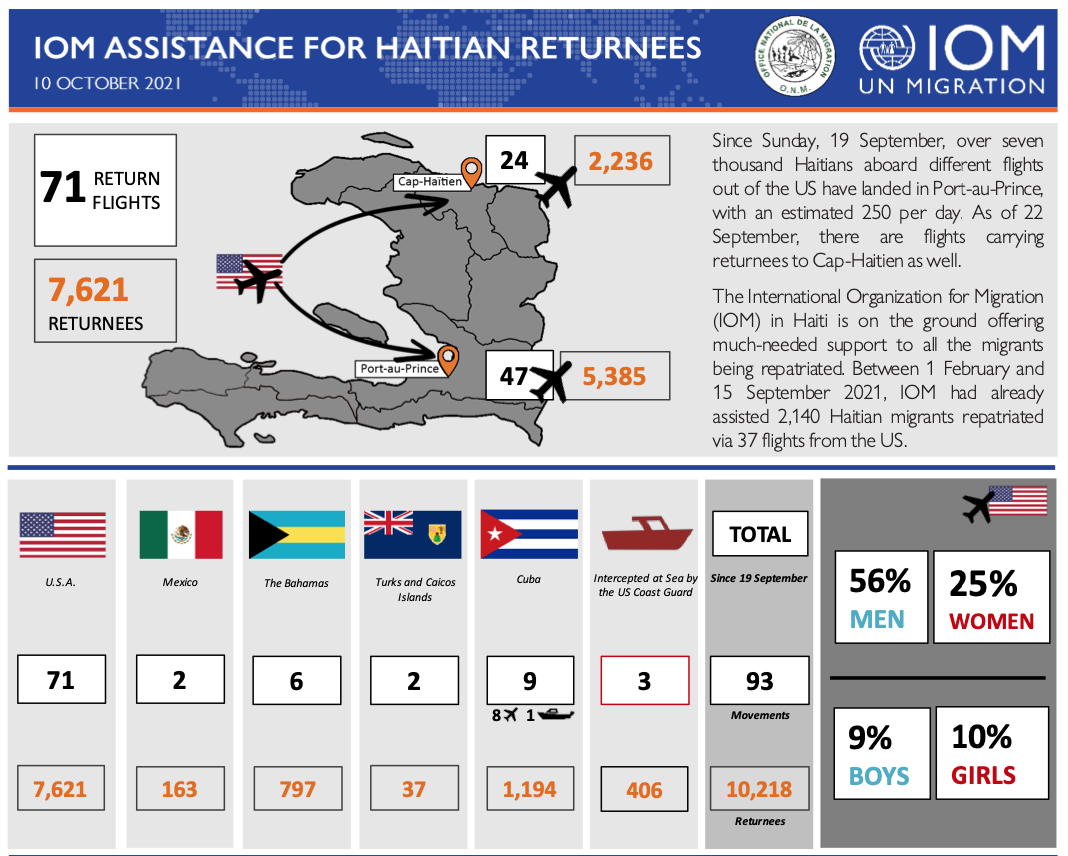 This week the number of deportation flights to Haiti fell to a total of 4 flights. That brings the total number of flights to 74, and the total number of people expelled to Haiti by the Biden administration to 7,800 since September 19, 2021. According to the International Organization on Migration, another 2,200 + Haitians have been deported back to Haiti from other countries during this same time period - over half of them from Cuba. The other countries that have expelled Haitians are the Bahamas, Turks and Caicos, and Mexico. This brings the total number of people sent back to Haiti to just over 10,000 in less than one month.  The graphic above includes removals from the United States as of Monday, October 9 (there have been three flights since).
It is just over a year since we wrote about expulsions flights to Haiti in October of 2020. At that point we were talking about 12 flights over the course of the month, totalling about 1,100 people. Then, again in February and March of this year, there was another round of expulsion flights, leading to 2,000 people expelled over a 5 week period. This latest episode is thus the latest in a cycle of crossings, detention and removal that has focused on Haiti. For each of previous peaks in this cycle, outrage was mobilized, members of Congress spoke out, and editorial boards condemned. The practice of mass removal, however, continues. And if the response to the crossings in Del Rio is any indication, it is getting worse. And it is not just Haiti.
Prior to the debacle at Del Rio, we were writing about expulsion flights filled with people from Central America who were being removed to southern Mexico. Those flights have continued throughout the last four weeks as well. A flight every weekday to Villahermosa and Tapachula from McAllen air force base. During August there were 36 flights, and 42 in September. Witness at the Border tracks these flights with monthly reports. The latest numbers are here.
 In addition, the Biden administration has added direct Title 42 expulsion flights to Guatemala over the last month - on top of the regular deportation flights that have been ongoing throughout the pandemic. The direct Title 42 expulsions flights to Guatemala began on September 2. The total number of flights to Guatemala jumped from 10 in August to 34 in September. 
The explosion of flights over the past month are almost all removals under Title 42. As a reminder, Title 42 references an order issued by the CDC that claims authority under Title 42 of the US Code to deny access to regular asylum processing and expel people immediately. The use of removal flights to expel people under Title 42 began with Haitians early on during the pandemic. At the time we argued, and others have raised, that such flights undermine whatever public health justification there is for Title 42. The CDC order (and its updates since) is premised on the supposed need to avoid holding migrants in a congregant setting during the time fo COVID-19, as this poses a risk to Border Patrol agents, and presumably the migrants as well (though their health is not a high priority). For the sake of "public health," people are denied the right to asylum and expelled immediately. 
However, flights are a whole different thing. To fly people out means detaining them for some amount of time - in  a congregate setting, while they await flights. This will be days or weeks. The Biden administration is thus maintaining the absurdist position that it is obligated to deny people access to asylum because of the dangers to Border Patrol and others of holding them in congregate settings during a pandemic, all while holding them in congregate settings! 
This absurd position had been applied to Haitians ever since the order was first implemented in march of 2020 as Mexico refused to take them back. Now it is being applied to Central Americans and Mexicans as well, who are being detained under Title 42 while awaiting flights designed to get them as far away from the border as possible. It makes absolutely no sense at all. The UNited States government is simply denying people access to asylum because they fear the political fallout from Trumpistas if they return to a semblance of humanity at the border.
There will be more people coming - from Haiti, from Cuba, from Venezuela, and from throughout Central America. These people will not come in steady numbers, but in cycles of larger groups as travel restrictions and the long arm of US border enforcement (which reaches all the way to Panama) means people are held up for periods throughout the Mesoamerican region. They are detained, released, detained and released. It is an absurd system that will continue to generate periodic crises. 
It is time to end this monstrosity. It is a system that has failed, even on its own terms, through a reliance on deterrent strategies that demonstrably do not work - as they do not address the underlying reasons people are on the move to begin with. People will keep coming. We desperately need a new system that is first prefaced on respecting the right of human mobility, and that actually seeks to address public health concerns through screening. 
Title 42 is not that policy. It is a dehumanizing mess, and illegal under international law. Time to end it.
Here is what you can do now to demand an end to Title 42: