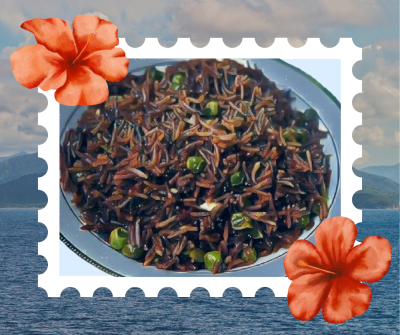 This recipe was submitted by an anonymous supporter. 
1 cup of frozen sweet peas, or 1 can pigeon peas, drained and rinsed  

4 tablespoons of oil  

2½ cups of black mushroom water 

2 cloves of garlic (finely minced) 

½ teaspoon of fresh thyme and parsley 
Soak the dried mushrooms in 2 cups of hot water for a minimum of two hours or overnight. 
Drain the mushroom through a fine sieve and save the soaked water, discard the used mushrooms. The water should be black. 
Heat oil in a cast iron Dutch oven pan and add the garlic. Sauté till it browns. Add the peas and sauté for about 2 minutes. Add the mushroom water, thyme, parsley and salt.  
Once boiled, add the rice. Cover and lower the heat and simmer for about 20 minutes or until rice is tender and fully cooked.