Nothing brings me back to my tía's kitchen like the smell of rice and beans stir-fried together with a slice of white cheese on the side. Roughly translated to "speckled rooster," gallo pinto is one of the most quintessential Nicaraguan dishes.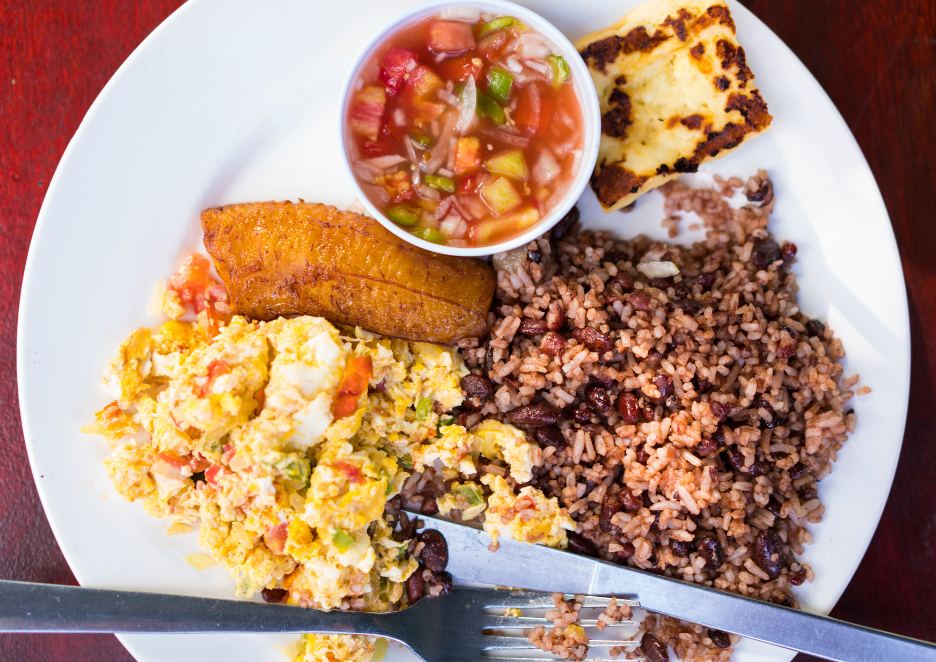 Nicaraguans often serve gallo pinto for breakfast, accompanied by anything from eggs to avocado, but it can be eaten at any time of day. It is a common side at fritangas, or barbecue street food vendors. Though simple, gallo pinto is the result of cultural diffusion, as Indigenous peoples cultivated beans, the Spanish colonizers introduced rice, and African enslaved peoples brought their own preparation style for rice dishes, which can still be found throughout the Americas.  
As someone who learned how to cook away from my family, I've always been disappointed in the gallo pinto recipes online. They either use the wrong kind of beans, don't have enough color to the rice, or make the copycat Costa Rican version.  
So, after many phone calls with my tías and some trial and error, this is the recipe that has worked best for me, even when the nearest Latino grocery is an hour away. It's also vegan! 
A note on the beans: traditionally frijoles de seda, or small Central American red beans, are used. These can be difficult to source if you do not have a Central American grocery store nearby, so in this recipe I am using black beans. Beans cooked from scratch are best, but canned beans will work in a pinch. I don't recommend American kidney beans, as these are too large and have a stronger flavor.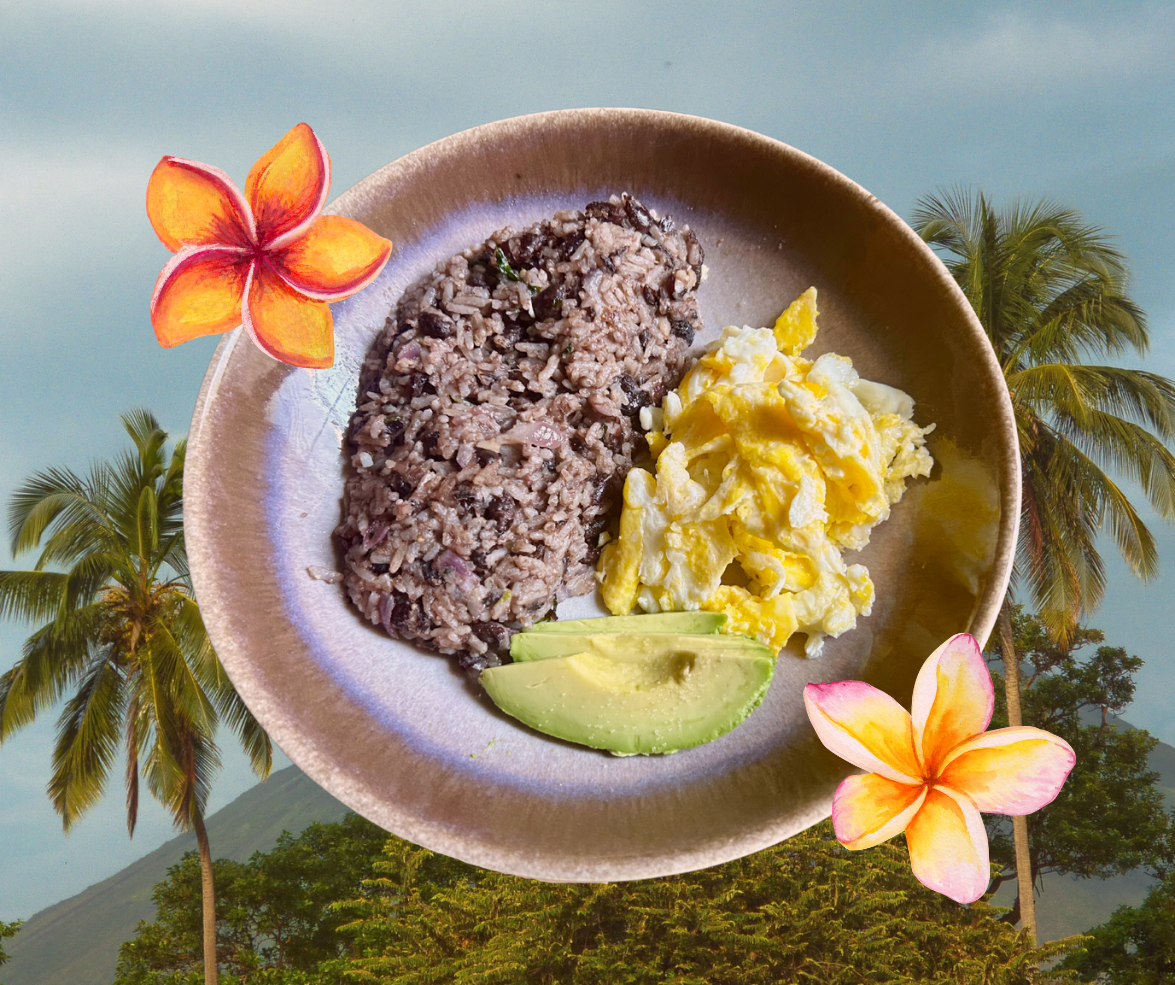 Ingredients 
½ onion 

1 cup of white rice (regular long grain or jasmine) 
1¼ cup of water 

1 can of black beans, or 1½ cup of cooked beans 

1 teaspoon of salt 

1 teaspoon black pepper (freshly ground is best) 

4 tablespoons of a neutral oil (vegetable is typically used) 
6 cloves of garlic  

Optional: fresh cilantro 
Makes 4 servings
Cook your rice: In a large pan or pot (that comes with a tight-fitted lid) heat 2 tablespoons of oil over medium heat. Add ¼ of a diced onion and cook, stirring, for about 5 minutes until translucent. Add 3 cloves of minced garlic and dry, uncooked rice. Stir until the rice grains are shiny and lightly golden for 5 minutes. Add water and bring to a boil. Cover and let simmer for 15 minutes or until the water is fully absorbed. Store in the refrigerator overnight. 
*If this step seems intimidating, you can instead boil rice as you usually would, but use a 1 cup rice: 1.5 cup water ratio and make sure to store it overnight so the rice is not moist.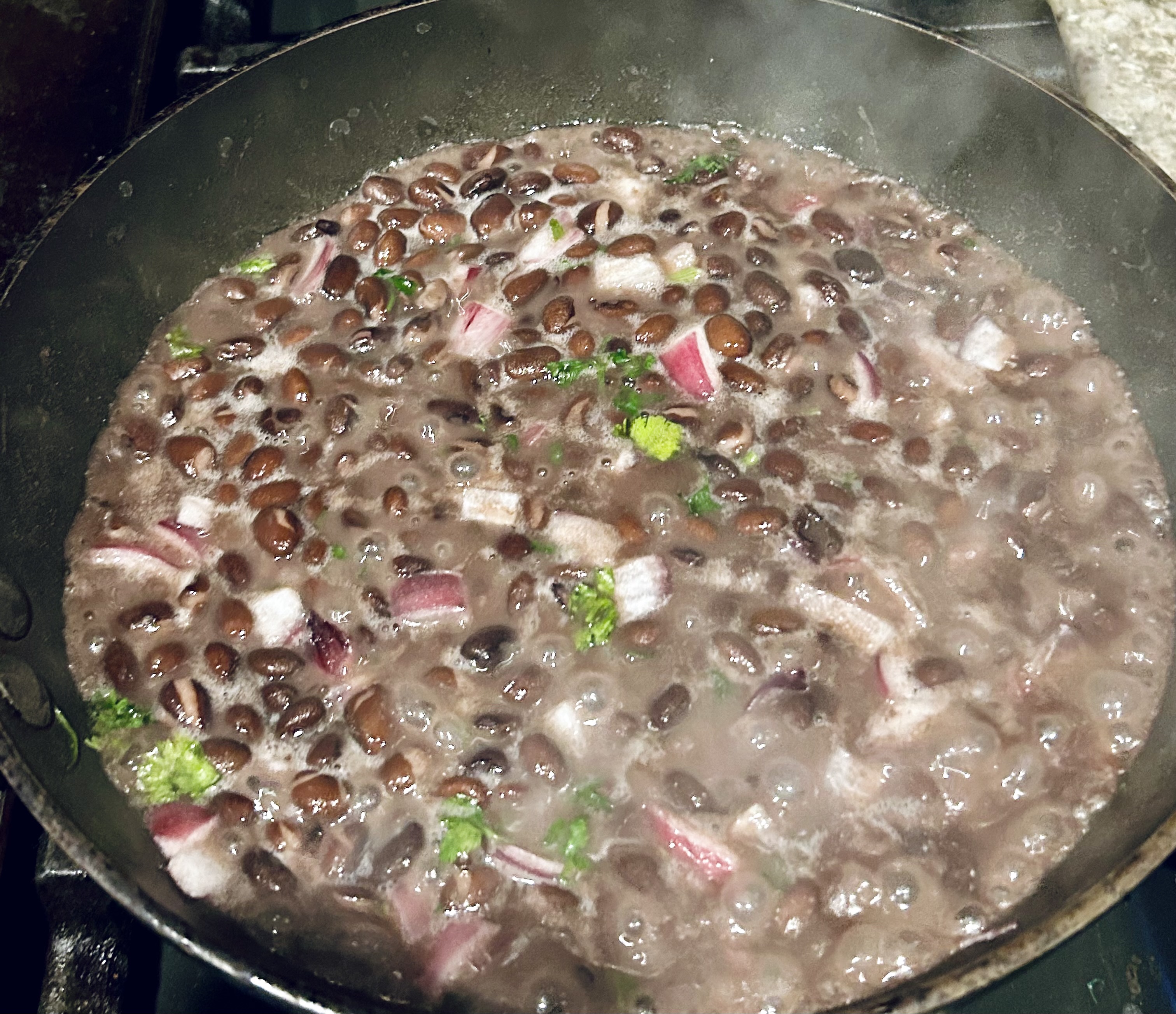 Assemble your beans: If you cook your beans from scratch, I recommend following these steps. Like the rice, store the beans overnight after cooking; you will only need 1½ cup of cooked beans, so either scale the recipe down or save the rest to make gallo pinto again! If you're short on time, you can also use canned beans, but you might need to add more onion and garlic in the next step.
Start frying: Add 2 tbsp of oil to a pan on medium-high heat, and add ¼ an onion and 3 cloves of garlic, minced. (*If you did not fry your rice in step one, add in the onion here.) Fry and lightly stir for about 5 minutes or until the onion is translucent and slightly crispy, and remove everything and set it aside.  
Add the beans into the pan with the cooking liquid (or can liquid) and let it cook for about 15 minutes, or until just a small amount of the liquid remains. Stir occasionally so it does not burn.  

Cook the gallo pinto until crispy
Add the rice and stir until it is evenly combined. If too much of the liquid evaporated and the color is too light or patchy, you can add a little bit of water. Let the gallo pinto fry on its own in 2-3 minute intervals before stirring, so it can become evenly crispy, for about 8-9 minutes.  
Once the gallo pinto is slightly crispy and all the bean liquid has evaporated, it's ready to eat! If you like onions, you can serve it with the ones you removed in step 3. You can also sprinkle queso fresco on top, or serve with eggs, queso frito, fried plantains, avocado, cabbage slaw, and/or a corn tortilla on the side.