In celebration of Hispanic Heritage Month, we are highlighting leaders from Latin America that have dedicated their lives to promoting peace and justice.  
I have met very few people as brave and committed to serving others as the staff at the La 72 migrant shelter in Tenosique, Mexico.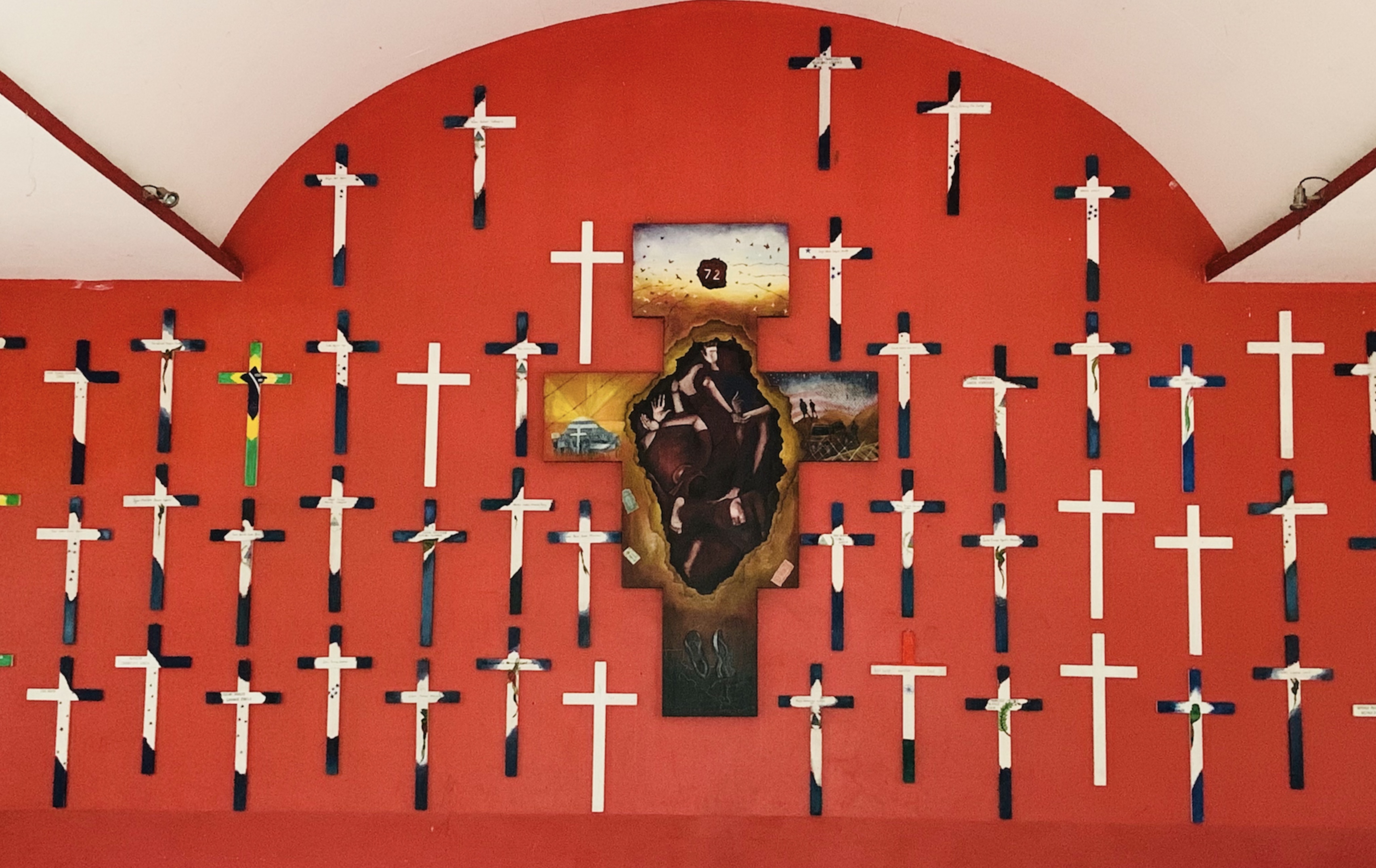 La 72 is named in memory of the 72 migrants who Las Zetas cartel killed in the 2010 San Fernando Massacre in Tamaulipas, Mexico. The shelter recently commemorated the 12th year anniversary of the massacre. In the shelter's chapel, 72 crosses hang on the walls, marking the nationalities and names of the victims; some remain blank in memory of those who have yet to be identified.  
Just a few miles from the Guatemalan border, La 72 is not far from the very real dangers that many migrants have fled to escape. But inside the shelter's walls, everyone that we spoke to told us that they felt safe and were relieved to have found refuge, even if it was for just a moment along their journey.  
La 72 welcomes an average of 100 people per day. They offer basic necessities such as clothing and food, medical care, and different housing options based on gender, sexual orientation, and family status. But the services La 72 offers go far beyond many shelters.  
The shelter is structured to promote a sense of safety and dignity, giving special attention to those with specific needs: families, LGBTQ+ individuals, unaccompanied minors, and people with disabilities. They provide psychological counseling, a necessity given the horrors that most encounter along the migratory route, and give workshops on everything from gender-based violence and reproductive health to positive parenting.
La 72 also collaborates with local organizations, businesses, and government programs to help migrants that decide to stay in Tenosique better integrate into the Mexican culture and labor market.  
The Structural Change program fosters a deeper relationship between migrants and the communities along the route from the Guatemalan border to Tenosique. Through regular workshops and outreach, they have successfully altered the narrative surrounding migration in the region, leading to a more nuanced understanding of who is migrating (e.g. families and children, as opposed to single men) and why.  
They also train local communities on both their own rights and the rights of immigrants, empowering them to serve as human rights defenders. We noticed along the road to Guatemala a number of water cisterns to allow migrants to refill their bottles and learned that La 72 had installed these in partnership with the local towns.  
As the United States struggles to confront growing racism and xenophobia, perhaps this model can serve as an example of effective communication within our own communities.  
Those who work to welcome migrants and denounce human rights abuses in Mexico face many dangers, from cartel violence to retribution by the government. But in spite of the potential dangers, the staff of La 72 remain steadfast in their dedication to helping the most vulnerable in society.   
To help ensure that this vital work continues, you can donate HERE to support La 72. 
If you are interested in learning more about La 72, we encourage you to apply for our upcoming solidarity trip, which will take place on November 14-18th. Click HERE to read more about the trip details, and HERE to submit an application.