By Kim Lamberty 
This month we honor Haitian culture and history through observing Haitian Heritage Month. May 18 is Haitian Flag Day, the day that Black and mixed-race Haitians united their forces against the French colonial army, paving the way to its defeat. It is also the day, in 1803, that formerly enslaved Haitians ripped the white out of the red, white and blue flag, to create the first red and blue Haitian flag.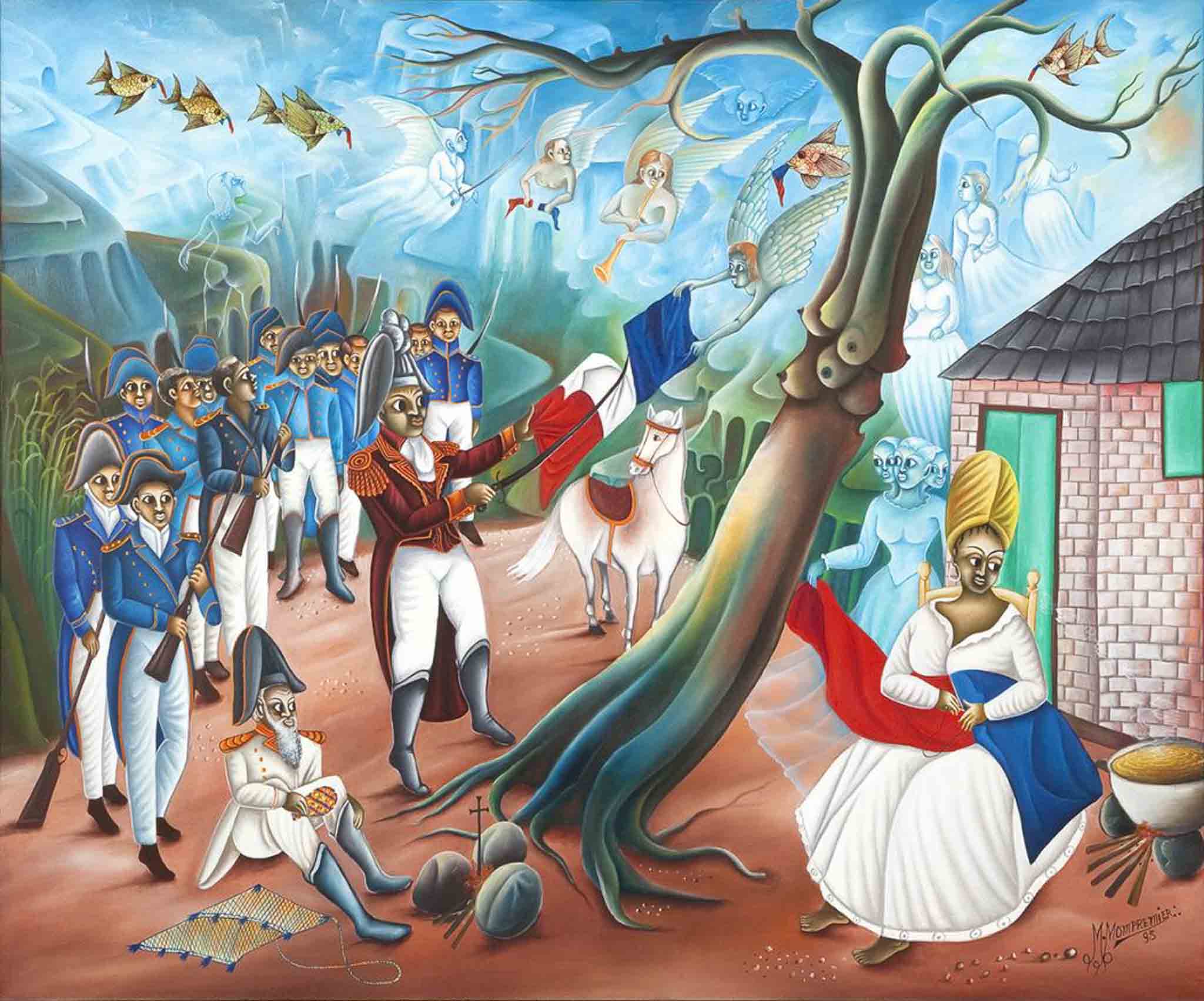 We are celebrating Haitian heritage during a moment of extreme tragedy. According to the United Nations, in the first three months of 2023 gangs killed at least 846 people, injured 393 and kidnapped 395. 600 people were killed in April. There is no accountability and no justice, and there are reports of some police officers collaborating with gang leaders. Some Haitian citizens are taking matters into their own hands. In April, the United Nations documented at least 164 mob killings and lynchings of alleged gang members, including reports of people being burned alive.  
Some conversations with colleagues and friends who care about Haiti have turned dark. We talk about the fact that the violence is not only happening in Port-au-Prince; at this point gangs have infiltrated even some of the smaller rural areas. We talk about the fact that in the face of unspeakable violence, we can't agree with one another about solutions. We are all traumatized. 
As a result of the events on May 18, 1803, Haiti became an independent Black Republic in 1804. However, colonialism persists, and lies at the root of today's tragedy. Not long after the assassination of Haiti's president in 2021, the "Core Group," which includes the US and the EU, announced that Ariel Henry would be the new Prime Minister. Henry's ascendance to power did not take place through elections or any other constitutional mechanism; he was essentially appointed by outside powers. Since then, the United States and the international community have continued to prop up and support a government and political party (the PHTK) that has little internal legitimacy, and which has itself undermined and dismantled the rule of law by failing to hold elections and packing the judiciary. 
Henry's government has requested outside military assistance in order to combat the gangs. Reasonable people can disagree about whether military help is needed in such a situation of extreme violence and insecurity; my perspective is that outside military forces would serve to prop up an illegitimate government, which is why Henry wants them. It is likely to make things worse, not better. 
Quixote Center has backed the Haiti Criminal Collusion Transparency Act, as an effort to identify gang leaders and their political and economic supporters, and hold them accountable through sanctions. It is a small but important step that should have been done a long time ago. Click here for our action. 
The US government also needs to: 
Stop supporting the Henry government and instead put its weight behind an inclusive transition process that leads to free and fair elections; 

Strengthen enforcement to prevent illegal gun exports from the US to Haiti; 

Put an end to deporting Haitian migrants back to Haiti, where they face a horrifying situation of extreme violence and food insecurity. 
Haiti cannot move forward until the governance and insecurity issues are resolved. Unfortunately, the government of the United States plays an outsized role in the solution. Quixote Center and our partners plan to step up our advocacy work in the coming weeks; stay tuned here for more information. 
Further Reading: 
United Nations Quarterly Report: Human Rights Situation in Haiti 
UN Human Rights Chief Warns Against Never-Ending Cycle of Violence 
To support the work of the Quixote Center, click here.