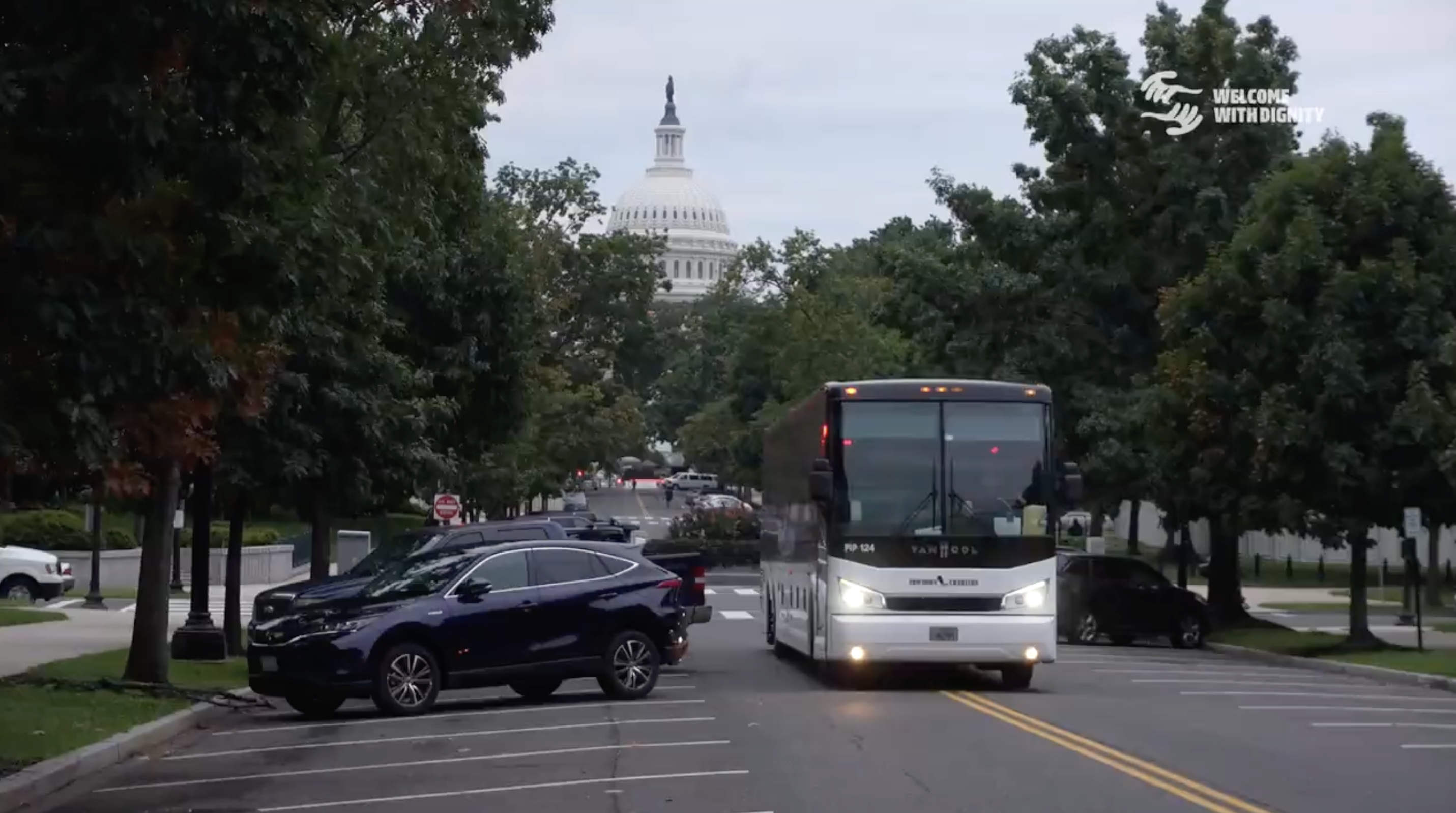 Last April, Governor Abbott of Texas began sending migrants from the US southern border to Washington, DC, with Arizona joining soon after. The media attention around this program has largely quieted down, but the buses continue to come.  
Despite a lack of coordination from Texas and Florida, and limited communication from Arizona, cities across the country quickly mobilized mutual aid networks to get migrants to their final destinations or help them resettle in their new communities.  
Arizona's new governor, Katie Hobbs, will continue to send migrants out-of-state, but with one key difference: she promises to send migrants to their final destination. We have yet to see if the implementation will differ from her predecessor's, but we hope this will provide migrants with actual relief.  
The Biden administration recently began cracking down on crossings from Venezuelans, Nicaraguans, Cubans, and Haitians, while creating a new humanitarian parole program for a limited group of migrants from these nationalities. As a result, the number of people seeking asylum at the border has dropped, as people explore other alternatives. This will likely slow the rate of buses arriving from the border, but many cities are still in need of resources to welcome the recent arrivals.  
Continue reading for the latest news in several cities across the U.S., and how to take action in your local community.  
Washington D.C.  
Buses continue to arrive at the Vice President's home, which is not easily accessible to public transit, volunteers, and service providers. This intentional lack of regard for migrants is just one of the ways that the governors' busing was never about helping migrants but instead proving a political point.  
This cruelty was no clearer than on Christmas Eve, when Texas dropped off over 100 migrants, including young children, in front of the Vice President's house after midnight in freezing temperatures. Thankfully, mutual aid organizers were already there to greet them and bring them to shelter.  
The number of buses arriving each week has slowed, but Sanctuary DMV continues to support recent arrivals, migrants that have decided to settle in the DMV region, and long-term residents. Here are a few ways to support their work: 
For a full list, click HERE.  
New York City 
New York has received the largest number of migrants, with over 42,000 asylum seekers since last Spring arriving in search of shelter and basic services. Not all of these migrants are from the buses, but the exponential increase in buses, coupled with the lack of coordination or communication from Texas, has placed an immense strain on shelter capacity and city services.  
Tensions are high as this week, city officials suddenly evicted asylum seekers from the hotel where they had resided for weeks, planning to move them to a remote facility in Brooklyn that lacks privacy, heating, and access for the migrants to reach their place of work. 
Mutual aid groups and nonprofits continue to provide most of the support for asylum seekers, but there is hope for a better response from elected officials. On February 1st, Governor Kathy Hochul announced she would include $1 billion in the New York state budget to welcome and provide social services to asylum seekers.  
This likely isn't enough to address the current crisis, but it is an amazing first step, and will hopefully serve as an example for other state governors to welcome migrants humanely.  
Here are a few ways to support asylum seekers in New York City: 
Click HERE for a full list of ways to support.  
Chicago 
Since August, Chicago has received an estimated 5,000 migrants, of which nearly 4,000 accepted shelter from the city or state of Illinois. This has placed a great strain on Chicago's shelter space, driving nonprofits to largely take on the work of finding temporary housing, leaving people stranded in police stations for days at a time.  
World Relief is looking for volunteers to #apply" rel="noreferrer noopener" target="_blank">greet buses, and you can see where to gift supplies or bring donations HERE.   
Visit the city of Chicago's website for ways to gift items, donate, or volunteer.