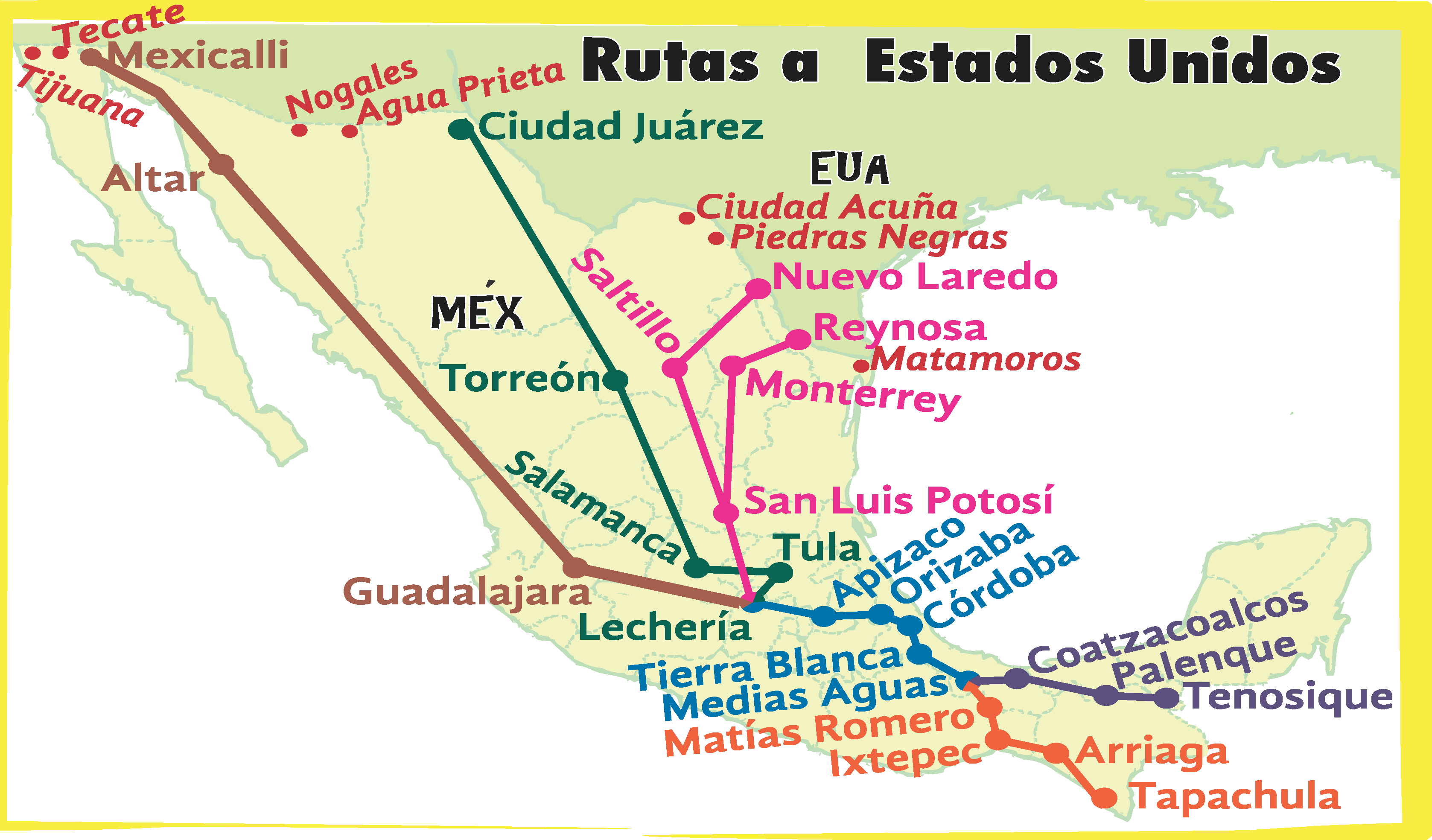 Those seeking to immigrate to the United States do not take the decision lightly. The journey is too often mired in trauma brought on by discrimination and exploitation, and too many of their stories go unheard. Asylum seeker Lino, whom I recently interviewed, was not an exception to this rule. We explore his background as well as his migration story, both linked to an emerging understanding of himself as a lesbian in his childhood, followed by later embracing his identity as a trans man. 
Lino was born in 2001 in a small Garifuna (Afro-Indigenous) minority community in Honduras. Due to colorism and anti-blackness within his community, he experienced racism, discrimination and marginalization throughout his entire life. Even as a child in school, Lino and his Black classmates were separated from the "white" Honduran students. These white students had better educational resources, while teachers and students alike would discriminate against the Black students due to the color of their skin, going so far as to forcibly cut off Lino's afro. In addition to Lino's race, he was discriminated against because of his sexual orientation as a lesbian, the brutality of which led to his mother disenrolling him from school around the age of 13. 
While Lino stayed home, he was sexually abused by his older sister's ex-boyfriend and despite telling trusted individuals, no one seemed to believe him. In the midst of repeated abuse, apathy, and indignation he learned to remain silent against his abusers. At age 15, Lino began to date a 28 year old woman. This displeased his parents. His mother supported his sexual orientation; however, his father was disgusted and began to physically abuse Lino's mother for her solidarity. Eventually, Lino's father abandoned them and left the mother, Lino and his sister to care for themselves. As Lino found jobs to support his family, he also experienced a lot of threats due to his sexuality. One threat became a reality when they burned down his home; his mother was there when it happened. That's when Lino decided to immigrate to the United States in order to protect his mother from harm and to protect himself from the anti-black and anti-LGBTQ+ persecution. This was the beginning of his journey. Aged 17, with no money, and no idea how he was going to survive.
Thankfully Lino reached Vera Cruz unharmed. While in Vera Cruz, he met a 34 year old Honduran man who provided food, shelter and money to Lino on the condition that he have sexual relations with him. The constant sexual exploitation and assault weighed heavily on Lino who sought an escape. "I depended on him and he kept threatening that he'd abandon me in Mexico if I didn't give him my body. So out of obligation, I gave him my body. So, I had to escape him." After his escape, the Honduran man continued to search for Lino and threatened his life. He claimed that Lino was his property. Lino spent 6 months in Mexico where he struggled to find food and money to cross the border. Once he crossed, he was arrested by ICE and placed in an all women's detention center. 
At this time, Lino began to embrace his identity as a trans man which increased his vulnerability while in detention. Black trans migrants in detention face unprecedented levels of trauma due to anti-Blackness, xenophobia, and transphobia. They also become victims of sexual and physical assault by other detainees and/or prison staff and are often denied access to adequate health resources such as mental health resources. The lack of adequate hygiene expedites their increased risk of illness, especially during the COVID-19 pandemic. Moreover, Black trans migrants are detained longer, held in solitary confinement more often, and suffer humiliating and degrading treatment from prison staff.
Throughout approximately 7 months in detention Lino repeatedly faced anti-Blackness and anti-LGBTQ+ discrimination by other detainees and officers. Lino remembers "one officer in particular, who humiliated me because I didn't have any money to call anyone outside of the detention center. The officer always seemed bothered when I'd ask for toothpaste or toilet paper. Sometimes, she'd even lie and say that they ran out when they did not". That and other experiences such as being unjustly held in solitary confinement only augmented the trauma he faced on his journey to safety and security. 
Any communion between detainees is a serious crime and the first time officers put Lino in solitary confinement because a fellow detainee, a Black Honduran woman, had sexually assaulted him. Consequently, both individuals were placed in solitary confinement and under investigation. Lino was unjustly placed there for seven days for being the survivor of sexual assault. The second time Lino was placed in solitary confinement was after a white Mexican woman told one of the guards that Lino had kissed her in the early morning. Despite the interaction being fabricated, Lino was placed under investigation and spent 12 days without sunlight and meaningful human interaction. When asked how Lino felt about the ordeal, he stated  "I felt bad and recognized the injustice. I was the victim in the situation but they didn't take my word for anything, they put me in solitary confinement for 12 days without TV, without even seeing the sunlight- all for a lie". Severely shaken by his experiences, he contemplated deporting himself and returning to Honduras. "When problems started to arise, I didn't feel comfortable. I almost deported myself but I knew that'd mean I'd continue to suffer in my country".  
Holding onto hope, Lino was able to connect with a pro bono immigration lawyer and eventually with others who were able to support him. He was connected to Casa Ruby, a nonprofit organization that is run by transgender women of color. Casa Ruby serves as a home for marginalized people, predominantly belonging to the LGBTQ+ community, that provide social services and programs for the success and growth of the person. Casa Ruby is also "everyone's home" which provides a welcoming environment for people beyond the LGBTQ+ community, it extends to their families and the community at large. While at Casa Ruby, Lino met his current partner. Now, Lino lives with his partner and is in the process of seeking asylum. 
Despite all of the hardship Lino has faced throughout his life, he remains hopeful about his immigration process. "I feel saved. Hopefully I'll have my papers soon. I'm happy I'm out of my country." Lino still communicates with his mother, yet feels the absence of his loved ones. "It's hard to get up sometimes. I only have my sponsor here. But I know I'll get up soon". 
The harassment he faced because of his sexuality, gender, and Blackness were the driving forces behind his decision to immigrate to the United States.  Certain marginalized individuals such as Lino, a Black trans migrant, face an increased risk of trauma. The trauma immigrants face after fleeing their homes is exacerbated by maltreatment from ICE staff. Black trans migrants are a vulnerable population and ICE is not equipped with the training or resources to ensure their safety and wellbeing while in custody. Although, Black trans migrants constitute a relatively small number of those in detention, the conditions they face provide evidence of the moral vacuity of ICE detention more generally and their struggles, like Lino's experiences, provide another reason why immigrant detention must end.  Here at the Quixote Center, we support Lino, recognize the unbelievable hardship of his story, and honor him for everything that he has overcome. Lino's story is one of perseverance, resilience, strength and hope. 
SJ Fernandez is at the Quixote Center this summer under a fellowship from Georgetown University where she is a graduate student in conflict resolution. Her studies are focused on racial and ethnic identity-based conflict within the United States, as well as immigrant and refugee rights. 
Acknowledgments:  Lino for bravely sharing his story. Taurence Chisholm Jr. for providing helpful edits that honored Lino's story. Quixote Center Staff for this amazing opportunity. Lastly, my mother, Annie Gonzalez, who raised me to be respectful and outspoken, not quiet.